Thanks to Trop50 for sponsoring my writing about fabulous bloggers. This year Trop50 is granting 50 Fabulous Wishes. Click here to enter for a chance to win $1,000 to celebrate a friend with a refreshing attitude about looking and feeling fabulous!
What a fun topic to write about (and get paid for ;)!) No, no, don't get me wrong–the bloggers I'm choosing didn't pay me (unless they'd like to send me chocolates and wine!), I chose them all on my own… for being FaBuLoUs, obviously! It was hard to pick just 5 and they're all fab for different reasons so check them out and maybe you'll find some new blogs to read:
1. Little BGCG: She's a mama to a baby boy with the BEST HAIR EVER. Seriously. Go look. He's just younger than Ryan! I met them both at BlogHer last year and I <3 Christa and I know Ryan would love her son, M. They have like the same personalities, they'd be best friends… so now Christa just has to move here 😉 She also blogs reviews and giveaways at Little BGCG & His Mama Review IT!
2. The Feminist Breeder: She's a cesarean mama who had a hospital VBAC and very recently had a home waterbirth VBAC–AND she showed a live video of it!!! Awesome! And truly inspiring. In planning for a future home-VBAC myself, it's been incredible to witness someone I know (come on, we met last year at BlogHer–that means we're best friends, duh) have such a beautiful birth. She blogs about important birth and natural-mama issues (breastfeeding, etc.) and is very active to chat on twitter & facebook! Mama of 3, law student, writer, I don't know how she does it!
3. The Unnecesarean: "Pulling back the curtain on the unnecessary cesarean epidemic." This website was started by Jill Arnold–who I had the privilege of meeting at the ICAN Conference this April. I remember when she first started following me on twitter–after my c-section (my "unnecesarean") and she was an amazing source of support. This blog is a great source of information and is doing wonderful things to raise awareness and offer support. Check out the tips for avoiding an unnecesarean.
4. Me As A Mommy: This mama is a sweetheart. Her baby boy is going to be a heartbreaker and her baby girl is beautiful. And this mama does it all–she babywears TWO AT A TIME! She's crafty (and she's good at it). She paints. She has an etsy shop. She takes great photos. And best of all, she tells really cute stories of her adventures on her blog. She painted pictures of Ryan that are gorgeous–and a very special custom sign for my mom. I honestly don't know how she finds the time! Check out her Etsy shop to see examples! And check out her blog to see the cuteness 😉
5. Baby Making Machine: This is very close to the first blog I ever started reading when I was pregnant. She was the "pro" and I was the "newbie." I remember emailing her to ask how she got products for reviews and giveaways lol. So I guess you could say she gave me my start! She blogged about preparing for parenthood, trying to conceive, through her pregnancy–and now about being a first-time mom to an adorable and beautiful baby girl, "Lil J." I can't believe I've been reading through ALL of that!!! And Lil J is almost ONE, what?! Hey Jenn, when's baby #2? I mean, your button is still of a preggo lady so you wouldn't have to change anything 😉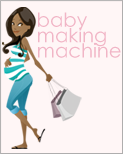 Who are YOUR Fab 5 Bloggers???
Don't forget to enter the 50 Fabulous Wishes contest for a chance to win $1,000 to celebrate a friend with a refreshing attitude about looking and feeling fabulous. I was selected for this Tropicana Trop50 sponsorship by the Clever Girls Collective, which endorses Blog With Integrity, as I do. I received compensation to use and facilitate my post.