When Ryan was a baby we were pretty strict on not letting him watch any TV. It was easy, really, because we don't have cable so the TV is rarely on anyway. When he got a little older, we actually tried to get him to watch some shows and he just wouldn't! He had no interest… he'd glance at the TV, maybe watch for a few minutes, and then run off to something else.
After awhile, he got attached to Elmo… then Thomas. Now George and a few other things. It's funny to remember the days when I TRIED to get him to watch TV because now I'm telling him "no more TV," haha!
I'm happy to have found a new series of DVDs we enjoy and that I don't mind Ryan watching because it gets him UP! It gets him moving and it gets him involved… it's the Move 'N Groove Kids DVDs!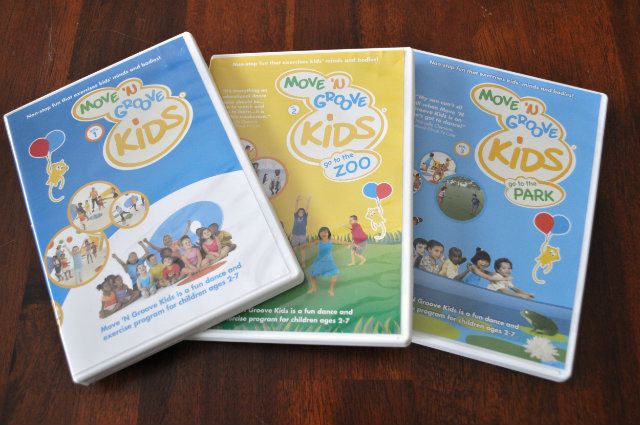 There are 3 DVDs in this series created by a renowned dance and early childhood educator. They're filled with stretching, fun dance moves, educational information, and imaginative trips! For example, in the second DVD the kids get on a "train" and go to the Zoo to see all the animals. They go through the whole alphabet learning about different animals, making their noises and movements as they go along.
At first, Ryan just sat on the couch and watched – as he does with everything. He likes to observe and learn before doing! Once he got the idea of the DVDs and he watched mommy participate, haha, he jumped up and joined in. Then he asked to play the next DVD. Here he is getting up close with Move 'N Groove:
Rebecca likes to get in on the action, too, by watching her big brother hop around the room, haha. Did you make a New Year's resolution to get healthier and get your kids more active? This is a great idea, especially during these cold winters when we don't get outside as often!
You can buy each DVD individually for $19.95 or get the 3-DVD pack for $39.90. Use my special discount code for 20% OFF ANY purchase: DICKEY20 - good through January 31st, 2013.
GIVEAWAY: one lucky reader will win the 3-DVD set! Please use the form below to enter – good luck!