It's that time again! The next feature for the New Year, New Home Event with Amanda from Coping with Frugality and Elizabeth from Being MVP… is with the housewares brand Bodum! They have great kitchen appliances and more.
The company first launched in Denmark by Peter Bodum with an iconic French Press coffee maker and was known for their aesthetic Scandinavian design. They're now globally known, in over 55 countries, and they continue to grow with kitchen gadgets, electronics, coffee and tea products, and much more. I love the story of this family-owned company, now run by Peter's son!
For our review, we were kindly sent the BISTRO toaster by Bodum.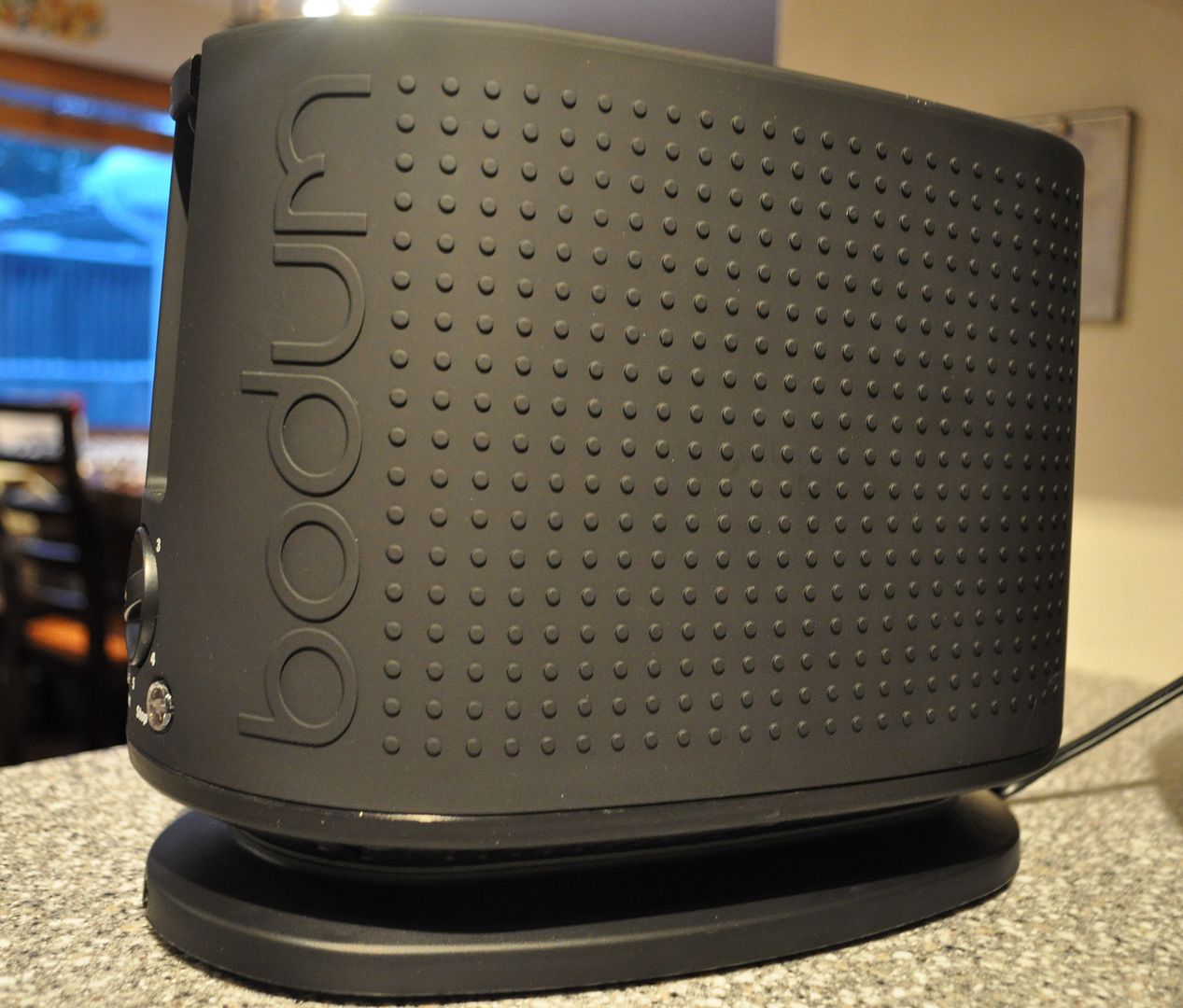 We have been without a toaster for quite some time – I think it broke in the move to our last house and we never replaced it. We had been using our toaster oven, but that was such a pain because the thing takes forever to heat up… just to make our toast in the morning! So I was happy to have this arrive. Toast is really common at our house for breakfast and I am always eating bagels for lunch… this toaster gets used a LOT.
It comes in black, red, lime green, or white. All our main kitchen appliances (fridge, oven, dishwasher) are white, but our counter top products tend to be black so that's what I went with. I wasn't sure I'd like the modern looking design, but I love it! I really like the rounded edges, sleek matte look, and the raised bottom.
There's a dial so you can select how brown you want your food from 1 to 5. I usually keep it set just between the 3 and 4. There's also a "stop" button (if you're impatient, as I sometimes am, haha) and a "defrost" button and a space underneath the toaster to wrap the power cord so it's hidden from view.
Some awesome features include a crumb tray that slides out for easy cleaning and a warming rack on top. There's a little switch you slide on the top of this toaster that raises two metal bars… you can set your bagel or muffin or whatever you'd like up there to keep it warm. I've used this when I'm busy preparing food for my kids and I want to keep my own food warm and once when my husband was home late from work and I wanted his garlic bread warmed up!
The bagels I usually eat are from the local bakery and they're big… I wouldn't have been surprised if my bagel halves didn't even fit in this toaster… but they do!
You can get this toaster for $50 and don't forget to check out more kitchen appliances and accessories from Bodum and like them on facebook!
GIVEAWAY: one lucky reader will win their own BISTRO toaster from BODUM! Please use the form below to enter – good luck!