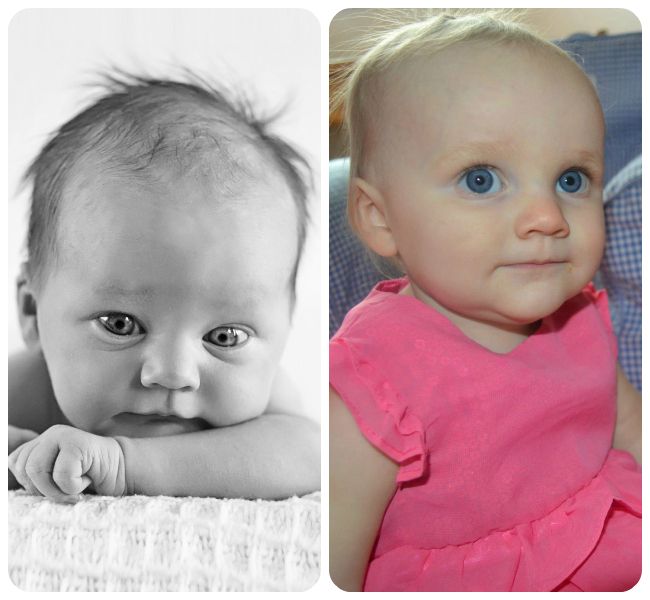 Ohhhh, Rebecca. Where do I start? It's such an exciting milestone… to turn one… but it's hard for your mama, too. The first year flew by so quickly and now my baby girl isn't a baby anymore. It's bittersweet. But even if you aren't a "baby" anymore, you'll always be MY baby <3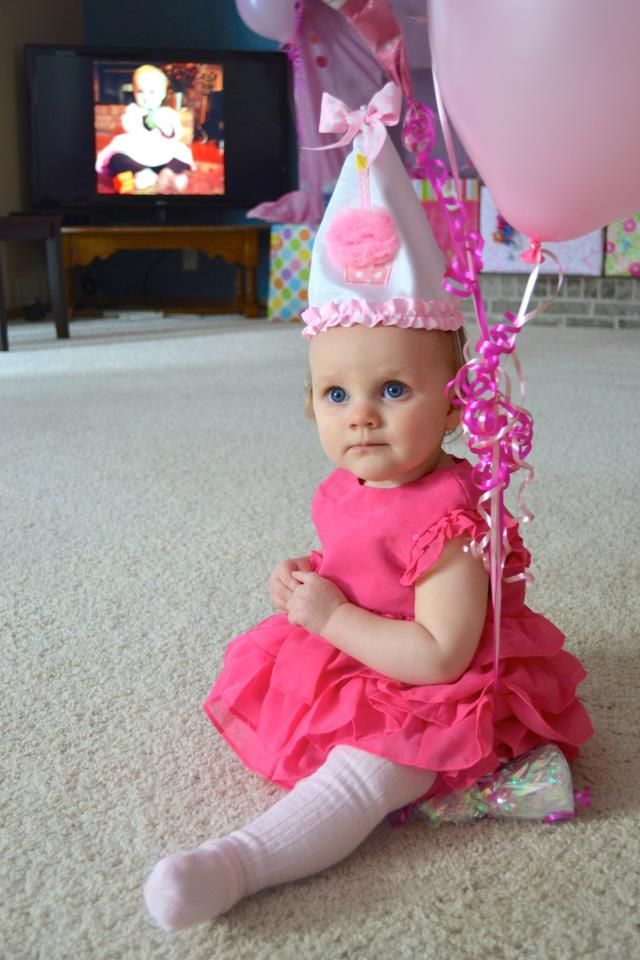 You know, before I had you I hated princess stuff. I was never into Barbies as a little girl and I just didn't get in to the frills and tiaras… I desperately wanted to have a daughter, but not a "princess." You, Rebecca? Are my princess. You are completely, 100% my little princess and I love the pink and the frills and the tiaras. I call you my Princess Pie (yea, I'm not sure where that came from lol) or my Little Princess and I'd give you a castle and a pony, if I could.
The past year has been a blur of fun. Your grandma (my mom) stayed with us for about a week after you were born. I remember the first day she wasn't there and how panicked I felt… that I had TWO kids, one of them a little newborn baby, and how in the world could I do it by myself with Steve back at work?! Haha. It was an adjustment, for sure. But how quickly I adjusted… and how I can't imagine life any different. You adore your big brother and he loves his little sister… we have our daughter and our son, our little family of 4.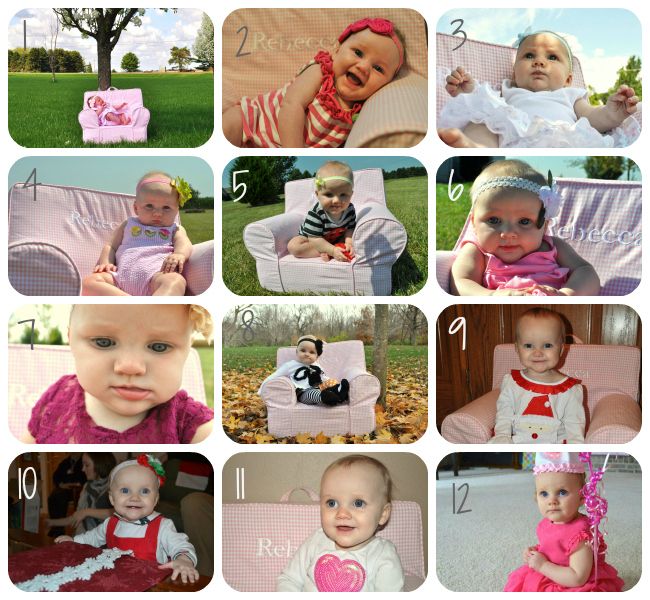 I know the phrase "time flies" is so cliche, but this past year has gone faster than any before. We welcomed you to the world in the comfort of our home. We co-slept until you decided you wanted your space. We watched you smile, giggle, sit, crawl, stand… we watched your personality grow. We spent days at the park and pool, you took two trips by airplane, and you moved with us to a new city and new home. It has been a lucky and beautiful year.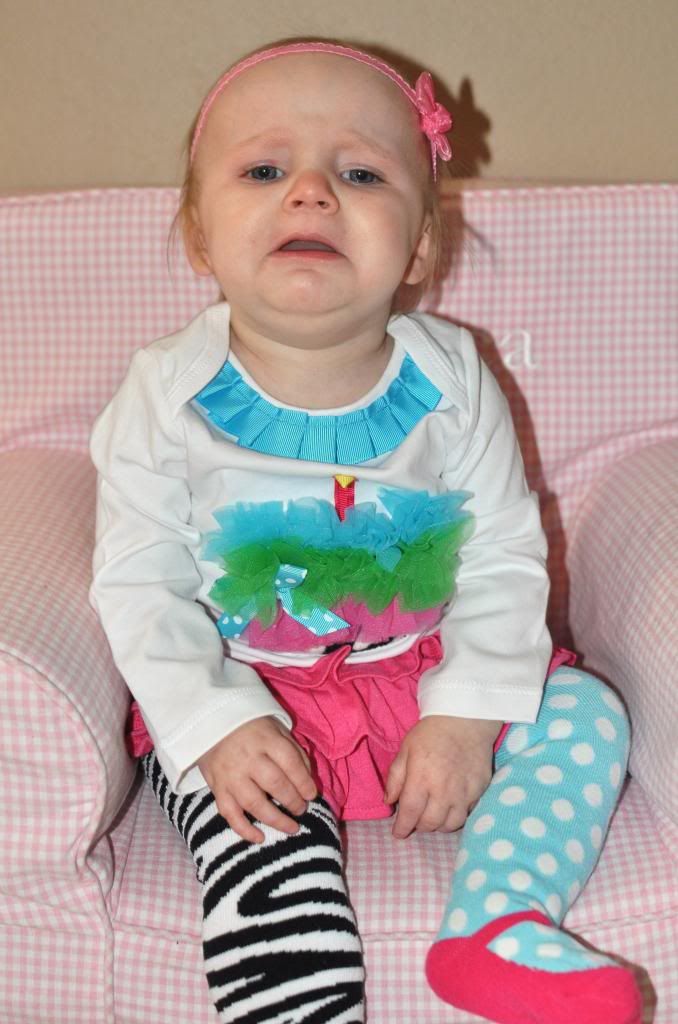 Poor thing, you spent your birthday sick and miserable. I put you in your birthday outfit anyway and tried to snap a photo… this was the best we got before I had to grab you up in my arms again!
You have the most adorable little wave… like a princess 😉 and you LOVE to wave. Actually, we know you're tired if we ask you, "nigh-nigh?" and you start waving bye-bye to us. And you continue waving all the way down the hallway and up to your room, haha. Sweetheart.
The other day, just after you turned one, you attempted your first step! You've been standing unassisted for awhile now and you're getting really good at it, but this was the first time you tried to take a step without holding on to anything. You were stepping toward me with a huge grin on your face and you fell right to your bottom. It was a great try!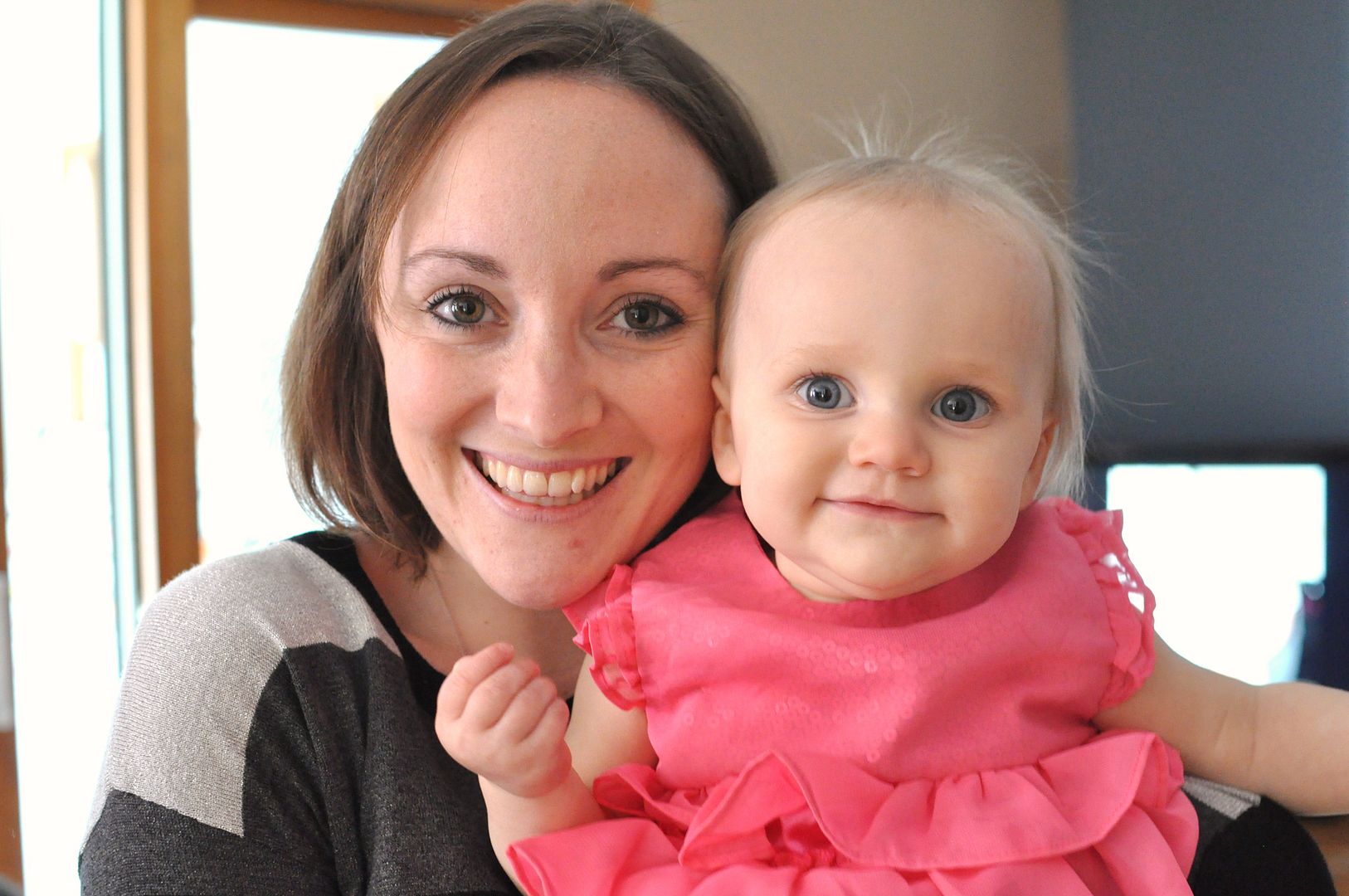 You've added a new word to your vocabulary (besides mama and dada)…. kitty! Ohhh how you love those cats. Your "kitty" sounds more like "tee-tee," and you say it right before you pounce on them to use as a pillow 🙂
We're still nursing, but ohhh man you love to eat food. You don't like to be fed either, you like to do it yourself! Little Miss Independent. Let's see what else… you like going up stairs (but not down yet), you love music and dancing, you clap and wave and raise your arms ("how big are you?")… you're the happiest little girl and just a little peanut–still in size 12 mo clothes and maybe about 20 lb?
Here are some photos from your "pretty in pink" birthday party… more photos of the party decor and food will come in a later post 🙂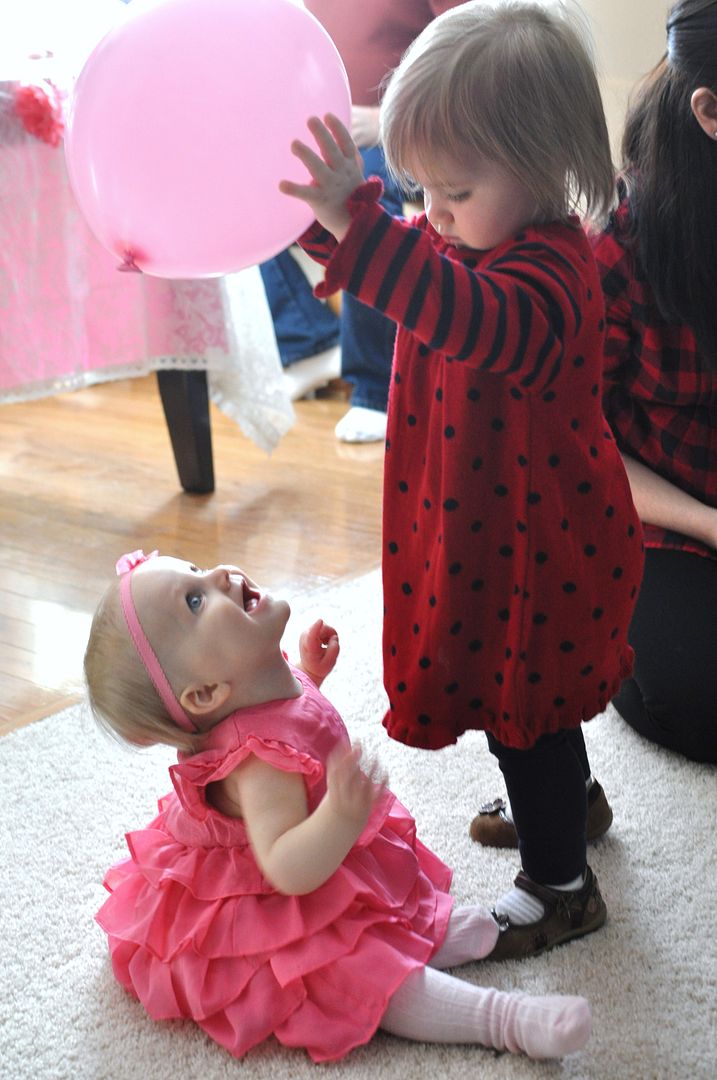 You and your cousin Ellie
"What IS this?! I'm not sure I like it…"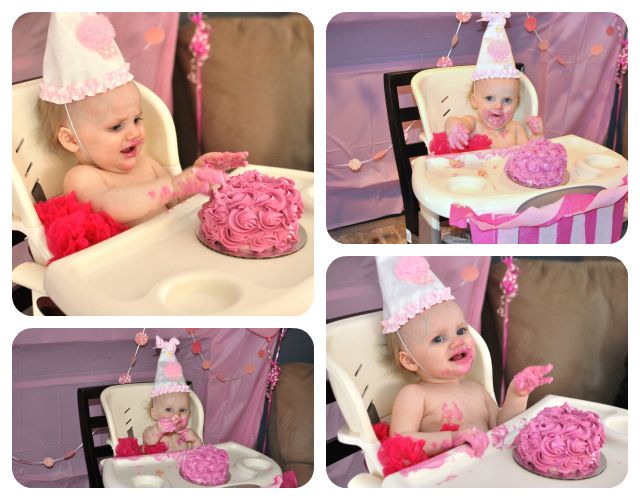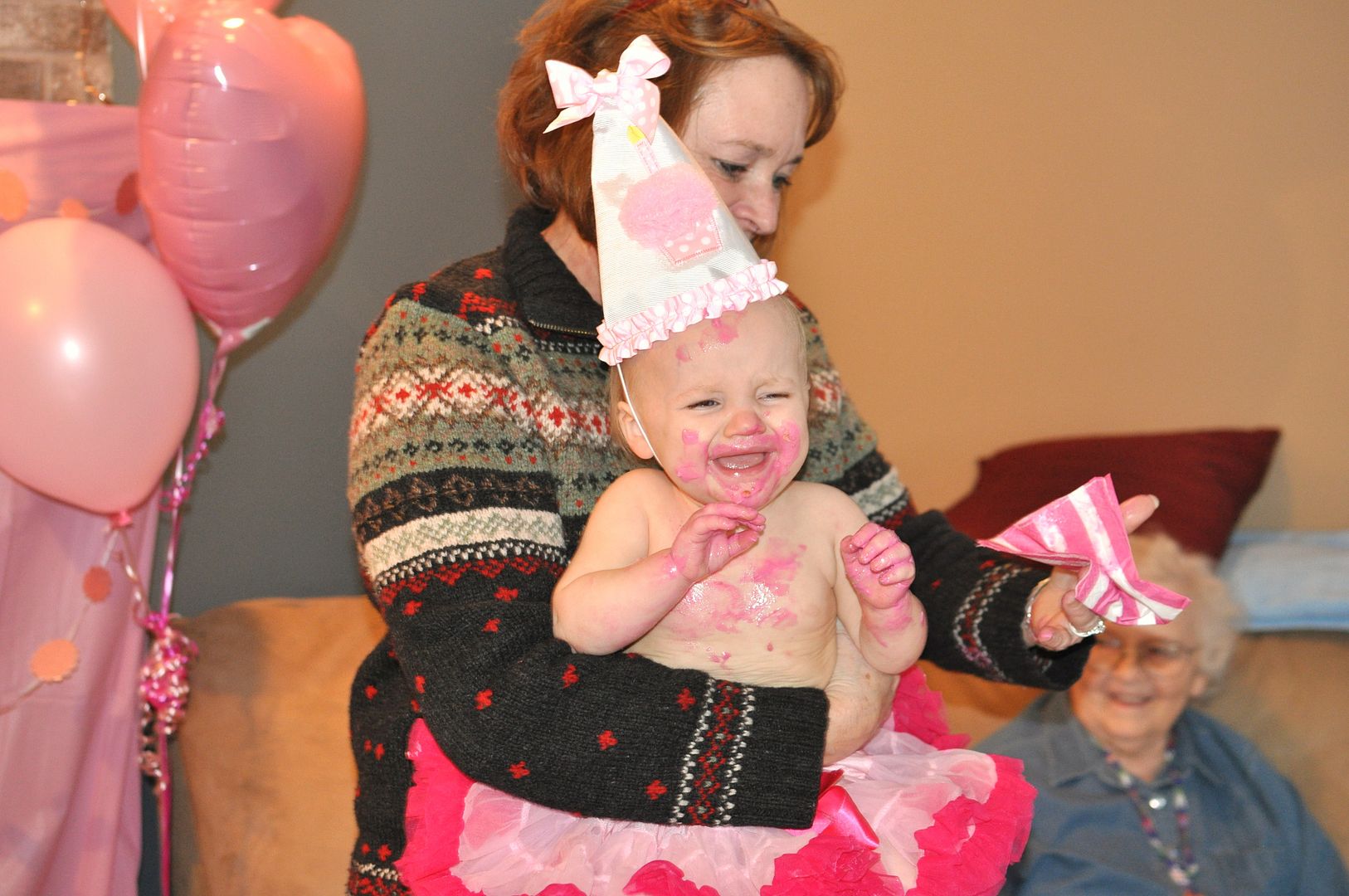 It's my party and I'll cry if I want to!
Presents for the Princess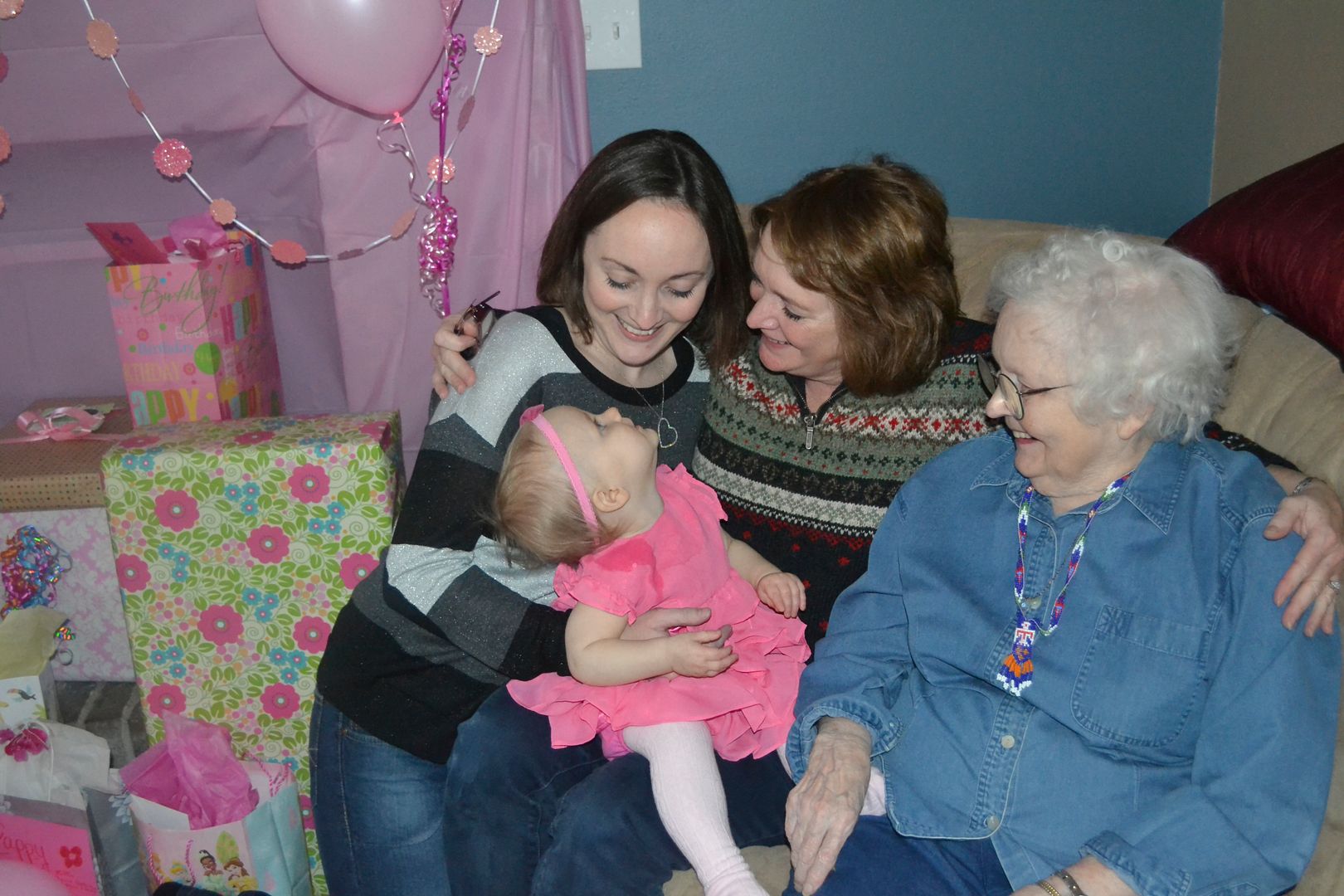 Four Generations (me, my mom, my grandma, and Rebecca). Love.