Newborn baby photos are the most precious things on the entire planet. You can't look at one without an "awWWWWWWWWwwwWW!" escaping your mouth and your ovaries twining a bit for another squishy pink cheeked babe of your own. With the capabilities of the internet and new social sites like pinterest it's impossible not to see the cutest baby photos ever. I think it's a contest…. how can we make the CUTEST PHOTO EVER? How can we spread MORE BABY FEVER?! What else can we put this baby in?! We've tried a wagon…. a bucket… a boot… a suitcase… how about a FISH BOWL?!
When Ryan was born we went to a local photography studio and paid a crap ton of money for like 7 pictures. We didn't get any on CD, we literally have like 7 photos in our house that we paid about $800 for. YIKES. But one of them is a photo of Ryan peeing on us so it was probably worth it ;P
When Rebecca was born, I knew I wanted something better. We LOVED our wedding photographer so even though he's pricey too, we hired him for newborn photos because he's amazing and we'd get all the photos on a CD copyright free. He came when Rebecca was one week old and my sleepy baby girl that slept ALL DAY LONG wouldn't sleep a wink. The photographer stayed for 3+ hours waiting for her to sleep to get those adorable squishy newborn photos and it just didn't happen. So we spent around $700 this time and STILL don't have those photos you see all over pinterest.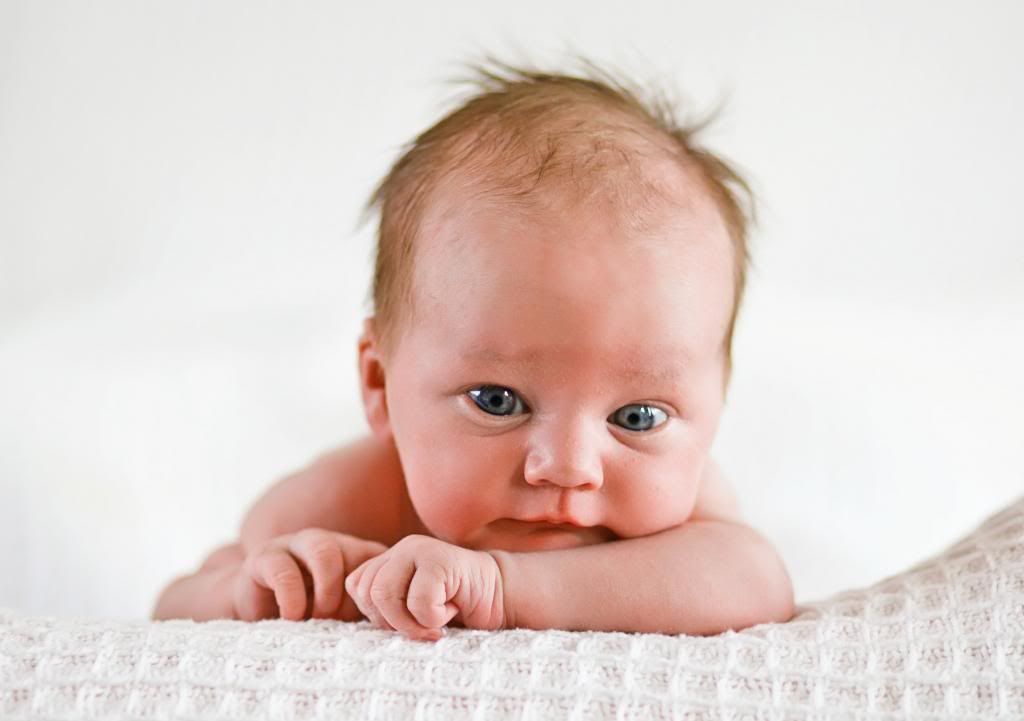 For quite awhile I was crushed. I want those pictures! The sleeping baby hanging from a tree branch in a basket?! I want that! Then I realized…. who cares. I got pictures of my baby girl… the stubborn, little, miss independent that wouldn't go to sleep because that's what we wanted her to do. Now? I think it's funny. Her newborn photos show her personality perfectly and she was only a week old. I love them.
When it's time for newborn photos, mama is probably still in a daze of babymoon and it's easy to forget what photos you wanted, the precious poses, etc… SO, here are some example photos, kind of like a checklist… but in the end, remember that babies are babies, the photos may not be the ideal you had in your head, but they will be perfect anyway.
ITTY BITTY BABY PARTS: there's nothing cuter than 10 little fingers and 10 little toes and tiny little noses and long eyelashes. Have you seen the photos of the baby feet positioned in the shape of a heart? Like in this pinterest photo where it was used as the "v" in the word "Love." Adorable!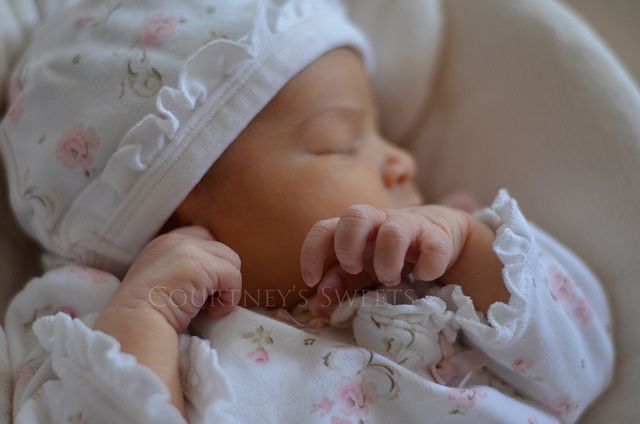 photo from Courtney's Sweets
Rebecca's feet – taken by Photo Palma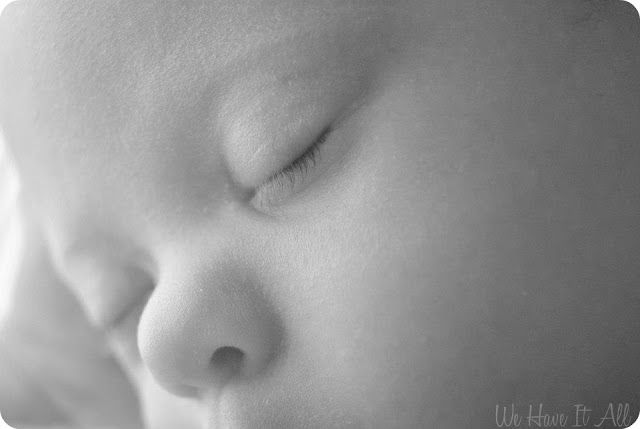 Photo from We Have It All
Photo from Coping with Frugality
MOMMY & DADDY: we were so caught up in trying to get Rebecca to sleep for her photos that we completely forgot about any family photos and actually have NONE of me with Rebecca or Steve with Rebecca when she was a baby! Don't forget those precious ones. Dad and baby, Mom and baby, and all of you together!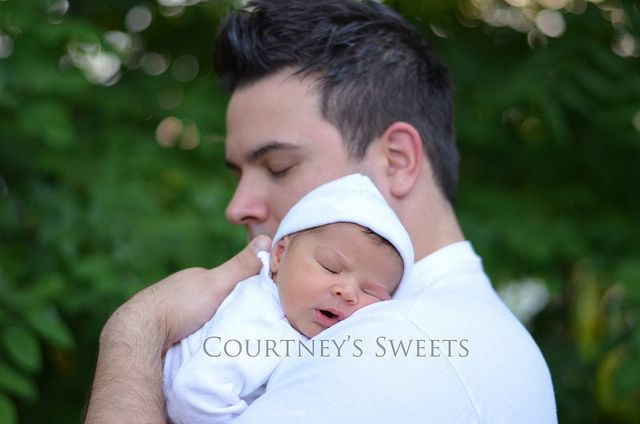 photo from Courtney's Sweets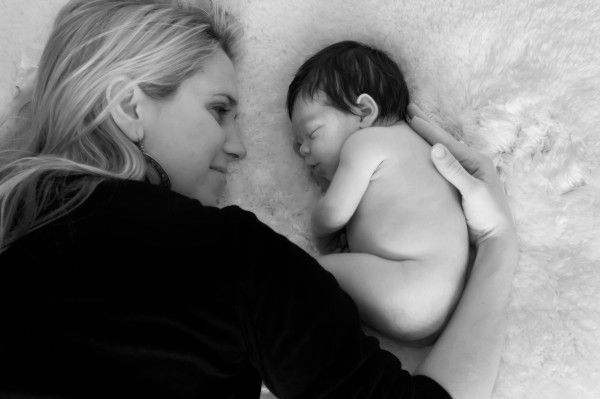 photo from Roubinek Reality
SIBLING LOVE: quick, catch it on camera before it turns into sibling rivalry! (No, seriously.) We did get a cute shot of Ryan and Rebecca together–he was so proud. I think it's also fun to catch on camera that first moment your older baby meets the new baby… as they sit and stare and take it all in…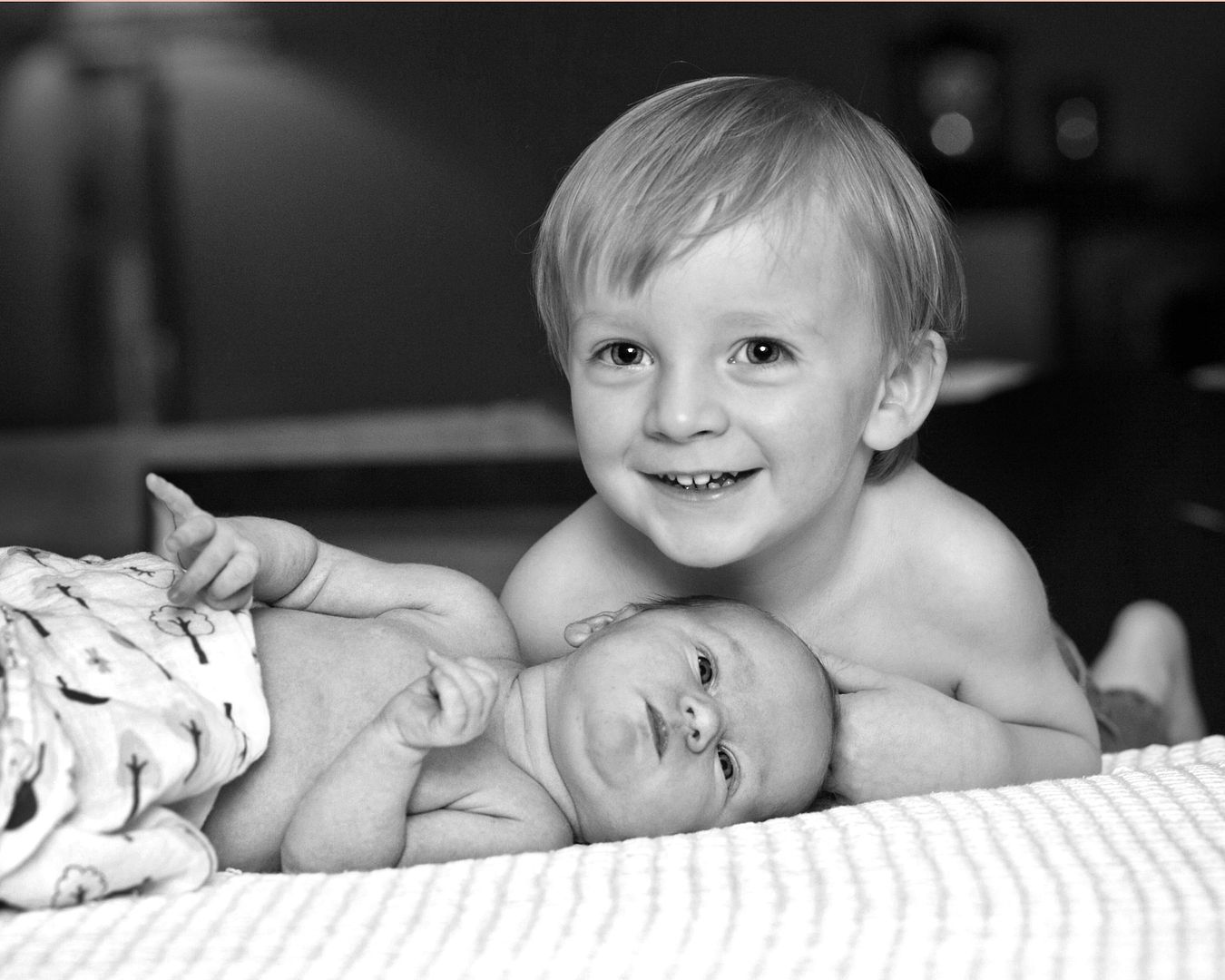 Ryan and Rebecca – photo by Photo Palma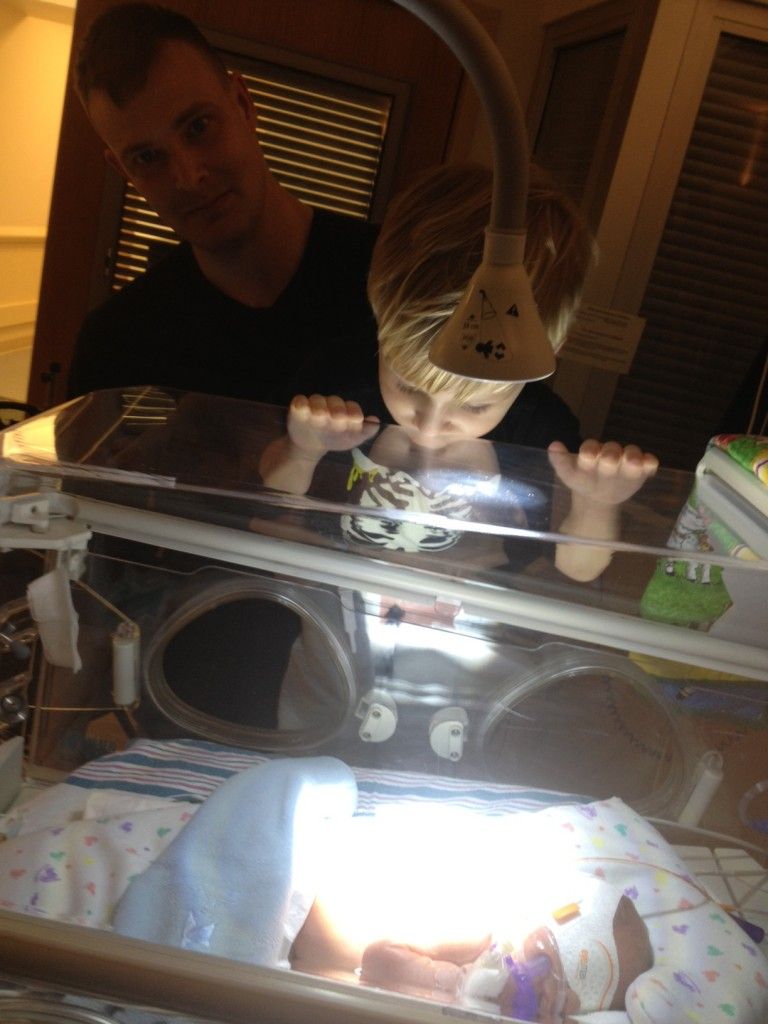 photo from Tater Twins
My niece (Ellie) and nephew (James) – Jennifer Tesker Photography
SQUISHY OVARY TWINGING PHOTOS: okay, these are the fancy and fun ones you see all over pinterest. If your baby is cooperating, might as well get a couple! If your photographer is talented, they can photoshop all the fun stuff in… the basket hanging from the tree, your babe sleeping on a big stuffed giraffe, etc…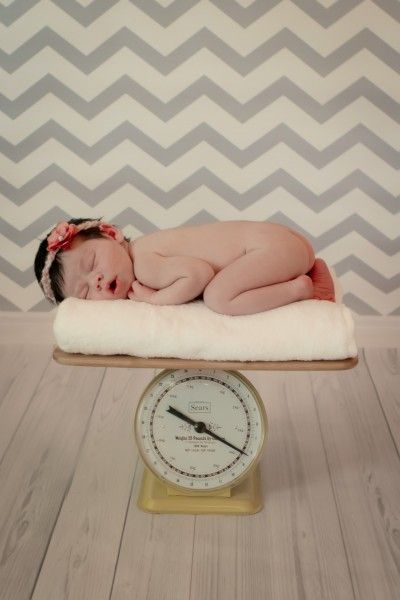 photo from Roubinek Reality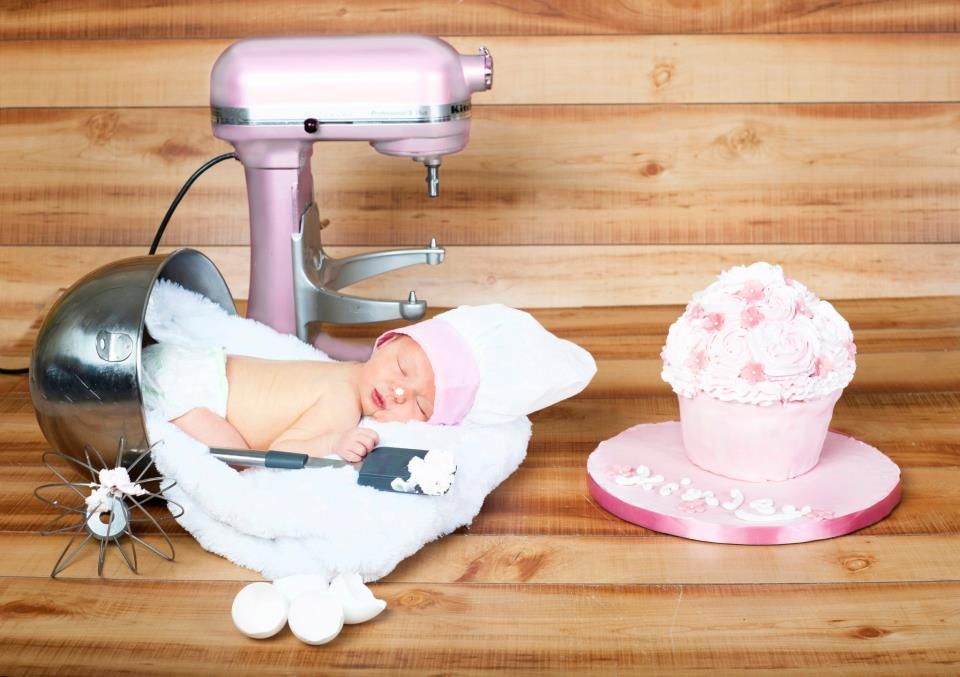 Photo from Jabbering Jessi
Photo from Jabbering Jessi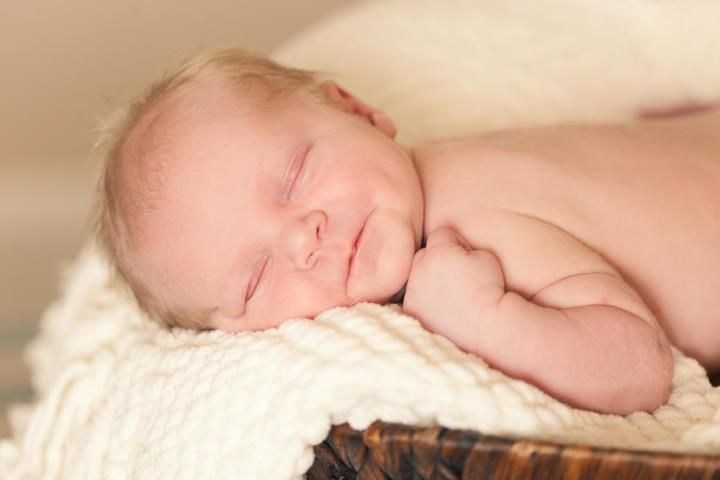 Photo from Joy of Momma Joyner
Photo from Happenings of the Harper Household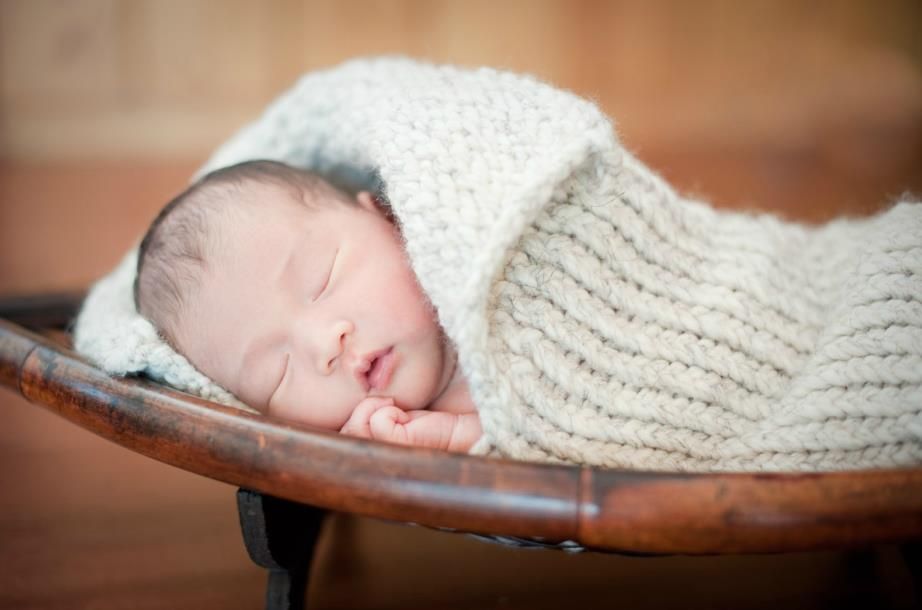 Photo from Being MVP
Photo from Southern Yankee Mix (by Candice Thomas Photography)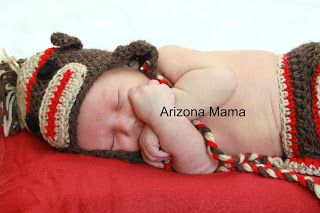 Photo from Arizona Mama
THOSE EVERYDAY MOMENTS: these are now my favorites! These are the photos, pretty much like Rebecca's entire photo shoot, that aren't the ideals. They're the action shots, the crying babies, the baby giving you the finger…
Photo from That Bald Chick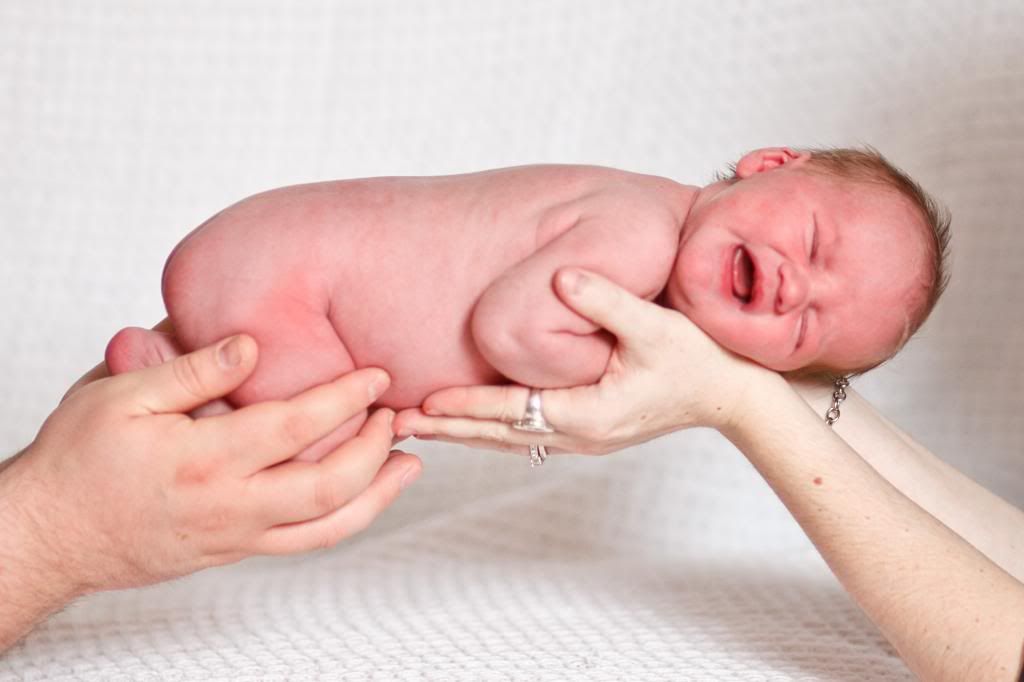 Rebecca – photo by Photo Palma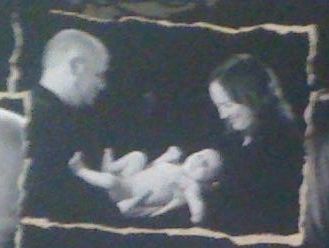 terrible quality (sorry! picture of a picture) but this is Ryan's newborn photo of him peeing all over Steve and me!
In the end, no matter the photos, you have the memories. At Ryan's photo shoot we got peed on and at Rebecca's she wouldn't sleep or pose. And now I wouldn't have it any other way <3
~Thank you to all my wonderful bloggy friends for sharing their newborn baby photos with me and allowing me to use them in this post! You've incited BABY FEVER!
I'm all about the memories and making an effort to preserve them. This post was created in connection with my appointment as an Ambassador for YesVideo. All opinions are my own and permission was received for the use of each photo. Visit www​.facebook​.com/​y​e​s​video to join the conversation!