This post is SO ridiculously late, it's embarrassing. Rebecca is 1 day shy of turning 15 months old and her 1st birthday party was three months ago. Basically, I took about 524302 photos and dreaded the task of 1) editing them and 2) trying to choose what photos to publish. AH! This will probably take me an hour to write because I still haven't chosen… but at least I've edited! The cup is HALF FULL, people. On to Pretty in Pink…
First, you can see Rebecca's one-year post here… it's full of her fun party photos: adorable dress, cake smash, presents, and the monthly photos and newborn/1year comparison. This post is for the party THEME: Pretty in Pink! I always wanted a girl, but never a princess… until I had a princess… and pretty in pink, she is!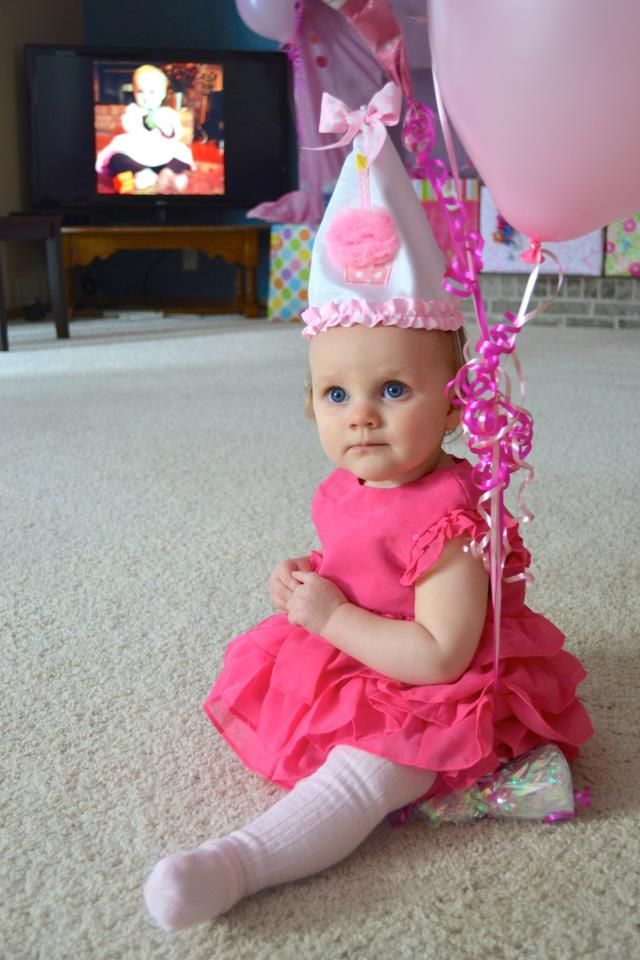 I started planning way in advance like any crazy person would do. Here's my pinterest board of pinspiration and for all my printables and decor I used the Pretty in Pink set from Chickabug on Etsy–she has lots of cute stuff! I ordered the Early Elegance invites in Blush from Tiny Prints.
For drinks we had pink lemonade and bottled water (and pop, beer, and wine). I used mason jars decorated with pink crepe paper, fun ribbons, and cupcake toppers or "party circles." We had pink and white striped straws with straw flags and the water bottles were decorated with labels.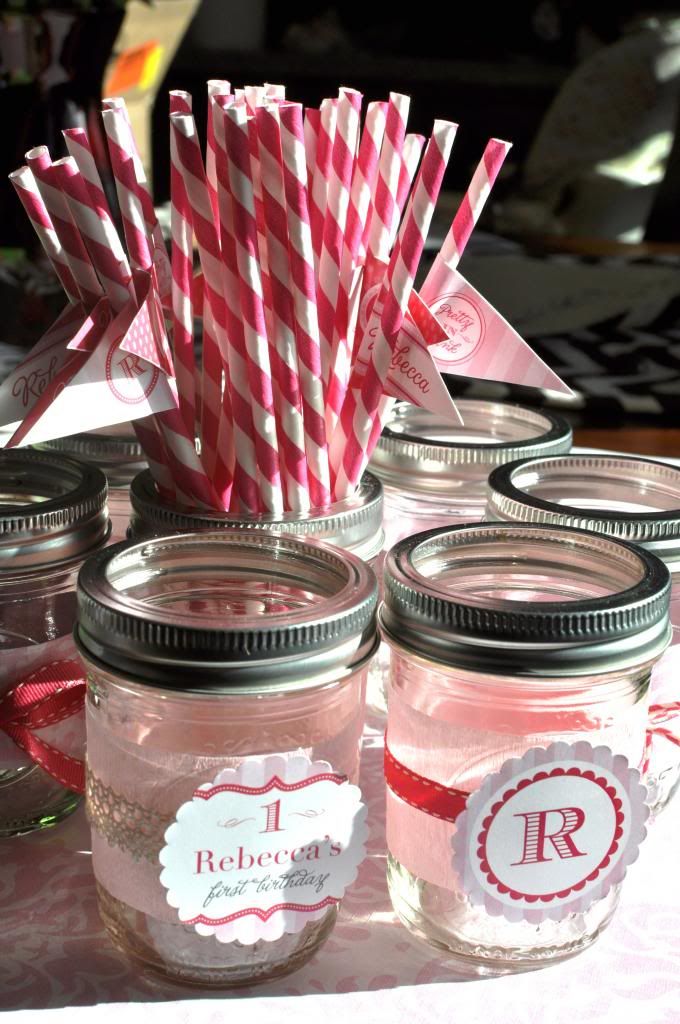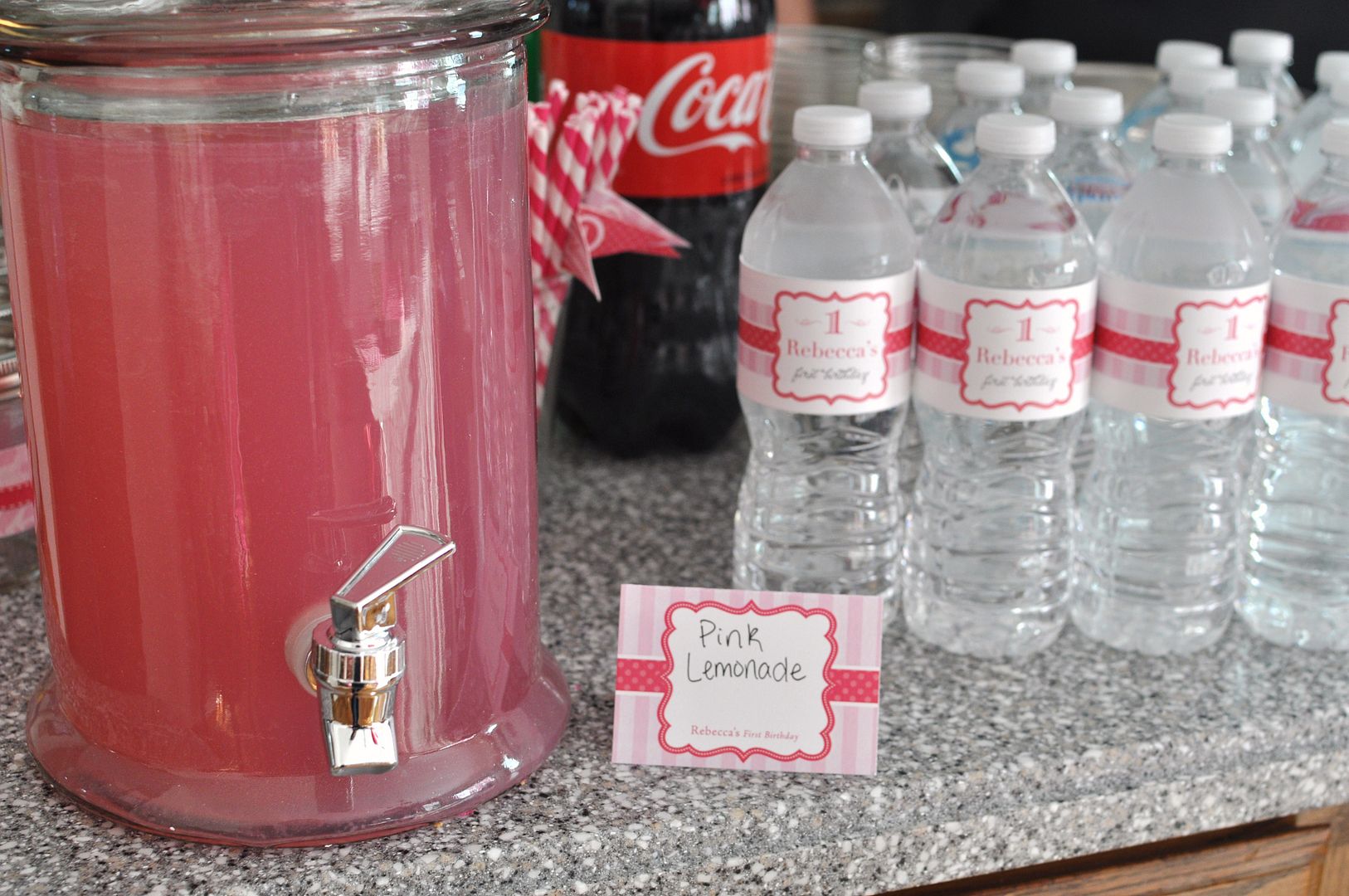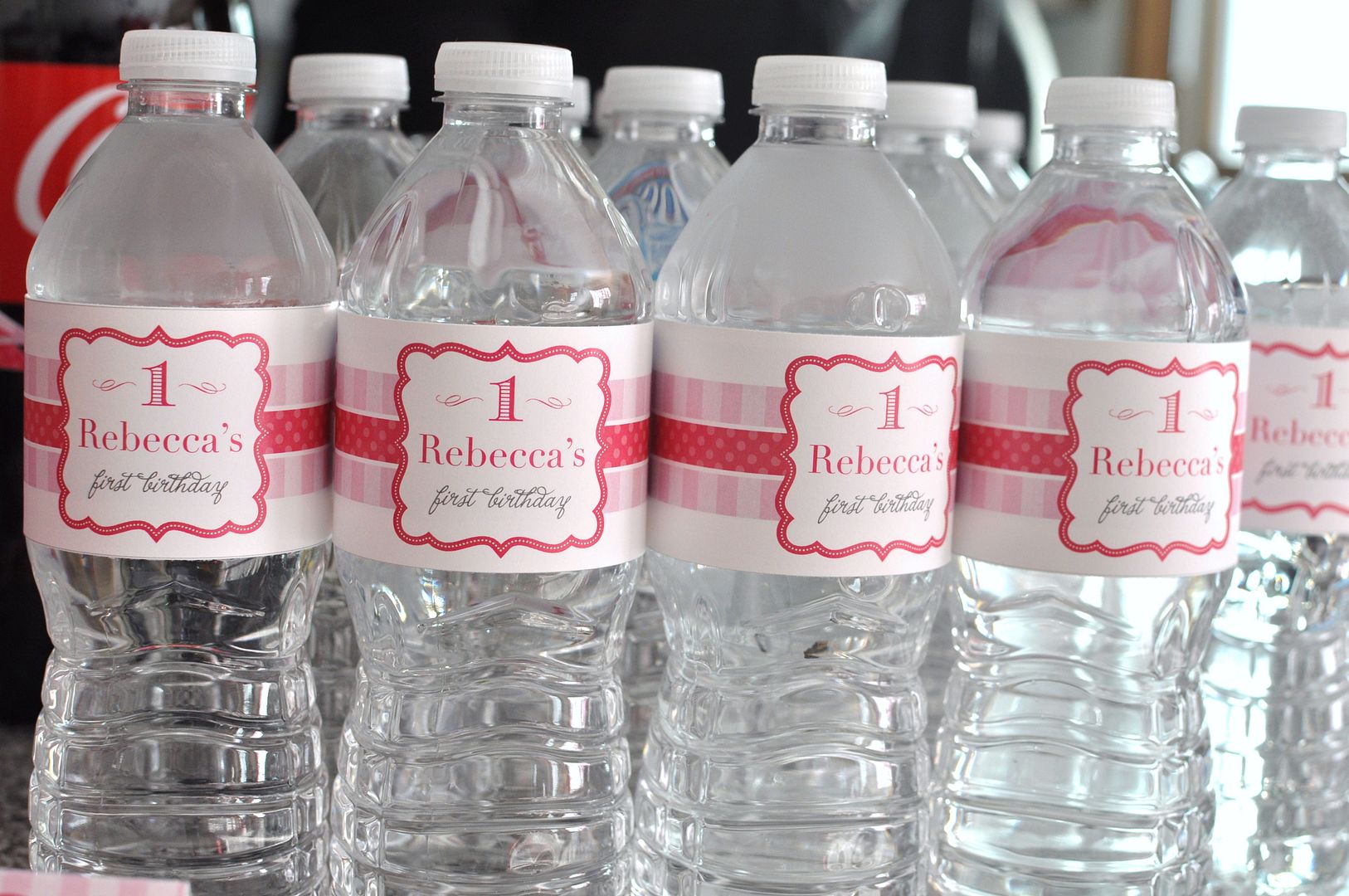 I loved the table. I bought a pink plastic tablecloth, but was able to cover it in lace. A year ago I found a lady on Craigslist giving away a huge garbage bag FULL of old lace curtains. She had moved in to a Victorian style home and the previous owner left them behind. She didn't want them! I have white ones hanging in Rebecca's bedroom and used two white ones on this table.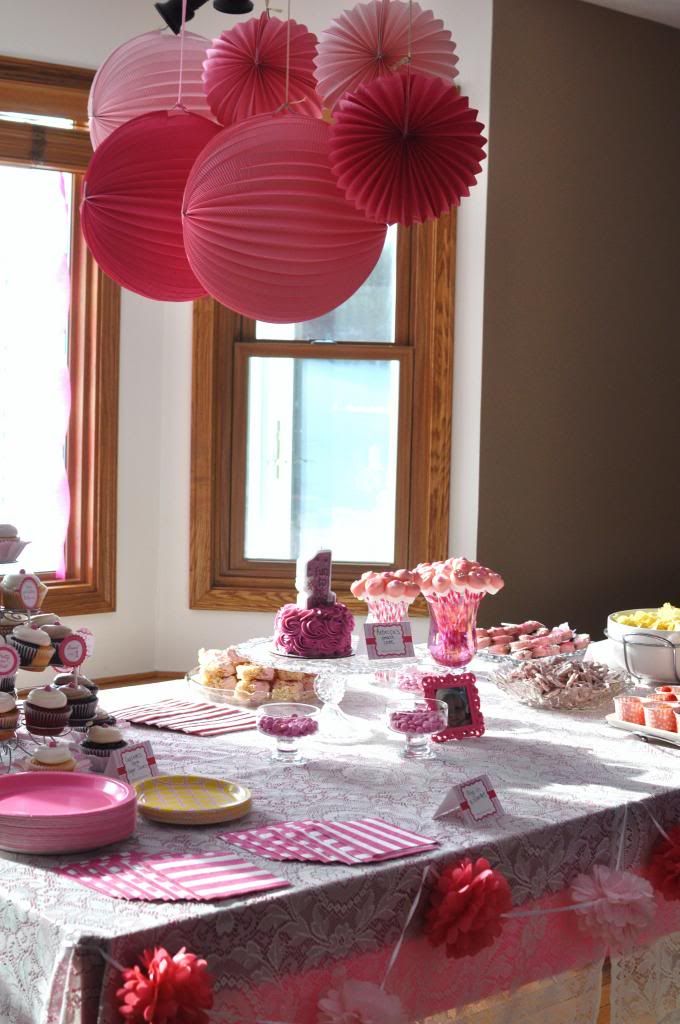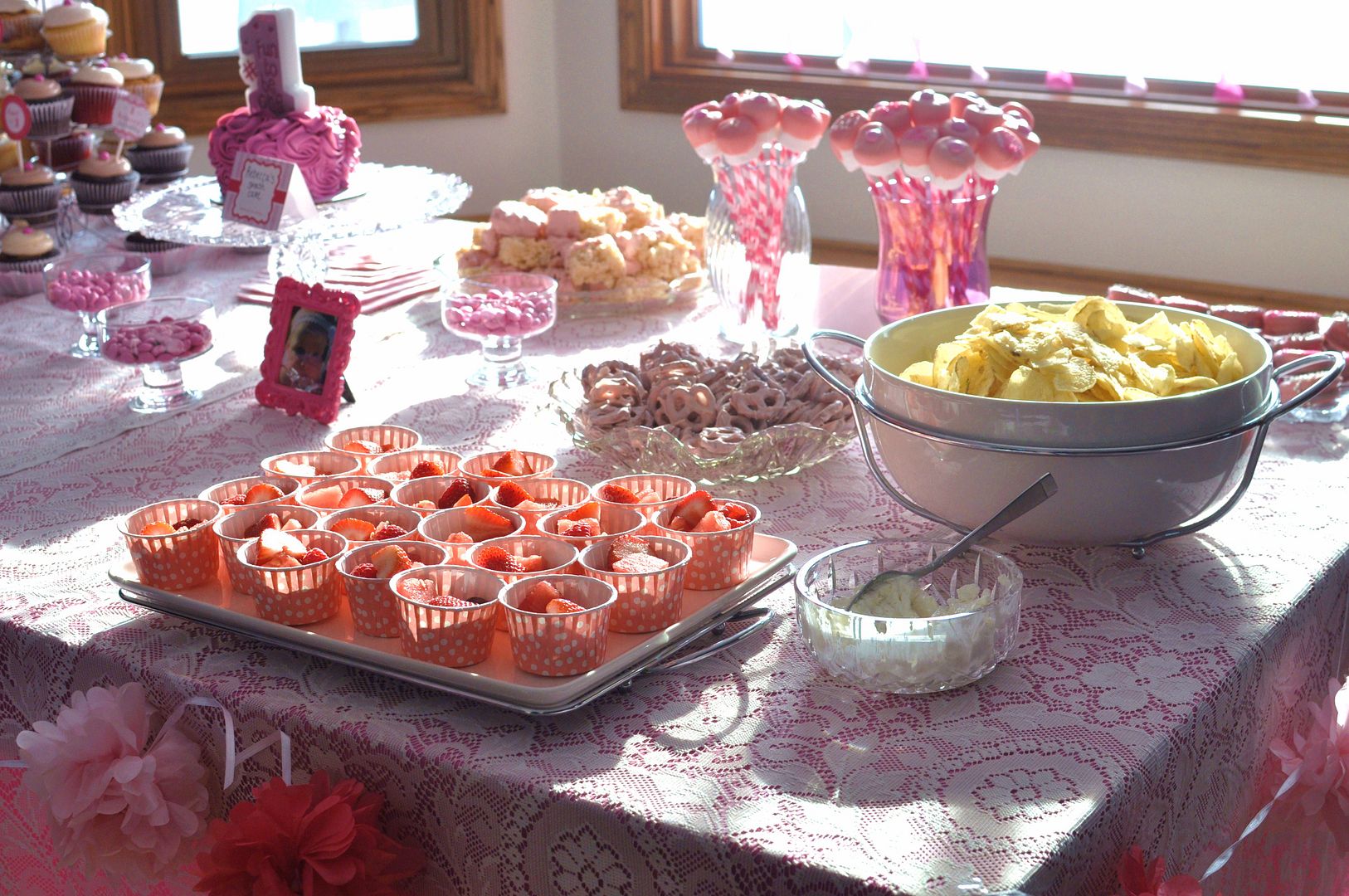 Rebecca's smash cake had pink rose-like frosting with a "fun to be one" candle. I clearly wasn't thinking of photo taking when I set up the table–with the light on the wrong side 😉 I ordered cupcakes from a local bakery and when word spread I think guests may have showed up simply for the cupcakes, haha. They are AMAZING!
For food, we just served some snacks and lots of sweets as the party was at 3pm. We had red fruits (strawberries, red grapes, and watermelon) in little pink party cups, pigs in a blanket, chips and dip, pink chocolate covered pretzels, pink chocolate dipped marshmallows (on the pink and white striped straws for a cute touch), pink chocolate dipped rice krispie treats, and pink chocolate dipped oreos with sprinkles. We also had bowls of pink M&Ms set out. I told you…. lots of sweets… for my sweet baby girl.
Yayyy for presents! Thanks, everyone 🙂 Just a tip (that everyone probably knew, but me): plastic tablecloths don't hold up for a camera lol. At the party it was a nice, solid backdrop… but in all my photos, you see the fireplace right through it. I had a slideshow going on the TV, too, of photos from Rebecca's first year.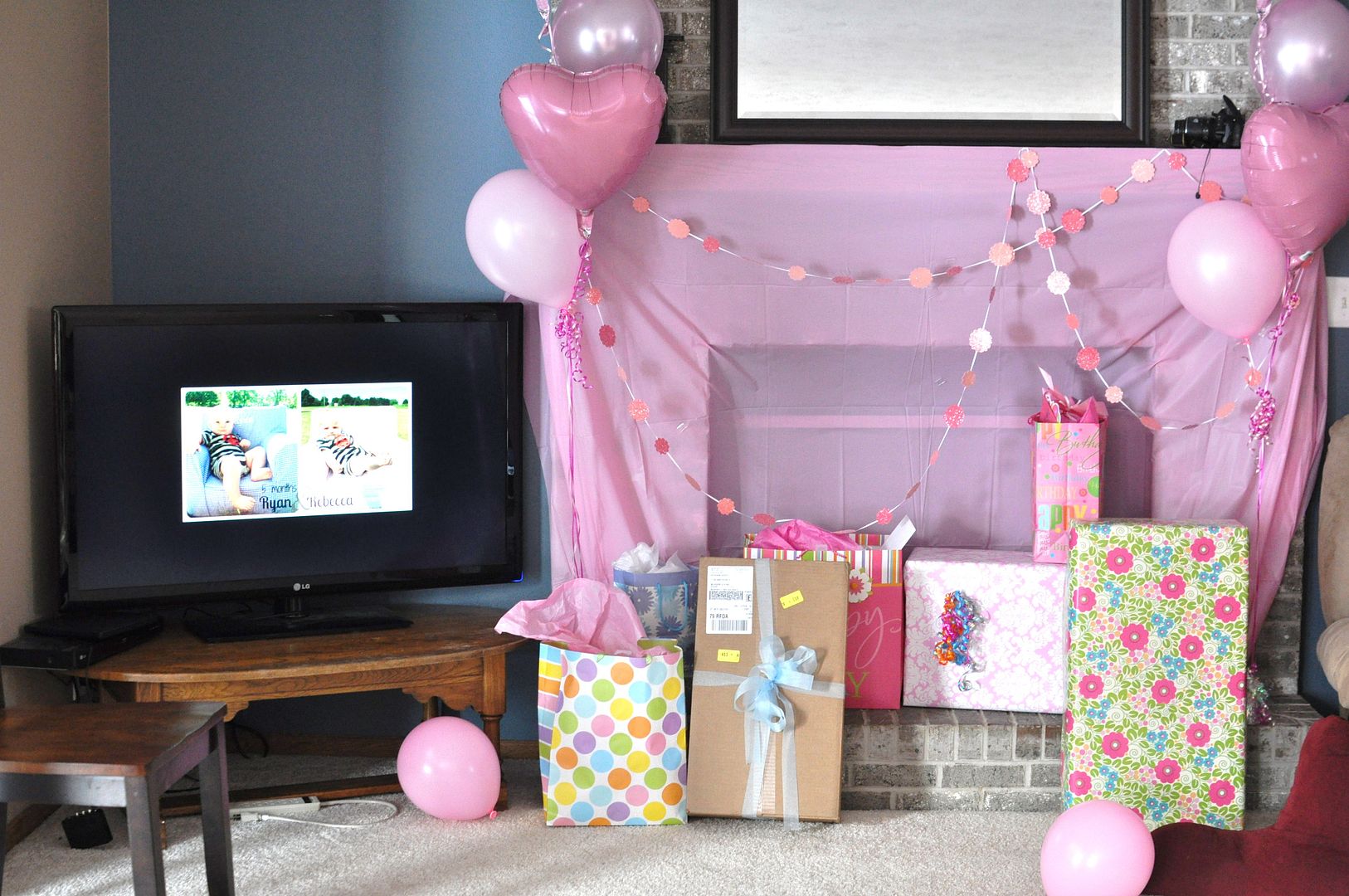 And yay for cake! Actually, Rebecca hated it. She cried through the cake smash and pretty much didn't eat any of it, haha. How is this girl MY kid?! She loves the sweets now, though 😉
Printables from

Chickabug

 (water bottle labels, straw flags, cupcake toppers, party circles, happy birthday banner, and food signs)

Martha Stewart Crafts for decor:

Pink Pom Pom Garland

(on the kitchen table),

Tissue Pom Poms

(hung above the kitchen table), and

Vintage Girl Glittered Dot Garland

(hung on the fireplace)

Rebecca's birthday hat: Mud Pie
Mason jars for drinks (half-pint Ball jars)
Pink and white striped straws for the drinks
Smash cake and cupcakes from local Sugar Jones Bakery
Pink and yellow plates and pink & white striped napkins: Target
Pink tablecloths, crepe paper, and balloons: Party City
Rebecca's pink chiffon party dress: Hartstrings
Happy Pretty in Pink Birthday Party, sweet baby girl!