I'm a big fan of Kia and the husband and I are seriously in the market for a new car. Really, we need two new cars, but we'll start with one for now lol. After being able to drive multiple vehicles for Kia, they're at the top of our list. Did you know they offer an industry-leading 10-year/100,00-mile warranty program?! They really stand behind the quality of their vehicles. I recently received the Kia Rio to test drive for a week.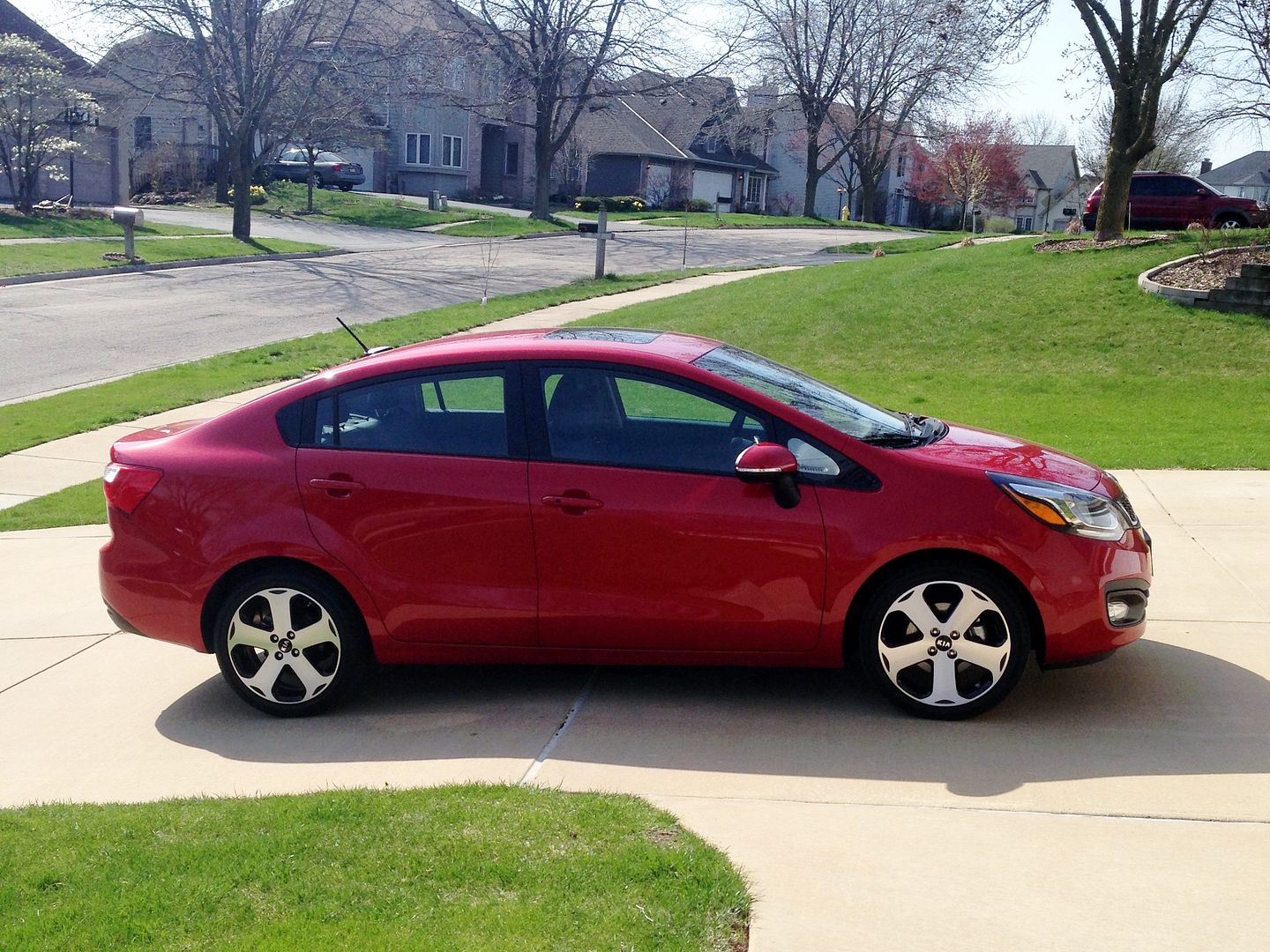 She's a pretty little thing, right? I was driving 4.5 hours to Indianapolis for a conference and wanted something fuel efficient. The Rio is AMAZING! It averages 36 mpg on the highway and a still amazing 28 mpg in the city.
Kia Rio
I think the Rio is similar to the Optima (that I previously drove), but obviously it's a cheaper (more affordable) version. The Rio starts at just $13,600. It is a 4-cylinder engine like the Optima, but without the nice little "turbo" boost. It's no secret I like fast cars (I talk about it in every car post, right? lol) so I definitely noticed this, BUT the Rio still had very nice speed and pick-up. My husband was a fan, too.
I also noticed that the engine was a little louder and the ride maybe a little more bumpy compared to the Optima. But it's still a fantastic car and would be awesome as a second family car or for someone that drives or commutes a lot. This car IS on our list of possibilities–my husband really wants to buy this one. For a smaller car, it was still very roomy (surprisingly so) and my husband (a bit bigger of a guy) fit in comfortably.
Even more surprising was the great trunk space! This little car has a huge trunk! Above you can see my Joovy Caboose Too stroller–it's like a sit and stand so it's for both kids. It fit easily with plenty of room to spare. There's also Kia Rio 5-door with the hatchback style trunk that we're really interested in, too.
Again, no shortage on space. With two kids, the Kia Rio was just fine! We have a 3.5 year old forward-facing in a convertible seat and a 15-month old rear-facing in her infant seat. ((Safety note: the front passenger seat needs to be moved up a smidge in the photo on the left. The car seat handle needs to be all the way down and enough space for a piece of paper to slide through between the car seat and the front seat! I had just set her seat in there for a photo and hadn't adjusted for that yet.))
Every time I drive a Kia I miss it when it's gone. I love the interior features–that neither of our cars have! The Sirius radio, navigation system, rear-camera display, steering wheel controls, heated seats, bluetooth connection for our phones, sunroof, and the push-button start. It's amazing how handy that keyless start is! This car also had the USB plug-in, which I love for charging my iPhone. It also has heated and power-folding outside mirrors, a fully adjustable driver's seat, and folding rear seats (60/40 split).
There was only one thing I noticed that I didn't like… the front passenger seat didn't appear to have an adjustable height. You could move it forward and backward, but not up and down (like the driver's seat). I'm short so when I sat on the passenger side, I felt like I was sitting too low. I guess I need to sit on a pillow 😉
The Kia Rio was great on the drive to and from Indianapolis… about 9 hours round trip. It was comfortable, smooth, and we got amazing mileage. Check out more features on Kia's website and find them on facebook and twitter.
~I was sent the Kia Rio to drive for a week, but was not compensated in any way. All opinions and photos are my own!