Welcome to day three of my week with the Save Babies Blogger Baby Shower! I'm really excited to chat about this partner today because we have their products in our home and they're a favorite! Every time we take a Contours stroller out (the Options LT Tandem or the Options 3-wheeler) we get compliments and questions about the brand and where we got them.
Contours recently launched their brand new AMAZING stroller and I'm thrilled to be sharing it with you. If you're going to be at our Baby Shower you'll get to see it in person! Contours will even be there personally to do a demonstration and give one away to a super lucky winner 😉
Introducing… the only 4-in-1 stroller that goes from pram to carrycot… it's pure BLISS!
Contours stroller: Bliss
Isn't she pretty? I love the name because it perfectly describes this Contours stroller! I always wanted a little pram to walk my baby in… probably because when I was a little girl I had a little toy one to push my baby dolls around in! Besides, they're just so CUTE! So I did get one when Rebecca was born, but the pram part of the stroller and the seat part were 2 separate pieces… it was honestly a pain in my butt and a lot of storage space… I'm thrilled to see the Bliss stroller as a 4-in-1.
First, the Bliss stroller comes with an infant car seat adapter that fits with over 20 different car seats. Having a "travel system" like this is SO helpful when you have a new little baby. It makes any type of travel much easier… in a word, bliss 😉 Check the product page for a full list of compatible car seats, which includes Baby Trend, Britax, Graco, Chicco, Combi, Cosco, Evenflo, Maxi-Cosi, Peg Perego, and Safety 1st.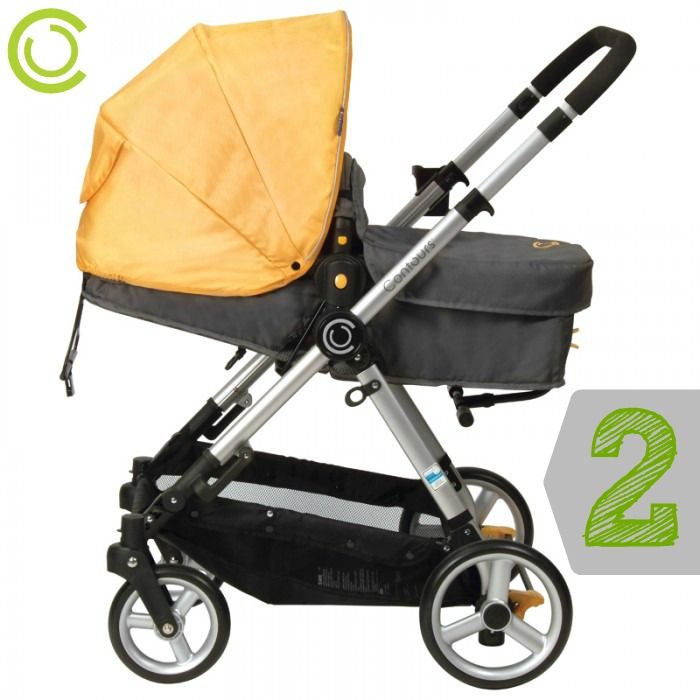 There it is! The adorable little baby pram! The fact that you can use this stroller right from birth makes this Contours stroller versatile and able to grow with your child… I love it!
Another wonderfully thoughtful feature of the Bliss is that the pram comes right off the stroller to become a carry-cot. We all know babies sleep a lot, especially when pushed in a stroller or out in fresh air! We hate to wake sleeping babes so just remove the pram for a cozy little sleeping place in the carry-cot.
And finally, the reversible seat. You can choose to have the seat face in toward you as you're pushing or you can have it facing outward. I appreciate this option, too, because little ones are more comforted when they can see their mom or dad AND don't have all the over-stimulation of facing the world. Older ones seem to like facing outward more to explore.
This Contours stroller also has a padded infant seat with 5-point adjustable harness and a 3-position recline. The parent cup holder expands to hold any size, the comfort-grip handle moves up and down, and the storage basket is large for plenty of storage. There's also an included foot muff! The Bliss stroller folds for storage with the seat off OR ON(!!!) and the front wheels can lock in place! It holds up to 40 lb and comes in the fun yellow and black "Valencia" color or a black design called "Wil."
Check it out at Contours and buy yours for $399.99! Available in select BuyBuyBaby stores and at online retailers like Amazon and Babies R Us. Find Contours on facebook, twitter, and youtube! Watch the #ContoursBaby hashtag for more details and our #TBLBabyShower tag for more Shower fun.
Coming to the Save Babies Blogger Baby Shower next week?! Get ready to experience BLISS and meet the wonderful team from Contours! SEE YOU IN CHICAGO!
~This post was written as part of a partnership with Contours for the Blogger Baby Shower. All opinions are my own!