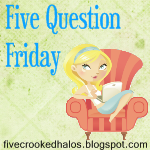 1. Do you regift…and if so, do you have a regifting horror story?
It's not something I do often, but I think I might… if it was 1) brand new and 2) a decent gift… maybe I already have one? Or know someone that really needs one?
2. Do you know what you are getting for Christmas this year?
I know of some stuff because I made a wish list for my mom 😉 and picked out some stuff myself while we were shopping. But my husband walked in the door the other day with a massive bag and went to hide it somewhere–NO IDEA what it is and it's driving me crazy! Haha.
3. Who brings the most gifts in your family, you or Santa?
I think when I was little, gifts were mainly from my parents? Or maybe half and half. This is our first year with a baby at Christmas time and we're doing all the presents are from us, except one big item (his Radio Flyer Wagon) will be from Santa!

4. What store do you love to buy jeans from?
Express! I have hips, but am otherwise thin and SHORT and it's nearly impossible to find jeans that fit well. I currently love pants from Express.
5. Christmas meal: Big, All Out Meal or Snacks and Apps?
Ohhhh, a little bit of everything! Christmas morning breakfast, of course. Then there will be snacks and apps while hanging out with family. Then a big, huge meal or turkey or ham! I'm full just thinking about it (and excited)!