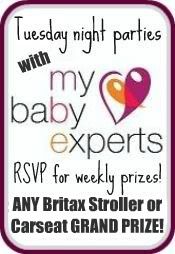 If you don't know by now, I work with Shari Criso ("the baby expert") who hosts weekly live TV shows on UStream every Tuesday night. Each week, we discuss a new topic related to pregnancy, new parenthood, babies, etc. Viewers can submit questions ahead of time to Shari when they RSVP and Shari tries to answer questions live on the air. Meanwhile, the chat room is FULL of chatting mamas (and some dads!) who say it's the highlight of their week.
Put your kids to bed, grab a glass of wine and put your feet up 
TOMORROW is the end of Season 2! Not only are we giving away a Grand Prize of a $700 Dutailier glider, but a total of $1500 in prizes!!! We're focusing on breastfeeding and new parenthood and will have lots of prizes from our Healthy Choice Partners!
Including…


So, how do you win? You MUST be in attendance to win and you MUST RSVP! Winners are randomly chosen from the RSVP list.
The show is tomorrow night–Tuesday, March 15th, from 8-10pm EST. *Notice to regular attendees: the show is starting an hour earlier than normal so we have TWO full hours of FUN!*
Get more details on how to participate on UStream and find the RSVP form here:My Baby Experts TV Show.
GOOD LUCK!