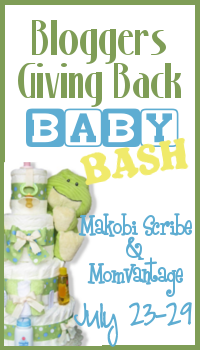 I love bringing you guys fun baby-related giveaways because most of my readers are moms or soon-to-be moms. Lately, I've had more opportunities to bring you awesome stuff. This one, the Bloggers Giving Back Baby Bash, has TONS of great stuff! I have my own giveaway here for you, there's a Diaper Cake grand prize, and links to all the other baby bash giveaways in the linky below–go check them out!
*****
Ready for another great giveaway hop? Join the Bloggers Giving Back Baby Bash hosted by Makobi Scribe and MomVantage with the grand prize as a Diaper Cake from Diaper Cake Walk. Enter the grand prize giveaway here. The idea of this hop was to give back to the community and donate the items that bloggers received to review.
*****
I received the JJ Cole Paisley Nursing Pillow for my review. If you're pregnant or with newborn, you must have a nursing pillow for breastfeeding your lil one! Why? Without one, you tend to either hold your baby up with your arms or hunch over… either way, you'll end up with sore arms and a really sore upper back and shoulders. I know from experience!
There are a lot of things I love about this pillow that makes it different from other nursing pillows. It's super lightweight and (my favorite) it has a HANDLE. I know that sounds kind of silly that it's my favorite feature, but think about it. I've tried other nursing pillows and none of them have had a handle. They're large and awkward in shape, which does make them more difficult to carry. Especially if I'm holding my baby in one arm, I really appreciate how easy that makes this thing to move around.
I have the "harbor square" pattern and think it's simply gorgeous. I love it! This pillow also comes in a pretty gray/white "ash woodland" and a green/white "spring cotton" pattern.
My other favorite thing about this pillow is the height and firmness. Don't get me wrong, it's nice and soft for the baby, but it's… structured. It doesn't flatten against the baby's weight so it ensures your baby is supported and kept up at a nice height for nursing. I've definitely experienced other nursing pillows that became too flat (and are now used as seat cushions, hahaha).
The photo above isn't the best, but that's what happens when I have no one else to take the picture for me, haha. Rebecca is nursing comfortably on the pillow. Obviously my hands are both up, holding the camera, so you can see she's supported at breast level.
Another great feature: the pillow is a curved shape to fit against your body comfortably, but doesn't wrap around your body, which makes it fit moms of most sizes! And no worries, the cover comes off and is machine washable.
The pillow is great for bottle feeding, too. Even Ryan (my 2.5 year old) uses this on his lap to help him hold Rebecca 🙂 You can get this nursing pillow at JJ Cole for $29.95. In honor of this "bloggers giving back" baby bash, I donated this pillow to a new mama that didn't have one to help support her breastfeeding goals!
GIVEAWAY: one lucky reader will win their own Paisley Nursing Pillow from JJ Cole! Please use the form below to enter–do as many or as few entries as you'd like, none are mandatory! Check out the other giveaways in the linky below, too!