Did you ever make "coupons" for your parents when you were a kid? Datevitation is a website where you can make a one-of-a-kind gift book for a loved one! It's such a super cute idea.
It's basically a little coupon book and you can select your own cover and gift page images and you can customize the text on each page. There are covers for all types of occasions… holidays, birthday, anniversary, thank-you, congratulations, etc. Then you can select your gender and the gender of your recipient (so the images on the pages match up). I wasn't sure if I'd save mine for Valentine's Day or not, so I went with one of the "spouse" covers:
Then there are over 200 page images for you to choose from. There aren't just romantic date ideas, there are fun and friendly ideas, too – plus you can completely customize the text for any image so you can make these for friends and family, too! Would be great for a girls getaway or your best friend's birthday… maybe your friends are about to have a baby and you want to give them some coupons for free babysitting?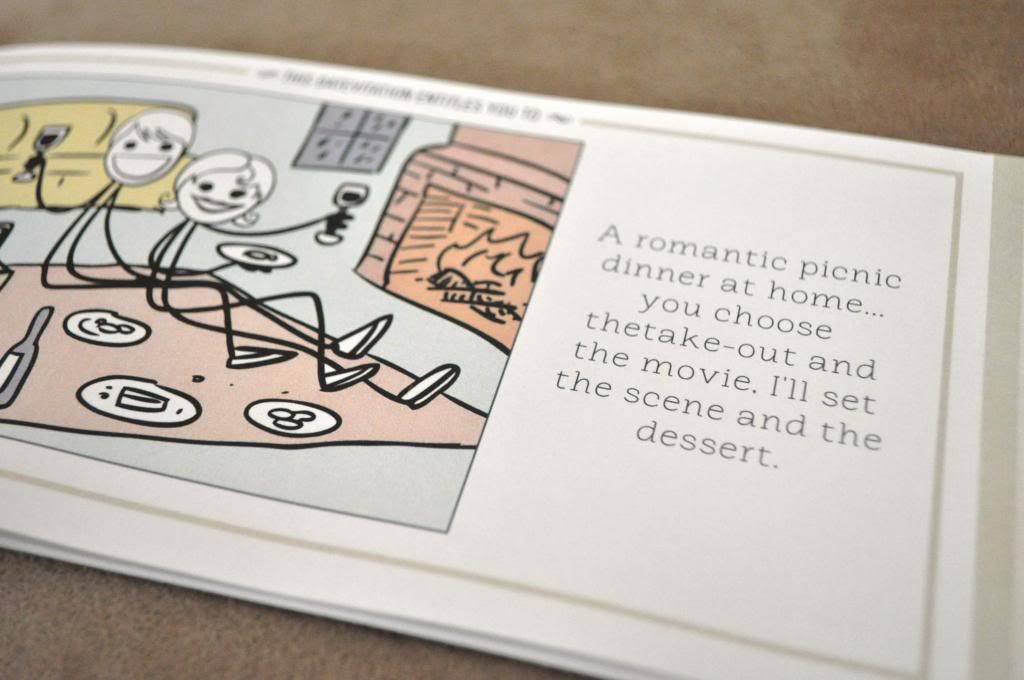 Each book comes with 5 pages/coupons. You can add additional pages for only $1 each. Here are my 5 dates for my husband:
A romantic picnic dinner at home. You choose the take-out and the movie, I'll set the scene and the dessert.
Our first date night. I'll recreate it, but I think we can leave your cousin at home this time 😉
Wine & cheese: a tasting at a local winery, just the two of us.
Video game night! Let's set it up and have a marathon! ((we used to play video games all the time before we got married!))
….I'll let you use your imagination for date #5… let's just say Datevitation has an "adults only" selection as well 😉
I was going to add dates during the month of February onto each page, but especially with 2 little kids things always come up. I figured I'd wait and write in the possible dates with pencil once the book arrived. It'll be like an entire date month! All the page options on Datevitation gave me great date ideas!
Each page is perforated to easily tear out and redeem and each page also has a space where you can write the date it was used. Cute keepsakes!
Overall, I think this is an adorable and creative gift! Plus, it forces us old married people to get romantic and go on dates and actually DO something! Haha. I think my husband will really like it…. especially page 5 😉
Don't miss the Datevitation blog to learn more about this husband & wife team and get more date ideas and romantic tips!
WANT ONE? Get $10 off the $20 book (awesome deal!!!) with my code BABYDICKEY, good through the end of January 2013.
GIVEAWAY: one lucky reader is going to win a $20 credit to make their own Datevitation book! Please use the form below to enter.