Did you make any resolutions for the New Year? I never really do–or at least I don't call them that–because who ever keeps them? Instead I like to think of goals to set for myself… things I want to improve upon or learn. Each year I'll tell myself to become more organized or cook more. Maybe I need to work on budgeting my money or improving my career. The list could be endless!
So here are my goals for 2013… my 5 small steps to a better (healthier) lifestyle:
1. Family time. This will always come first, but I can definitely improve on spending quality time with the kids AND the husband. I'm beyond lucky that I get to be a stay-at-home-mom with our kids, but I also work from home and spend far too much time on the computer. I really need to work on scheduling "office hours" and spending less time online when my kids are around. I'd also like to focus on each kid individually this year for some quality mom & son or mom & daughter time.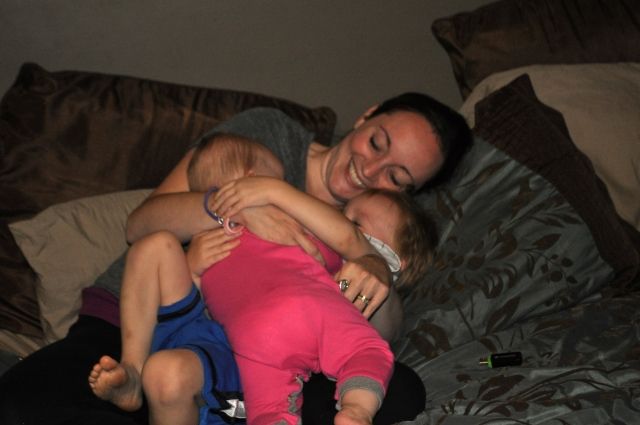 2. Meal planning. It's not the first time I've announced on my blog this stay-at-home-mom fail: I.hate.to.cook. I must have a recipe and figuring out what to  make is half the battle. I've found that planning out our meals a week in advance really helps me get the cooking done as I make sure to buy all the necessary ingredients at the store each week–and hey, I might actually enjoy the cooking thing! It definitely means our family is eating healthier, too.
3. Fitness. I used to run and I loved it. Before getting pregnant with Ryan I took an army PT fitness class during grad school… I woke up BEFORE the crack of dawn, ran miles with the army dudes and dudettes, bear crawled across the gym floor, planked like a boss, and did more pull-ups than I can remember. Now??? Pull-ups are only diapers. I don't think I've really worked out since this class! I really want to be fit and start running again.
4. Snacking. It's funny because as a mom I either forget to eat as I make meals for my kids or I'm too busy to eat as I'm running around after them. But since we're home a lot and I'm usually near the kitchen… snacking is terrible. Meal planning in step #2 will help because I won't buy bad snacks at the store, but I've also discovered that avoiding snacking altogether doesn't help me either. Favorite healthy and delicious snack (that the husband and kids love, too)? Quaker Popped Rice Snacks.
5. Sleep. I debated on putting sleep or water for #5 because I'm TERRIBLE at drinking enough water, but… sleep always wins out. I mean, I'm the girl that could sleep 14 hours in a row at night and loved it. Now I sleep in 3-4 hour chunks because Little Miss still wakes up at night and I stay up wayyyy too  late at night, usually trying to get work done. Ryan is up by 6:30am every day and I need to work on getting to bed earlier! I know a lack of sleep can lead to a whole host of issues and is probably the main reason for my headaches and general crankiness 😉
What are your goals for 2013? What are you working to improve and how are you planning a better, healthier year?
Quaker® Quakes® are now Quaker® PoppedTM – a new name for the snack made with the delicious goodness of whole grain brown rice and corn and a great snacking solution.
GIVEAWAY: Reply below for your chance to WIN a sample of all 14 flavors of Quaker Popped Rice Snacks and $1,000 gift card to help you achieve your New Year's resolutions!
This is a sponsored conversation written by me on behalf of Quaker. I received product in conjunction with this post. The opinions and text are all mine. NO PURCHASE NECESSARY.  See Official Sweepstakes Rules