I am super excited to be a 2013 Step2 Test Drive Blogger! We love Step2 products and have quite a few in our house (and in our backyard). It's a name I trust, a name with quality products, and a name I'm happy to be sharing with all of you!
Today, at the NYC Toy Fair (wish I was there!), Step2 launched their campaign called, "I ♥ Easy Turn Coupe." Step2 works with the non-profit The Saving tiny Hearts Society, which funds life-saving grass roots research for CHDs (congenital heart defects).
It also happens to be the middle of CHD Awareness Week! This is very important to me as my friend Kristine's sweet baby girl passed away at 5 days old from an undetected CHD. Now she saves lives. Kristine was also the keynote speaker at The Saving tiny Hearts Society's last gala!
WANT TO HELP? Easy.
As easy as the Easy Turn Coupe 😉
Visit the Easy Turn Coupe page on Step2's facebook page… watch the short video… and leave a comment about your favorite Coupe feature… that's IT! EASY! Step2 will donate $1 for every comment to The Saving tiny Hearts Society (up to $10,000). It will take you 2 minutes to make a difference.
NOW… on to the COUPE! We recently received the Easy Turn Coupe to try it out and we LOVE IT! I made the mistake of telling Ryan it was coming and that entire day he asked me every 10 minutes, "Is the car here yet??? Well why not? It needs to be here in ONE HOUR!" Hahaha. Oh boy, the day it did come was like winning the lottery–the kid loves cars.
What's awesome?
Hands down the best thing is the front swivel wheel. It moves like a 3-wheeled jogging stroller, but with the look of a 4-door sedan. This baby spins and turns on a dime and that makes it sooooo much fun for the little ones. It's also fun gender neutral colors!
My other favorite features: The cup holders!!! There's one in front and two in back–great for your kid's drink and yours. This is seriously the first thing I noticed about the car, I was so excited, haha. I also love the see-through roof so I can peek down and see the kids and I love the handle on the roof for easy pushing.
The removable floor is awesome so we can leave it in for Rebecca (almost 1 year old) and remove it for Ryan (3yo). I only wish that it was easier to switch because sometimes Ryan wants to be pushed in the middle of a walk… the floor does screw in, but we left it loose for this purpose of easily removing it between kids.
Ryan's favorite features? The cup toy holders, the removable floor so he can run around in the car by himself or he can get pushed because, even at 3 years old, he still likes that, too! Also the "gas tank", moving key, honking horn, and door (sometimes he just opens and closes it and gets in and out over and over and over…). Basically I can't pick favorites… because it's everything!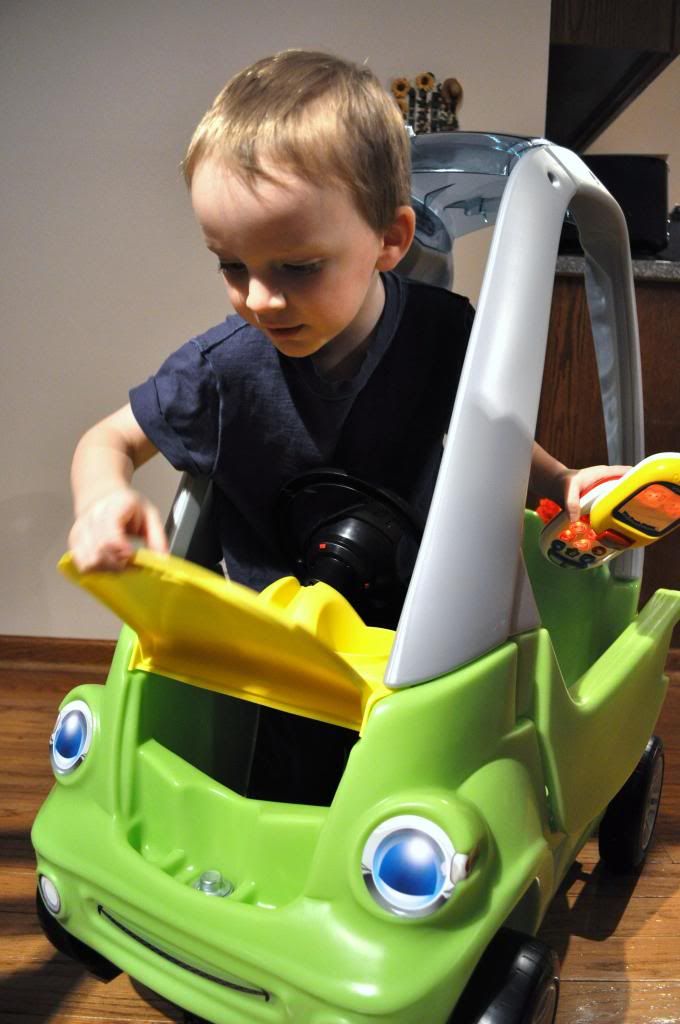 Ryan doesn't enjoy when I take a lot of pictures of him, haha, so I'm lucky I got these! Rebecca is hilarious–every time we put her in the Easy Turn Coupe (with the floorboard in), she absolutely won't sit down… she stands, holds the steering wheel, and giggles the whole time we push her around. It's adorable!
You can get your own Easy Turn Coupe for $59.99 or win one here!
GIVEAWAY: one lucky reader is going to win their own Easy Turn Coupe by entering my "CAPTION THIS" contest! Use the photo below for your caption and the form to enter! Good luck! RULES: keep your captions kid friendly!!! One caption per person per day. Ends 3/31/13.
Thank you to Step2 for letting me test drive this Coupe as part of the Step2 Test Drive Blogger program! All opinions are my own.