Welcome to another great post for the New Year, New Home event I'm hosting with Amanda from Coping with Frugality and Elizabeth from Being MVP! We're all working hard on our new houses with furniture, appliances, and décor, and we're excited to share some new companies with you!
Introducing… Chef's Planet! I'm new to this company and I like what I see! WHY? They tailor their products for active lifestyles. There's seriously nothing worse than trying to cook dinner and having children crying at your feet–you're elbows deep in some raw meat or teriyaki sauce and you just don't have enough hands to deal with it! (I think I just stressed myself out, lol). I mean, you can't get more active (=busy) than being a MOM! I looooooooooove products that make my life easier, that make cooking a breeze, and that help me get things done faster (so I can tend to those crying babes).
For my review I was sent the three items pictured above: multipurpose nonstick kitchen mat, mesh crisper, and a clip & drain. These are all new things to me so I've enjoyed trying them out. I can't believe I never had a nonstick kitchen mat before!!!
I made Valentine's Day cookies with some of my girlfriends and used the kitchen mat to roll out the dough… before I did it on cloth (covered in flour) or just on the countertop! Loved using this… it basically sticks (like static cling) to your counter or table so it doesn't move around at all and then you have a nice, nonstick smooth surface for your dough. I'll be making chocolate covered goodies for Rebecca's birthday party coming up, too, and this will be perfect! It easily wipes clean.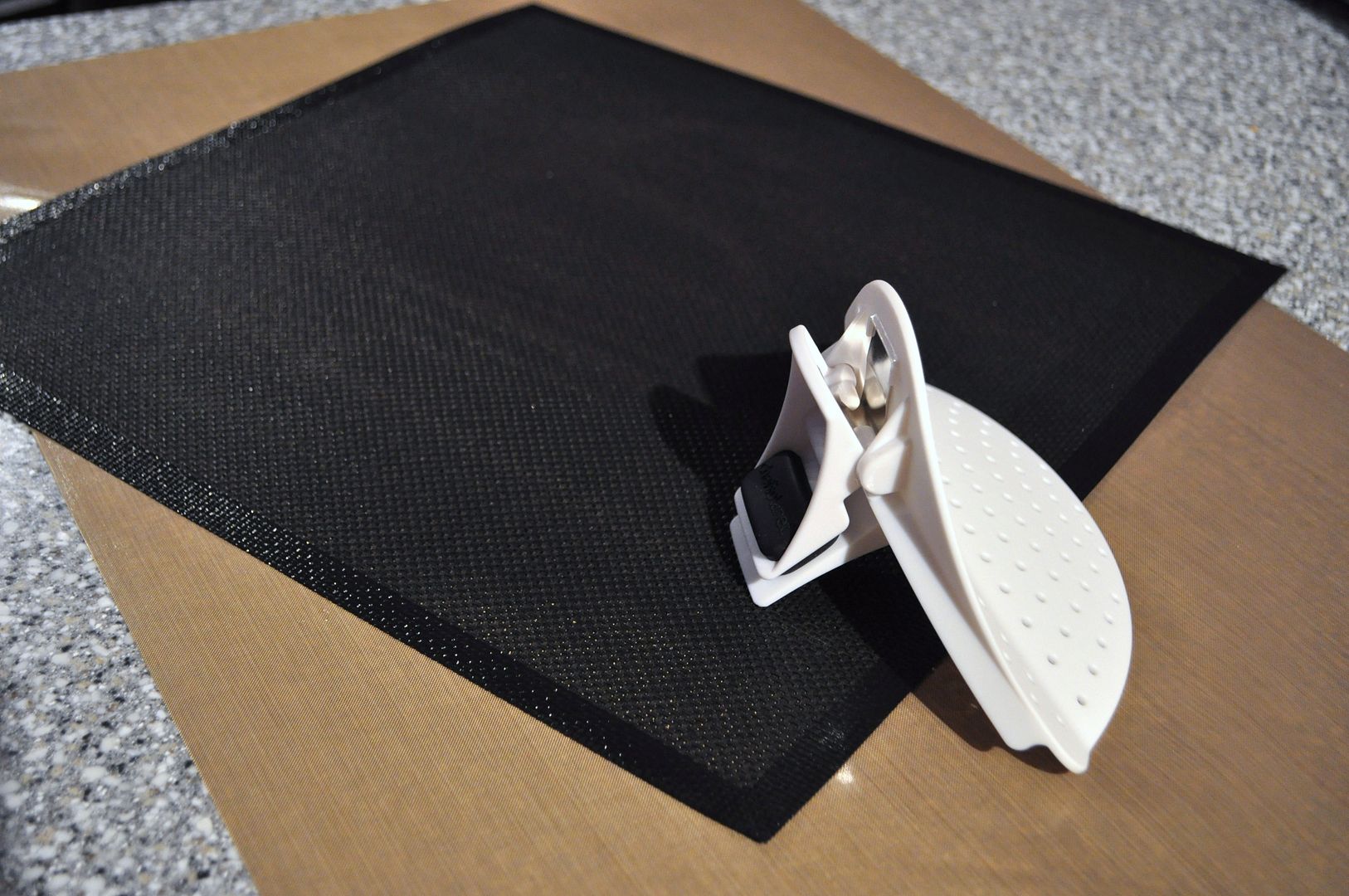 I wanted the mesh crisper because we're always reheating leftovers and I hate when things get soggy. I used this recently to make mozzarella sticks and it was great! The mesh allows the heat to get all the way around your food. It's plenty big at 14″x14″, it goes directly on the oven rack, can be used on both sides, and – best part! – it's dishwasher safe!
The only problem I had with it is that it's hard to pick up when you have it covered with smaller food items. If you had a pizza on it, no problem, but mozzarella sticks or fries, etc? It's not sturdy, it's mesh, so to transfer it to and from my oven rack I slid it on a cookie sheet–not a big deal, but an extra step. Worth if for some crispy snacks 🙂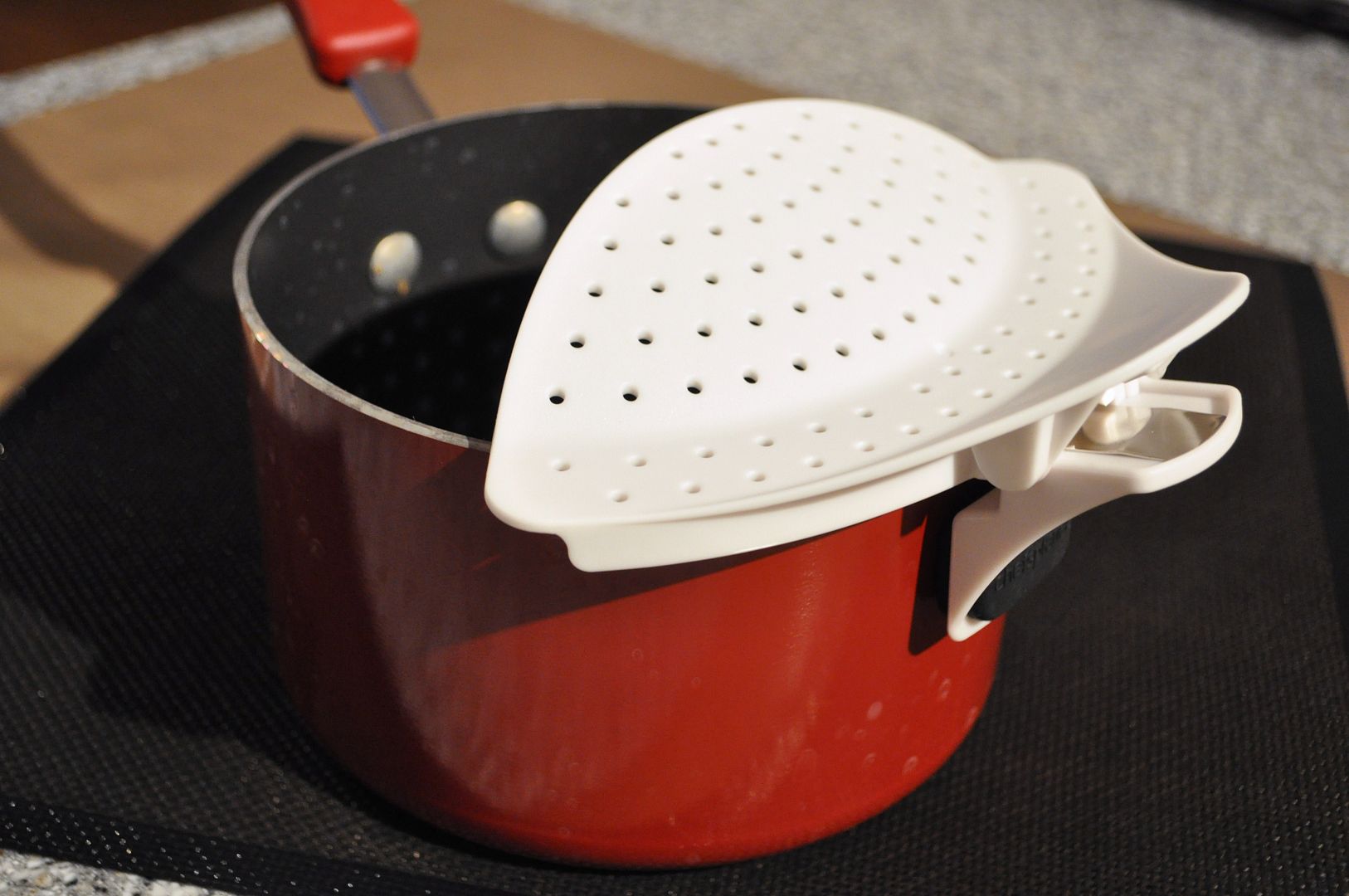 I LOVE this clip & drain strainer. We had one of the typical large bowl strainers and it takes up a lot of space in our cupboard and I also hate the space it takes up in the dishwasher. This thing is perfect!
It's small and it's convenient. It clips right on with a padded clip, seals along the edge so you don't lose your food, and drains as you pour. I test this out on a few different pots because I was curious about the sizes. It seems to fit and work on all of them just fine. If you are using a smaller pot, the clip doesn't hug the edge as closely on the sides–but a smaller pot generally means less food so you won't have a problem.
I found that about 1 box (or 1 pound) of pasta is as much as it can handle. If you have more food than that, the strainer isn't large enough to hold it all back. I very rarely ever make more than that so this has been amazing for our needs–high recommended!
Make sure you check out the Chef's Planet reviews from the other girls because you'll have a chance to win our items!
GIVEAWAY: one lucky reader will win their choice of product from all 3 of our reviews! You can pick from the 3 items I reviewed, the items from Elizabeth's blog, or the items from Amanda's blog! Please use the form below to enter–good luck!