Having a new house to decorate is fun, but oh my gosh it's hard. I don't think I realized how bad I was at interior decorating… I mean, I know what I like, I can look through magazines or at websites and pin away my favorite looks. The yellow and gray, the trendy chevron prints, the neutral colors…. but implementing any ideas in my own house?! HELP!
A magazine or website has a whole room put together… obviously it looks perfect. But to find each piece to make up your room in your house? Hard. To find the right shapes and sizes and colors? Hard. I have a massive color wheel of every paint color EVER and it's just simply overwhelming. I'd say half our house needs to be painted–all bedrooms, the kitchen, the bathrooms in the master, main floor, and basement…. and I don't even know how to start.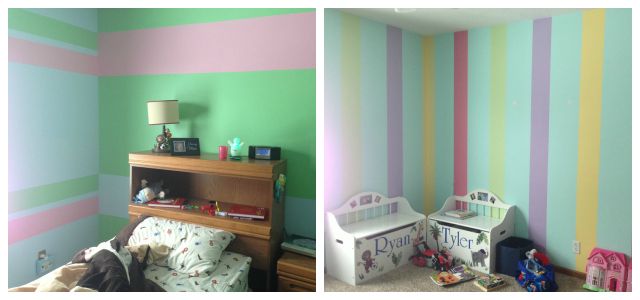 Ryan's room on the left and the guest bedroom on the right… great paint jobs, but not for us! 😛
My plan right now is to just keep saving and pinning images of rooms and products I like… and slowly acquiring the items we need. Our previous house was smaller so we need a lot more furniture and stuff to fill this one.
We have ideas:
the "dining room" will be an office: we're looking for a large office suite type desk and a cozy armchair
the living room will be a cozy quiet room: we're thinking comfy reclining chairs, a table, and lots of bookcases – oh and a wall of family photos
the family room needs shelves on either side of the fireplace and we need a TV stand
our master bedroom needs a dresser and end tables (and I'd like a small desk in there)
the other spaces are pretty much done: the kids' rooms, extra bedroom, porch, and basement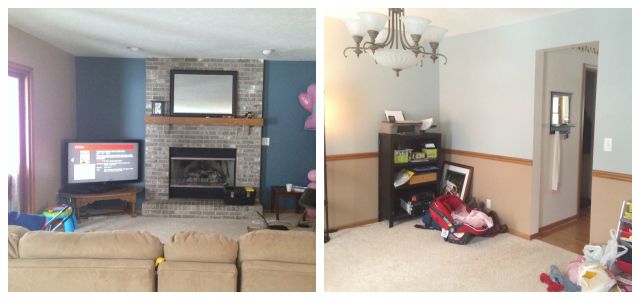 Family room on the left (want shelving by fireplace) and "dining room" on the right where we want an office (right now it's a catch-all for junk)
We even need to pick out some curtains. It's in most contracts when you buy a new home that all window furnishings stay with the house (we left most of ours behind at our old house), but the previous owners specifically wrote in that they'd be taking theirs with them. Fine. But now we have bare windows and I'm pretty sure my neighbors out the front windows have seen me with no pants on?!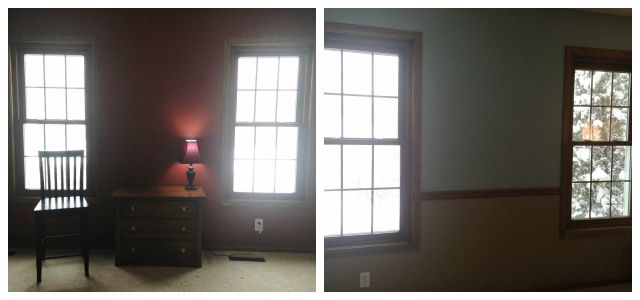 Our two front rooms (living room on left, dining room/office on right) that need window furnishings
They did leave these awesome cordless wooden blinds in the kitchen and I THINK we want matching ones on the front windows. My mom thinks they're too casual looking, but we're not doing any "formal" dining room or anything… I like casual… is it unusual to put wooden window blinds in the front rooms?! I guess instead of something more sheer or just curtains…. I.hate.picking out curtains, it's impossible, so I let's just skip it 😉
Pretty, right? I love them. You just pull them down or push them back up, no cords. There are 2 short cords near the top, however, to open or close the blinds. So let's start with the windows… and in my next post(s) I'll ask for more interior decorating advice for the rest of the house, once I get some more ideas! 
SO – opinions – would you put those in your front windows? Or should I look for something lighter? Fancy curtains? I clearly have no interior decorating skills. I think I should hire someone, lol.