Welcome to another review with the New Year, New Home event I'm hosting along with Elizabeth from Being MVP and Amanda from Coping with Frugality! This time we're talking about insulated glasses for your kitchen from Ozeri, a company that produces modern lifestyle products for luxury markets.
Ozeri makes modern home and digital lifestyle products. They're a supplier for vacation residences, which means you find Ozeri products in destination homes, timeshares, and condo hotel apartments. Ozeri is entering the consumer market (you can find their products on Amazon) and at a great price–because they succeed with word of mouth advertisement, from those that have seen and used (and loved!) their products in the vacation residences. Saving money on marketing and traditional advertisement means more savings for us and awesome products for our home at an affordable price.
For our review, we were sent thermo (insulated) glasses… the Serafino Double Wall 8 oz Beverage & Coffee Glasses:
We used to have a set of insulated glasses we received as a wedding gift 5 years ago. We LOVED them. If you've never owned insulated glasses, they're the best! Anyway – most of them broke until we just got rid of the few remaining when we moved to our new house. Sad day. Then came these Ozeri thermo glasses…. whooo! And even better? These are way nicer than the ones we used to have. No wonder those broke… these are sturdy and made of glass.
The middle of the glass has a curved design that looks nice and makes them comfortable to hold. The great thing about insulated glasses is that you can use them for hot or cold drinks. Pour in your hot coffee or tea and it protects your hand from the heat or you can pour in your ice cold drink and you don't have to worry about condensation.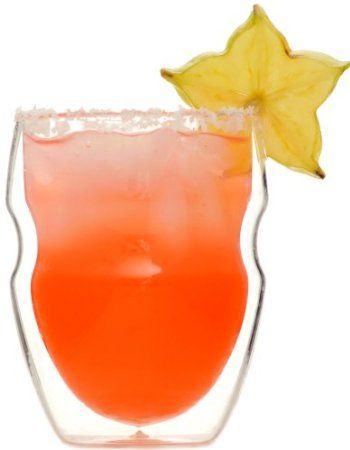 These are more durable than common glassware and are made of a shatter resistant borosilicate glass. They're dishwasher, microwave, and freezer safe… we've had them for a couple of weeks now and they've gone through the dishwasher plenty of times (and microwave a couple of times) and we've had no problems at all. Unlike our previous set, they haven't gotten cloudy or chipped.
A set of 4 of these 8-0z glasses is $28.95 on Amazon. Ozeri also has larger glasses and insulated glasses with different styles so make sure you check them out! You can also find Ozeri on Facebook and Twitter!