I love being a Joovy Mom because I love the company and it means I get to share so many of their amazing products with all of you. Joovy is a family owned and run business and they're parents themselves… so they get it and they make quality products. I previously reviewed the Room2 ultralight and now I get to share with the another great product, the Joovy Nook folding highchair.
I got the black leatherette Nook and love the look and design of it. A leathette?! For a baby?! Yea, it makes a nice addition to the kitchen. And the biggest plus is that the leatherette material wipes clean really easily. You can even put it in the washing machine, if needed. Joovy's website suggests the seat cover can be washed a couple of times during its lifetime. It also has a 5-point harness to keep baby safe.
There are a few other major positives about this highchair that I love…
The tray swings in and out! AHHH! Unless you've had a highchair with a removable tray, you probably won't appreciate this as much. But let.me.tell.you. We used to have a highchair with a removable tray… when I took it off to get the baby out, I had to find somewhere to place it and it was usually covered in food–it was pretty much a constant kitchen counter decoration. It was a pain and there was no where to store it conveniently. Oh and don't worry – there's a top tray that comes off for easy cleaning in the sink if you need to (it's also dishwasher safe).
It FOLDS….. FLAT. There's a lever at the top of the chair and with one hand you can fold this baby flat. It easily stores away after meal time in a closet or corner of your kitchen. That is, if you want to put it away… the leatherette material looks nice enough to leave at your kitchen table, too, in my opinion. The folding feature is also really nice for moving this highchair around.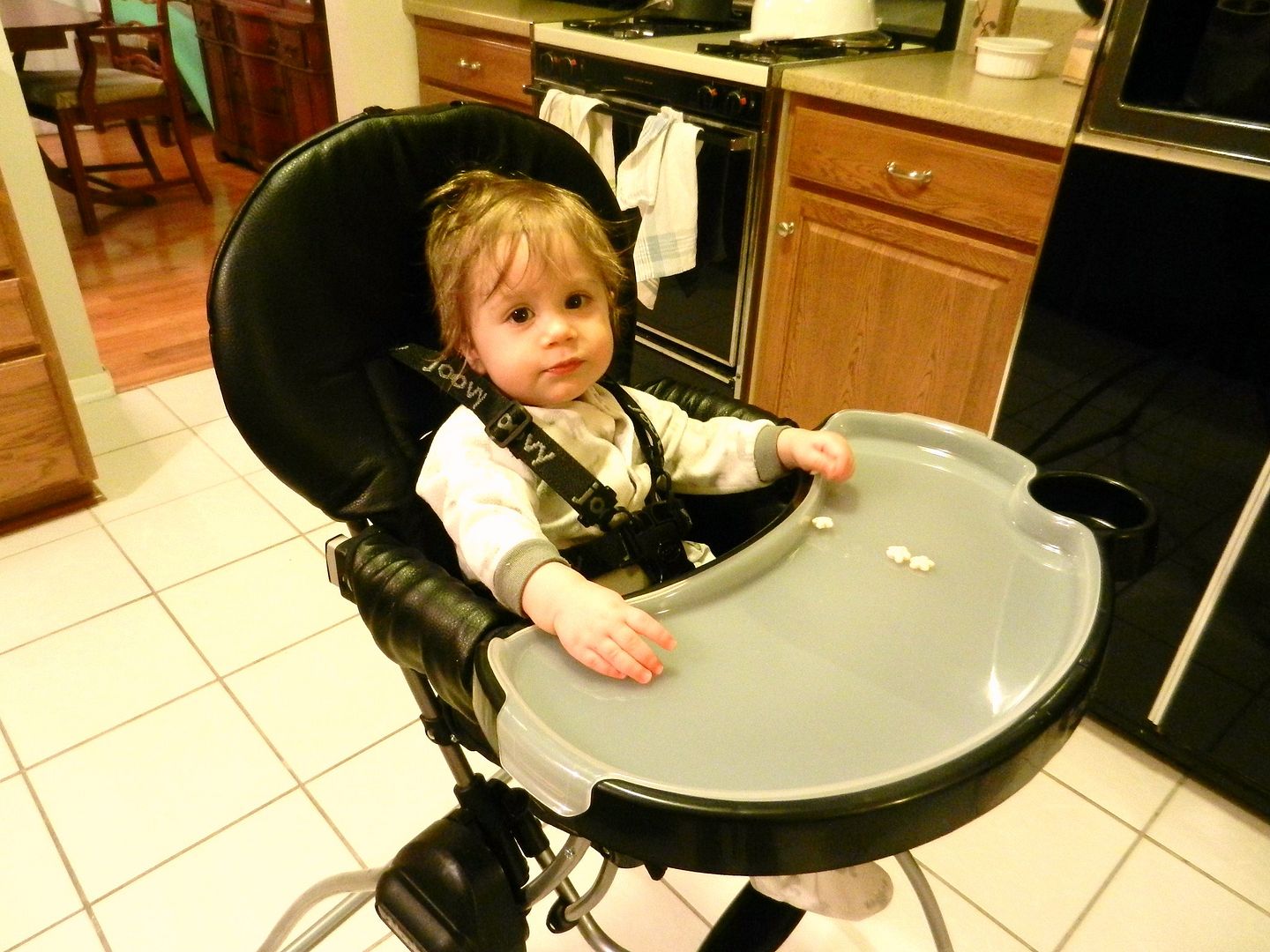 The only negative is that the distance of the tray to the baby can't be adjusted so it seems a bit far. But at around age 1, Rebecca can reach the tray just fine to feed herself… and in the photo above is my super cute baby boy model loving the chair! He's just under age 1…. cute, right? And he can also reach it just fine.
You can get the Joovy Nook in black, green, orange, or white for $149.99. Also make sure to follow Joovy on facebook and twitter for the latest updates!
~I received this product to facilitate my review. All photos and opinions are my own!