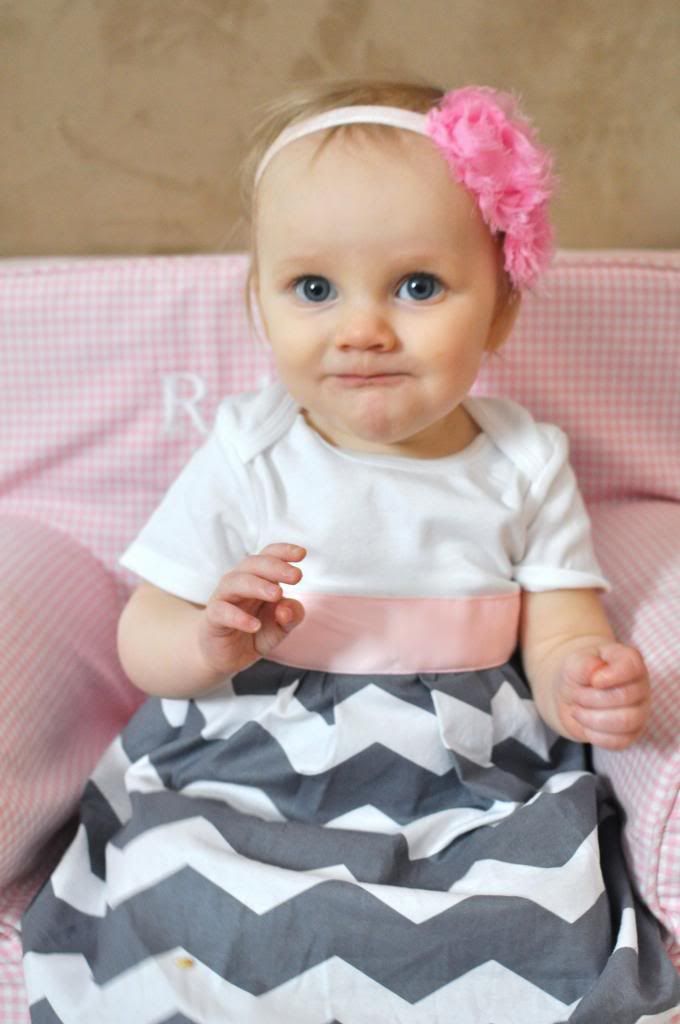 My new favorite dress from my new favorite shop! We all know chevron is hot right now… on clothes, walls, printables, party decor, photo backdrops… EVERYWHERE. And I love it. Gray is a pretty popular color right now too (mixed with yellow or pink or even light blue). Combine them all (with my little Rebecca) and you have THE CUTEST CHEVRON BABY DRESS EVER.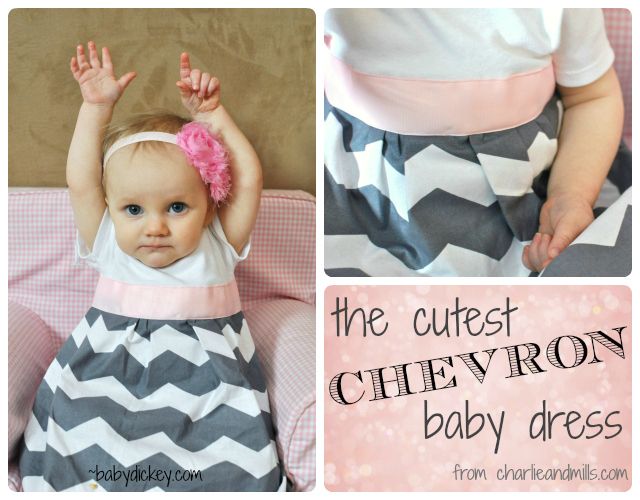 Right?! I had so much fun taking these photos… and continued to take them all day long, so sorry for the photo overload 😉 Anyway – this shop is called Charlie & Mills and is family-owned… a mama, her husband, and their two littles, Charlie and Millie! Everything is handmade and this dress is definitely made very well.
Rebecca is still in size 12 month clothes, but she has been forever so I figure she'll move up soon! I got this dress in size 18 months for the spring/summer and it fits wonderfully with room to spare so I know it will last awhile. It's a onesie underneath the dress so it snaps between the legs. The pink bow is a lovely touch of color and it's fairly long to tie in the back for a nice, big bow. You can see more of the skirt of the dress and the back bow in these photos:
You can customize the color of ribbon you want and you can also get this in a long-sleeved dress. Charlie & Mills has lots of other fashions to choose from, too, and I adore them all! I will definitely be shopping here for more outfits–they have boys clothes too (CHEVRON SUSPENDERS, anyone?!?!) and lots of options for girls. There's blue, pink, black, rainbow chevron (and more), nautical themed dresses, knot dresses for spring time, even monogrammed and personalized outfits. I think they're super affordable, too – this chevron baby dress is $22. You can also shop on their Etsy store.
GIVEAWAY: one super lucky reader (and their little one!) is going to win THEIR CHOICE OF ITEM from Charlie & Mills! Tough decision! Please use the form below to enter–good luck 🙂