Dr. Seuss had a birthday on March 2nd! He was born in 1904 so he just turned 109! I've never been aware of his birthday before (#momfail), but this year I was it everywhere. And by everywhere, I mean pinterest. So… it was time for a Dr. Seuss theme party!
I recently joined our local MOMS Club because not only do my kids need to socialize with other kids their age, but I desperately need to socialize with other adults and get out of the house more often–winter sucks. And finding new mom friends has been like entering the world of online dating.
The MOMS Club threw a birthday party for Dr. Seuss! The host was awesome–not only was everything decorated in Seuss style, but there were games around the house, a craft, book exchange, and all Dr. Seuss themed foods. Check it out…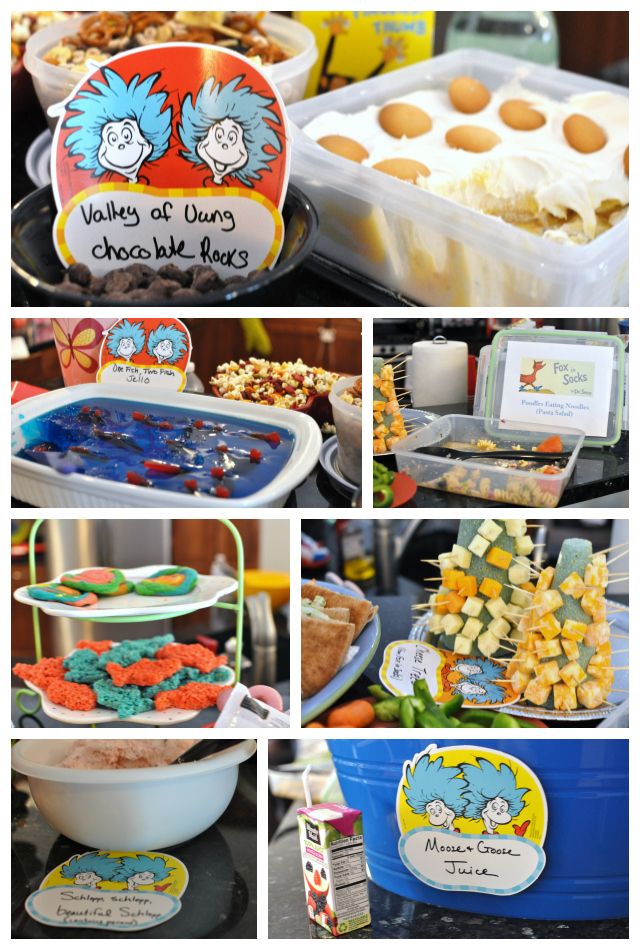 Valley of Vung Chocolate Rocks: chocolate covered peanuts
One Fish, Two Fish: blue jello with red fish
Poodles Eating Noodles: pasta salad
Rainbow Pinwheel Cookies
Red Fish, Blue Fish: fish-shaped rice krispie treats
Cheese Trees
Schlopp, Schlopp, Beautiful Schlopp: cherry salad
Moose and Goose Juice: juice boxes and water
Sherbet and Pink Lemonade
Banana & Strawberry Kabobs: Dr. Seuss hat (not pictured–these went fast!)
Wockets in Pockets: pita sandwiches
Super fancy Dr. Seuss cupcakes and there was also a rainbow Dr. Seuss cake (not pictured):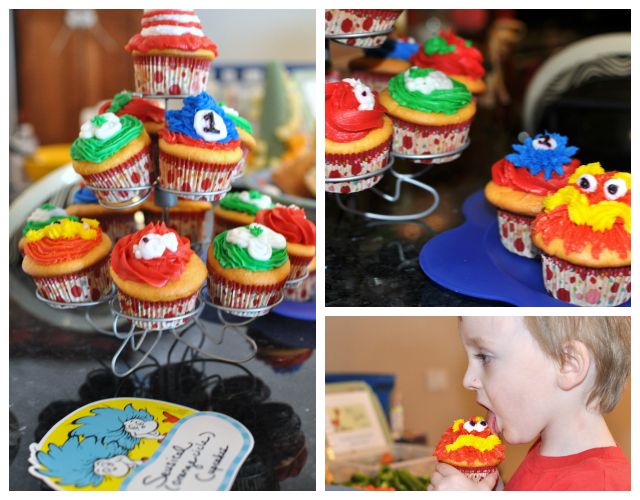 There was a "fishing game" for the kids to play and we all filled out a fill-in-the-blank of Dr. Seuss rhymes…. that was hard! But I knew more than I thought I would, haha. The winner got a prize.
There were decorations like a "happy birthday" banner, window decals (you can see behind Rebecca), balloons, streamers, Dr. Seuss books all over the house and above the kitchen cabinets, and Dr. Seuss cutouts.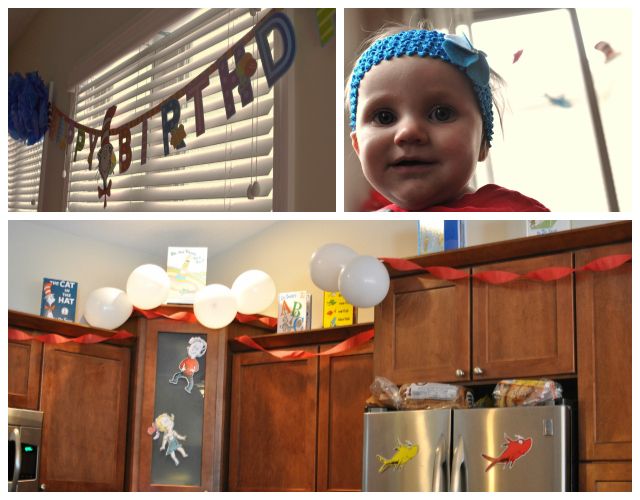 There are a million Dr. Seuss crafts you could do with the kids, just check out Pinterest. We did a craft for the Dr. Seuss book "Put me in the Zoo." It's pretty simple for the young ones and super cute:

Another mom also made little Horton Hears a Who Clovers for everyone to take home… super cute! It says "A person's a person no matter how small." Ryan took his to bed with him during nap time that day 😉
Lots of kids (and moms!) were dressed up for the Dr. Seuss theme party… cat in the hat, red fish blue fish, little Cindy Lou Who, and thing 1 and thing 2…. I got my Thing 1 and Thing 2 shirts for the kids on Amazon. Here's my little thing 2 (with cake on her face, haha) 🙂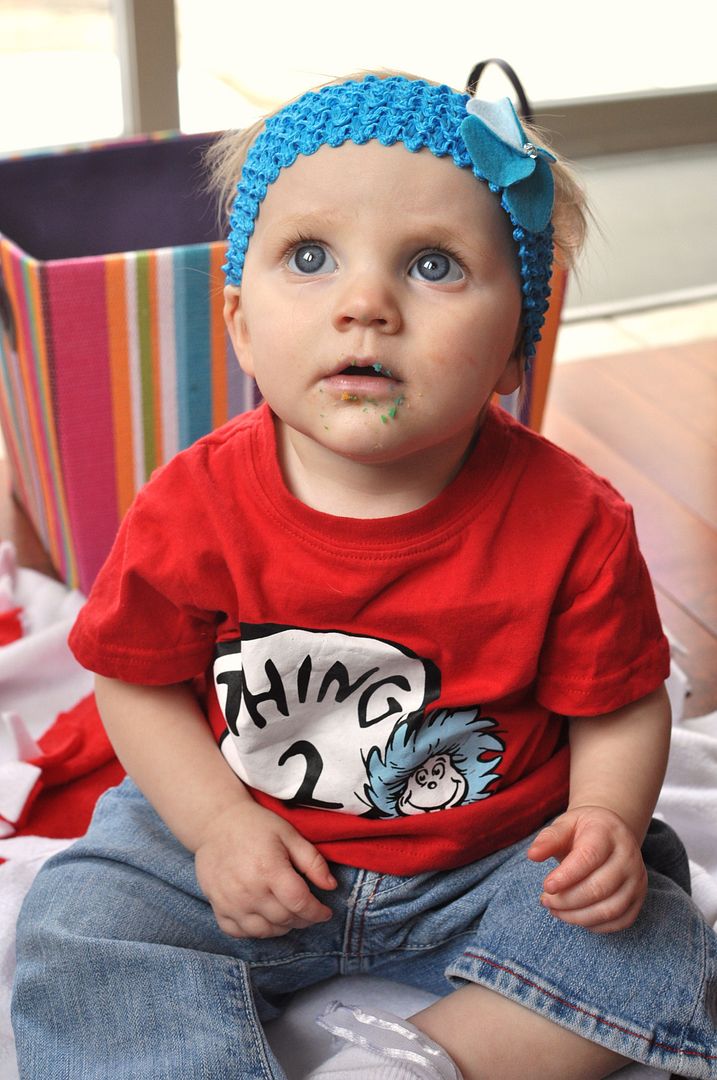 Ryan wouldn't let me take a picture of him at all so this one is the only one I have of my "Thing 1" and "Thing 2" together. The party host took it (Thanks, Lindsay!) when we got there (of course Ryan lets her take a photo! lol) and I was trying to hold Rebecca up next to Ryan…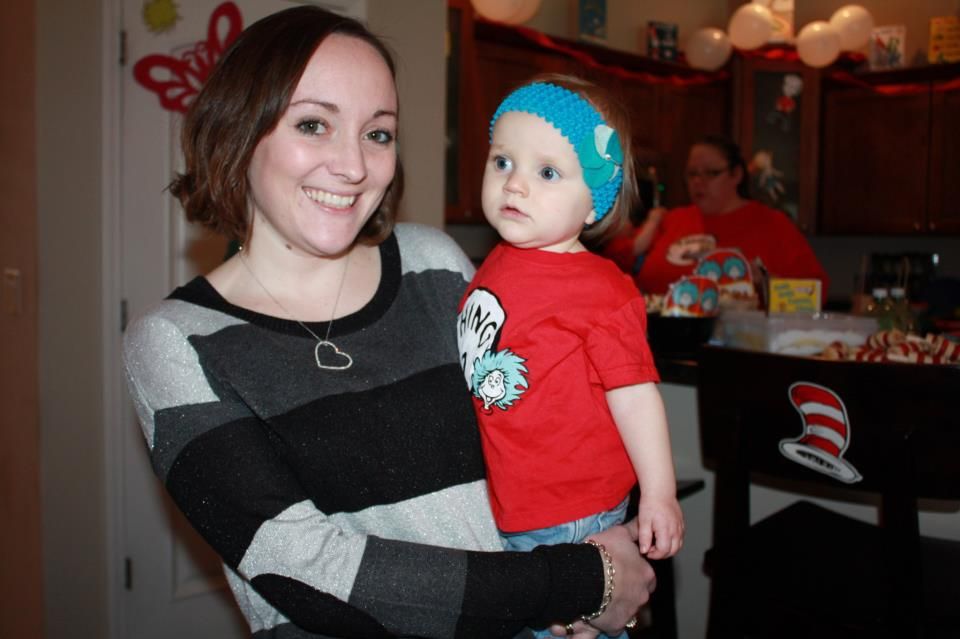 Have you had a Dr. Seuss party? Leave your party ideas (or even a link to your post about it!) in the comments below!