I mentioned awhile ago that my girlfriends and I started a monthly Pinterest craft night… but OKAY, let's all be honest here, we refer to it as our "Wine Club." This month we didn't even get around to the craft part of the night 😉 But when we DO make crafts, they're pretty awesome… like this Letter Wreath!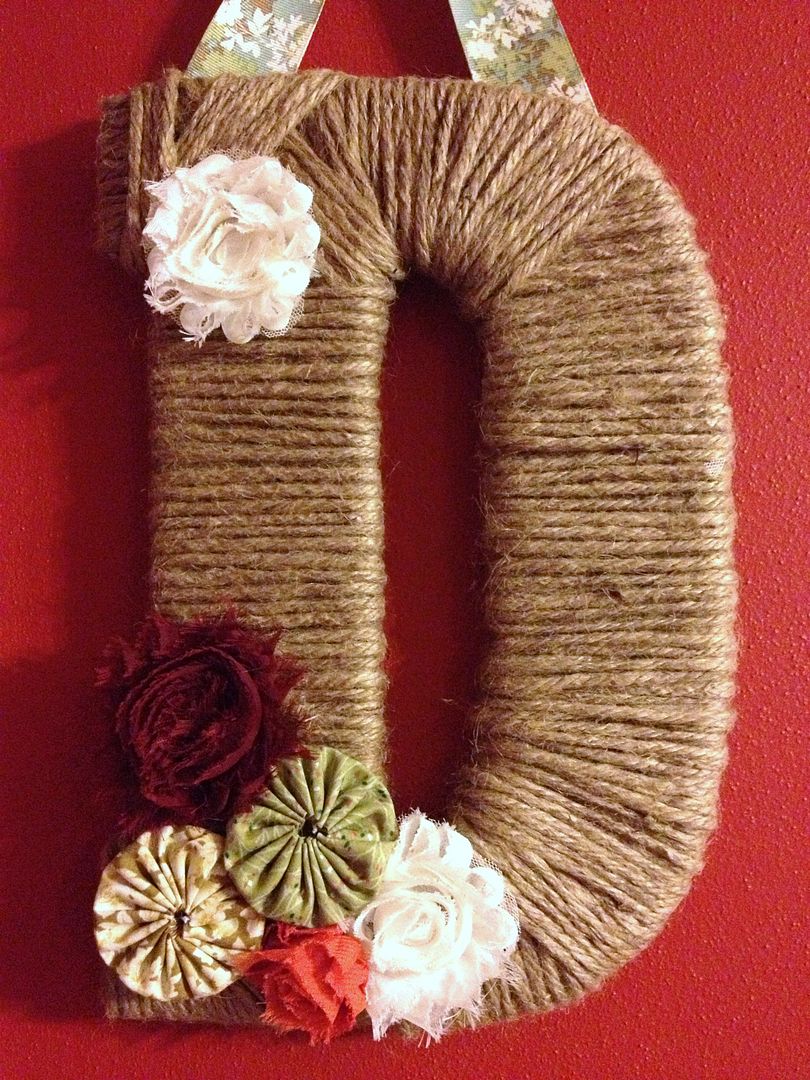 There really isn't a science to it… the four of us all showed up with different sized letters, twine of different thicknesses, and a variety of ribbon and flowers. Actually, one of us decided not even to use twine! I had brought a bag full of old lace curtains that I use for crafting and she cut up strips.
Here's our letter wreath making in progress: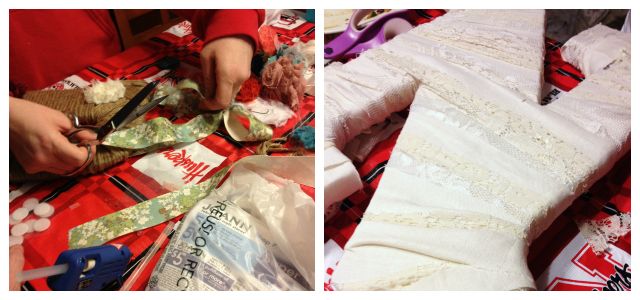 WHAT YOU NEED:
A letter! I went to Hobby Lobby and bought a flat wooden letter "D" for our last name. I had wished it was thicker, but after the twine was added, it looked just fine. They had cardboard letters that were thicker, but they were also smaller in size and I didn't want that. My friend that used the lace cut her letter "N" out of a big piece of styrofoam because she wanted a huge letter. So, really, you can use anything you'd like!

Twine. (Or ribbon, yarn, lace, even just mod podge on some scrapbook paper?). There's even twine of different colors and thickness ("ply"). I realized that the smaller the ply, the more wrapping (and more work) I'd have to do, so I bought thicker 4-ply jute twine, but others used 2- or 3-ply and it worked just fine! Here's a good image of 2-, 3-, and 4-ply. I also used the darker looking twine, while others used the lighter natural looking twine… so many choices!
Hot glue gun (with lots of glue sticks!). I glued down an end of twine (to the back of the letter), did some wrapping, dapped some more glue on the back, wrapped some more…. When I got to a curve or area of the letter where I had to stop, I just cut my twine, glued it down, and started again.
Scissors.
Ribbon.
Flowers, buttons, or any other things you want to add to make it pretty!
Velcro (OPTIONAL). Instead of gluing my flowers directly to my letter, I glued little velcro circles to my letter and to the backs of the flowers so that they're interchangeable. I wanted to be able to make the letter wreath festive for holidays! So at Christmas, for example, I can trade out my flowers for green and red ones 🙂
WINE.
I don't really have any tips for wrapping… just keep going. Some parts are more difficult to cover (like the top and bottom left sides of my "D") and I had to stop and start more often… I even cut some strips of twine and glued them straight down on the D instead of wrapping it to cover certain areas. You can't even tell… and besides, I covered up those areas with flowers anyway 😉
You can really see how differently we all made our letters… there are endless possibilities so get creative! I love coming home and seeing my lovely letter wreath hanging on the front door 🙂 These would also be GREAT for your children's rooms or as a housewarming gift or at a baby or wedding shower!