I've been through all phases of babywearing and stroller-use now with a 3 year old and a 1 year old (wraps, carriers, slings, single stroller, double stroller, sit and stand stroller!). For babies, I love babywearing. I took Ryan and Rebecca with  me everyone strapped to my chest. BUT I will tell you babywearing gets harder when you have two+ children. If I was out with both kids and wearing Rebecca, Ryan would want to be held (he was still just over 2 at that point). I started using a double stroller that held an infant car seat so our new baby girl and our big boy could both ride in it.
THEN Ryan got a bit older and started wanting to walk more often. I'd lug the big double stroller with me only to have my toddler running around and not using it. But if I brought a single stroller just for Rebecca, what would happen? Ryan would cry to ride in it instead of her or he'd cry to be held. Yep – I'm telling you, there's no winning.
And THEN… I discovered this sit and stand stroller by Joovy. I wish I had this long ago because it also has the capability to hold an infant car seat so it will really grow with your family. You can put a second seat in the back, too, so when Ryan was in that 2-year-old phase of wanting to ride in a stroller, this would have still been awesome. Now, we take the back seat out…. With a 1-year-old and a 3-year-old this this sit and stand stroller is perfect. Rebecca sits comfortably in the front seat and Ryan can sit or stand in the back. When he decides he wants to be a big boy and run around? He can easily hope off and I'm not pushing a huge, half-empty double stroller. When he gets tired or just wants to ride? He can hop back on.
The Caboose Too Ultralight Stand-On Tandem Stroller (in black):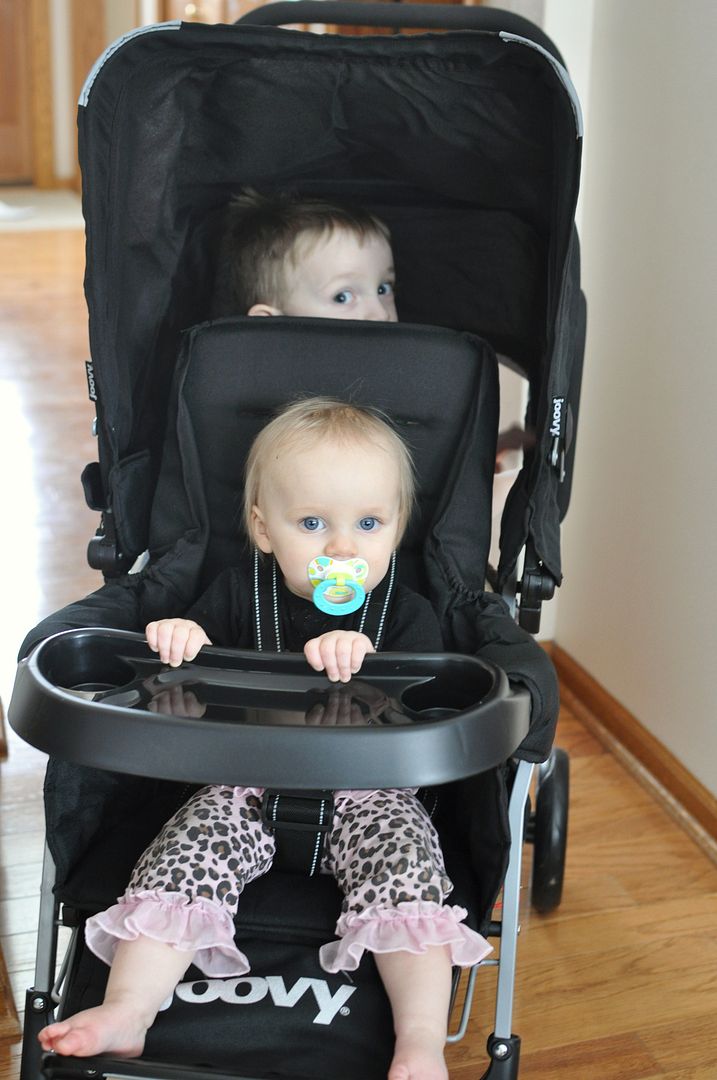 In the photo above, Ryan is sitting on the back "sit and stand" platform (the second seat is not installed). In the photos below, you can see a lot of the awesome features:
the front wheels swivel or you can lock them in place with an easy red switch
roomy pockets on both sides of the under carriage basket that velcro closed
a red safety strap for use with an infant car seat that stores in a handy side pouch
an included snack tray for the front seat with cup holders
an adjustable foot rest on the front seat with 2 positions: straight out or down
easy red foot brakes on the back wheels
platform on the back where your toddler can stand or rest their feet while sitting (there are safety handles for them to hold on to!)
nice padded handle and slide-up red buttons for an easy collapse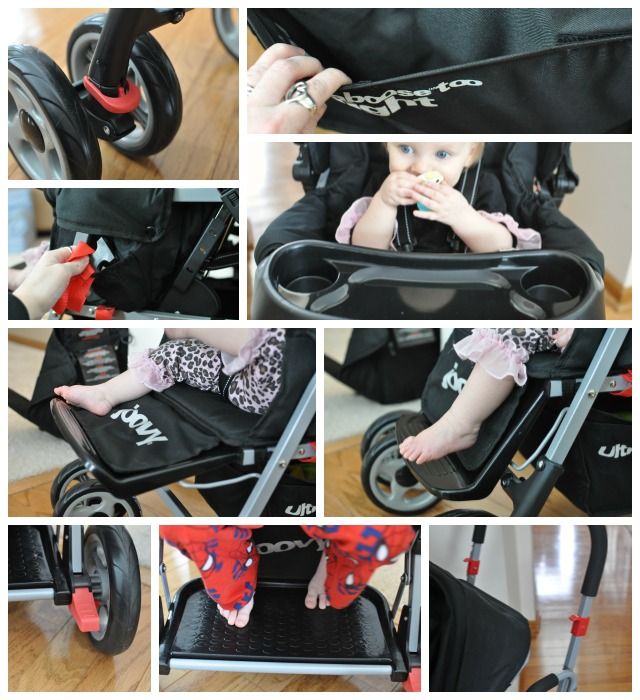 There are so  many ways you can use this stroller, it makes it great for all ages and will grow with your family. We decided to leave the back seat off for Ryan because he decides to jump out so often, but if he was a bit younger, it'd be perfect. Now the "sit and stand" option is perfect for our family.
One of my FAVORITE features (that's typical of all Joovy strollers) is the large canopy or sun shade. If you want it "closed," it folds flat in the middle, between the two seats. Or you can open it on either side and move the entire thing forward and backward. It lowers completely over the front seat (top left photo below) or you can move it all the way back (top right photo below). Ryan loves to play with it and have it cover his face, lol.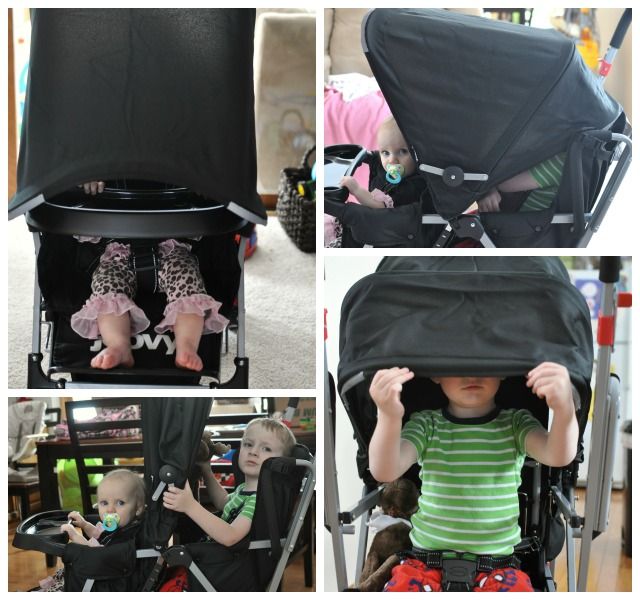 You can see in two of the photos above that Ryan is sitting in the actual seat in the back. He does fit, but his knees are pretty close to Rebecca's seat in front of him.  In the photo below, he's sitting on the bench (without the back seat installed) and wanted to show off Mr. Moose 😉 The seat still has a lap belt to keep him strapped in and safe – and the side handles he can hold on to when sitting or standing.
And here's Ryan standing on the back. No, his head doesn't hit the handle bar when he's standing normally, lol, he's just being a goof and leaning forward 😉 He even strapped in his Mr. Moose for a ride! And OH how he LOVES being behind his sister to turn around and pick on her whenever he wants lol.
*NOTE: my son dressed himself that morning 😉 and I apologize for the indoor pics, but it was snowing (in LATE MARCH) on the day I had scheduled to take photos 🙁 I often use this indoors anyway – shopping, at the mall, etc.)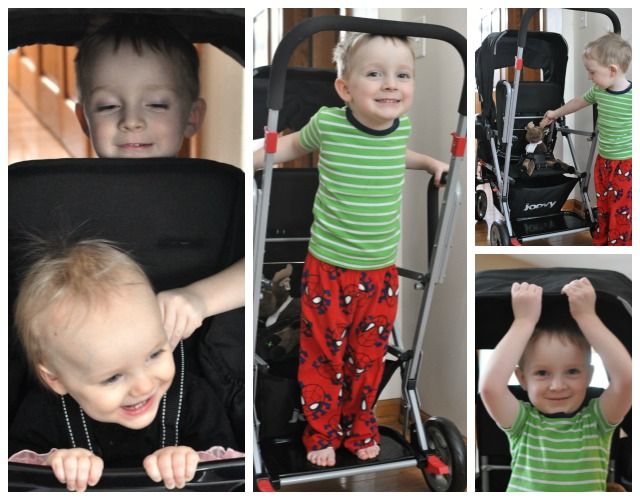 The stroller is also very lightweight for something that carries two children! Without the back seat, it's 21 lb and with the seat it's 23 lb. This sit and stand stroller also has: reclining seats, all-wheel suspension, ball-bearing wheels, and a parent adapter with 2 cup holders and multiple pockets. The front seat fits a baby from 3 months up to 45 lb and the rear seat fits a child from 6 months to 45 lb… total weight capacity for both children is 90 lb. You can buy your own for $299.99 and it comes in black or charcoal!
To see this sit and stand stroller in use with an infant car seat, check out the review over at Being MVP!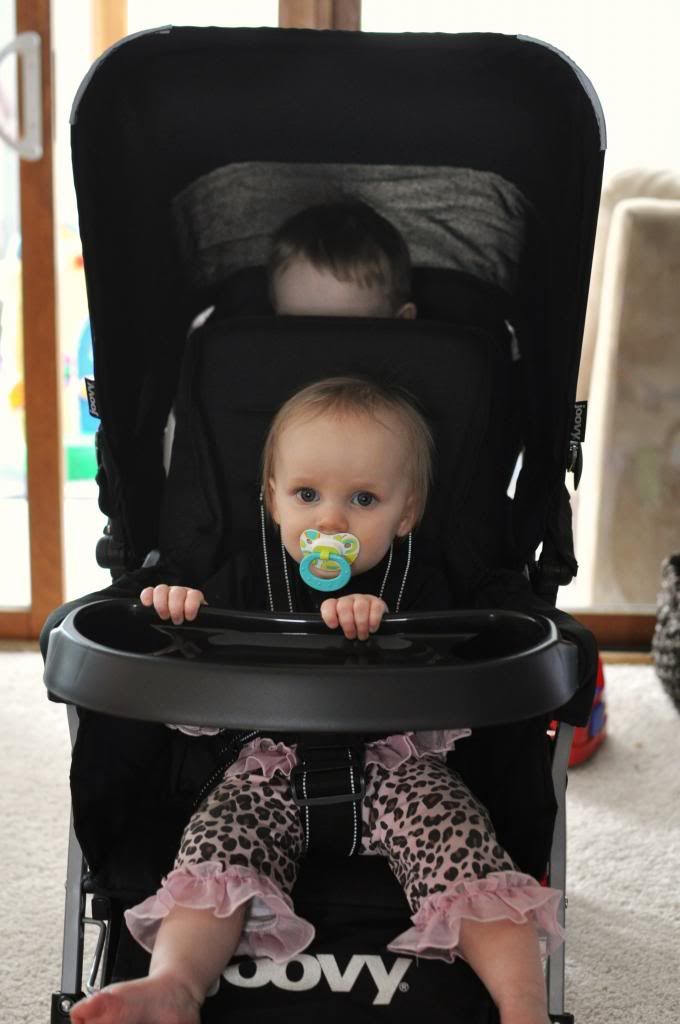 Make sure you find Joovy on facebook and twitter! 🙂 You can also read my other reviews of Joovy products: Nook Highchair, Room2 Playard, and the BabaSling for babywearing.