I've been thinking about this topic of full-term breastfeeding for awhile and when I was looking up keywords for another post, the phrase "when to stop breastfeeding" popped up and I couldn't stop thinking about it. When DO you stop breastfeeding? Well, don't look at me for an answer. My 3-year-old son is still nursing. I like to joke that my 1-year-old daughter, who is little miss independent and pushes off as soon as she's done nursing, will self-wean before Ryan…
I'm going to start by explaining my original breastfeeding goals… when I was pregnant with Ryan I knew I wanted to nurse for 1 year. Even after he was born I thought that nursing beyond that age (especially nursing toddlers) was just plain weird. But never say never!
I'm not sure what I thought would happen after age 1… he'd magically stop? Yea, well, he didn't. So year 2 went by… I got pregnant with Rebecca and Ryan did stop nursing for a month or so (I've heard they don't like the change in milk that occurs with pregnancy)… but then he started right back up again, even more so after Rebecca was born. I now have two nurslings–a 3yo and a 1yo.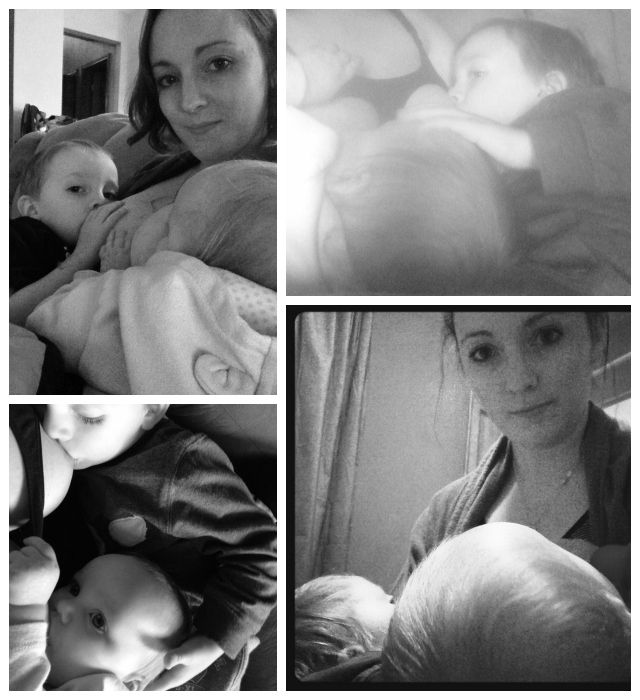 tandem nursing my now 3yo and 1yo
Just nurse him 'till college!
I know full-term breastfeeding (AKA extended breastfeeding) gets flack sometimes, but I've never understood the "joke" above. Does anyone REALLY think a kid is going to nurse till college? Come on. There must be something more intelligent to say.
If they can ask for milk, they're too old to nurse.
Ryan and Rebecca both signed for milk before they turned one, which is well before the recommended guidelines for breastfeeding. To me, that counts as asking for it. If they mean by speaking with words, that also occurs before the recommended age of 2 years by the World Health Organization.
Gross.
Sad.
Fine. Just give the breast milk to them in a cup instead of nursing them.
Well that kind of defeats part of the point, doesn't it? Entering toddler-hood, there certainly are still nutritional benefits to breast milk, but it's more about the act of nursing… the bonding and comfort, the closeness, the attachment. If Ryan gets jealous when he sees his little sister nurse and I offer breast milk to him in a cup, do you think that would calm the envy? Not a chance.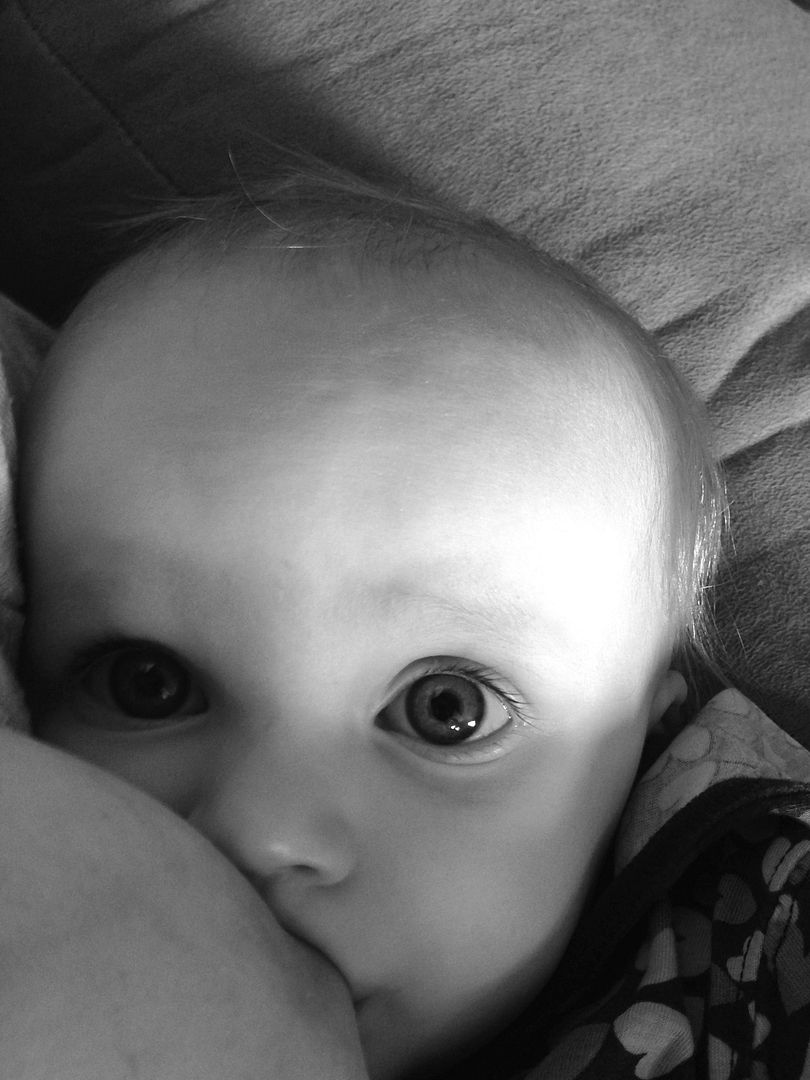 I'll admit, sometimes it bothers me. Not because I think it's gross, clearly, but because sometimes I just get touched out nursing two kids. And although Rebecca is a WAM BAM THANK YOU MA'AM kinda nurser, Ryan could seriously sit there all day. Sometimes I love it, but sometimes… I just want to be done. I think that's pretty normal, though. I do have good days and not-so-good days… definitely much more of the former than the latter and although some days I wish I was done, overall I am thankful to have this opportunity with my kids. I remind myself that they're little and they need me and it won't last forever. Both kids will self-wean when they are ready.
I'll also admit that I don't often talk about Ryan nursing because I feel embarrassed. Or… let me put it this way… I don't feel the support. Society can't seem to handle seeing even a newborn baby nursing (facebook photos deleted, accounts on lockdown, personal attacks, women kicked out of public establishments, etc…) so why would I feel welcome with a 3yo?
Although Ryan doesn't nurse often (about 3 times a day) and never in public anymore, he does sometimes ask for "milkies" when we're out. Around strangers I don't really care–they probably have no idea what he said anyway. But around family or friends, I get embarrassed. NOT because they have EVER been anything less than supportive (my family and friends are awesome), but because MOST of them probably have no idea Ryan is still actually nursing. So to just announce it like that… in front of a room full of people… I feel like looking up with a smile and saying, "SURPRISE!" to break the awkward silence.
And that brings me to this post…. SURPRISE! I'm coming out. And it's about time.
I know some women aren't able to nurse (~2% of the population physiologically cannot) and far too many others never got the support that I did. Many times in my early days I wanted to quit. I have my reasons for sticking to it and I also had incredible support from my husband, my family and friends, and my online community. I remember taking my questions, concerns, and WHINES to twitter and those women were amazing. I don't know that I would have made it without the support… if you are pregnant or are in the early stages of nursing now, please seek out the help and support if you need it. It's invaluable and I wouldn't trade these nursing days and cuddles with my littles for anything. Sometime (far too soon) these days will be over.
Some awesome resources: kellymom.com (I spent many days here as a new mom), the weekly twitter breastfeeding chat with #BFcafe (every Thurs 10pm EST), use #bfing (or #breastfeeding) on twitter to find support and ask questions, AND Best for Babes, an organization that works to combat "booby traps."