The Chicago Cubs stroller from Kolcraft was provided to facilitate this review.
It's official…. the Cubbies have a new good luck charm and #1 fan 😉 Actually, they have two… both of our kids LOVE our new Chicago Cubs stroller from Kolcraft! We have never owned an umbrella stroller, but I always wished we had one for those quick trips or places where bulky strollers aren't friendly… and now we have the PERFECT one! GO, CUBS, GO!
And hey, the season is going pretty well so far… I think Mr. Sveum can thank Rebecca in her Cubs booties and hair bow 😉
Kolcraft has partnered with MLB to bring us lots of fun products including umbrella strollers, potty seats, and step stools. I think we need a whole Cubs set! We're working on switching sport seasons in this house and getting Ryan to yell "GO CUBS!" instead of "GO VIKINGS!" hahaha.
You can see some good shots of the canopy above… I really like that you can move it up and down, to any position to block the sun. It folds flat against the back of the stroller or fully extends and locks in place with push-bars on each side. Rebecca likes to pull it down over her face and play peek-a-boo, lol.
This stroller is only 7 lb. It folds and opens so easily, I can grab it with one hand and throw it in the car. It's so small, actually, that I usually don't even bother with the trunk and just put it in the backseat of my car. To fold it, you make two motions with your foot–slide and pull up a lever–and the whole stroller collapses down and locks shut with a red clip.
There's a foot-rest for your little one, front swivel wheels for easy handling, rear foot brakes, and a 3-point harness to keep your child safe. It does hold up to 35 lbs and to give you an idea, Ryan (our 3yo) still fits as he's just about 30lb. He does like riding in it, but his favorite thing to do is PUSH it! It's so lightweight, it's easy for him. If Rebecca isn't available to be pushed, he buckles in his stuffed animals for a ride, haha.
Rebecca wanted to teach those Cubbies the proper way to slide when stealing bases…. the secret, really, is in the tongue.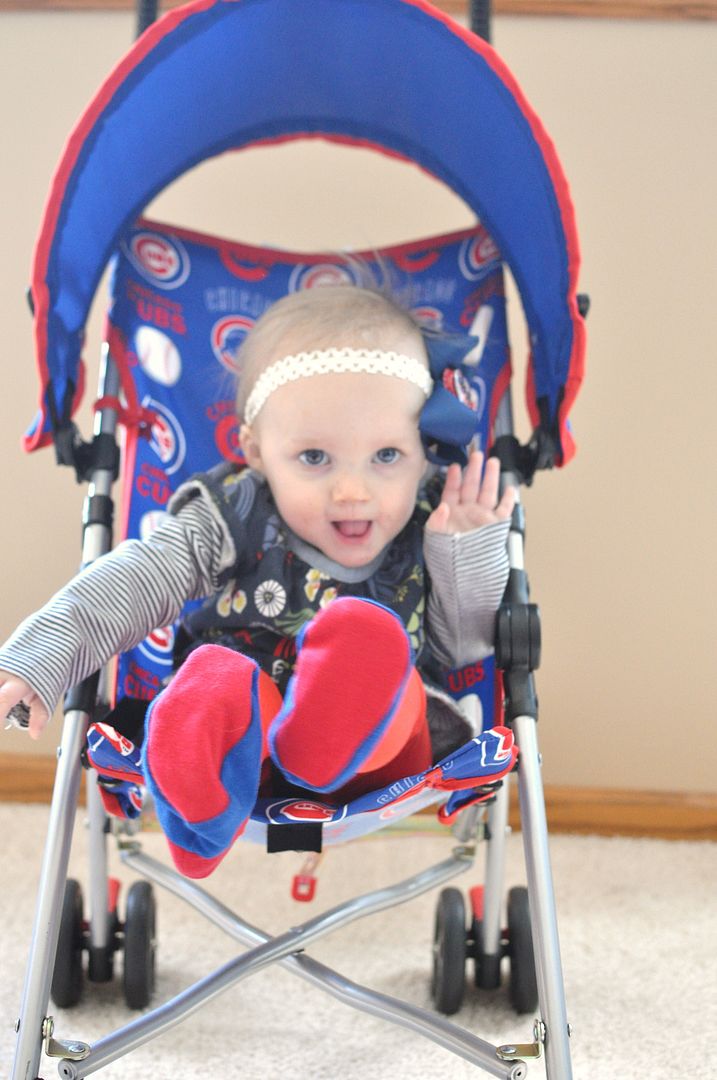 She also has a message for the White Sox:
We live about 1.5 hours outside of Chicago and I've been to a few Cubs games (even flying to AZ for some spring training games!), but not in years… not since having kids! Ryan is old enough now to cheer on Soriano so I really hope we get to make it to a game this summer!!! We'll bring the Chicago Cubs stroller and deck the kids out in all their Cubbies gear 😉
You can get your own Chicago Cubs stroller for $39.99! Kolcraft also has MLB Strollers for 7 other teams: St. Louis Cardinals, Philadelphia Phillies, Chicago White Sox, New York Yankees, San Francisco Giants, Boston Red Sox, and the Texas Rangers. Check them out here in this super cute video by Kolcraft:
GIVEAWAY: one super lucky fan is going to win thier own MLB Stroller from Kolcraft… any team they'd like! Although I'm not sure why anyone would choose a team other than the Cubs 😉 Please use the form below to enter–good luck!