The Keurig OfficePRO was provided by Staples to facilitate this review.
It's no secret that I'm addicted to coffee. In love with coffee, really. It's like this: my husband is afraid of me in the morning before I have my coffee, my 3-year-old knows how to work my Keurig OfficePRO to make me a cup (and he has since he was 2), my husband leaves a coffee cup sitting out for me before he leaves for work, and he keeps my k-cups and coffee creamer stocked up so I never run out (seriously).
There's my baby… should we call her Baby Dickey #3? After getting the kids out of bed and changing diapers, making coffee is the first thing I do. I loooove my Keurig OfficePRO because I can turn it on, get the kids their breakfast while it's heating up, have the Keurig pour my 10oz cup, serve the kids their breakfast, and then…….. savor it…………… enjoy my hot cup of coffee. I really don't know how I'd survive without it.
The Keurig OfficePRO is a single-cup brewer and you can select from 3 cup sizes: 6oz, 8oz, or 10oz. I always go with 10oz and sometimes I use a BIG coffee mug and do 16oz or 20oz. You just have to wait a minute for the Keurig to heat back up between brews and then add more.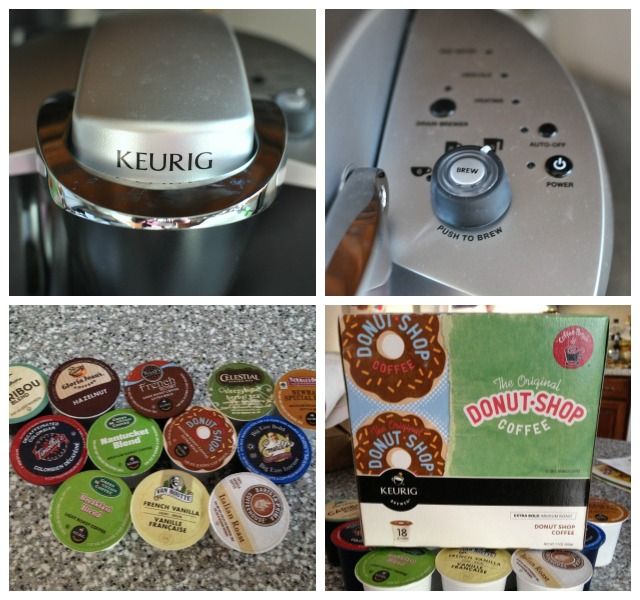 Isn't she pretty and shiny new? She stays on our counter top next to the sink–for quick and easy filling of the water reservoir 😉 The water tank holds 48oz so you can get a few cups before needing to refill it, but I just fill my coffee cup up with water and dump it in the tank each time I'm going to make a cup.
The Keurig OfficePRO came with a sampler pack of mainly different types of coffee, one decaf, and some tea. I also got a box of Donut Shop k-cups, mmmm.
Some awesome features of the Keurig:
drip tray is removable for easy cleaning
works with tall travel mugs (the base is removable)
automatically shuts off after 2 hours
this Keurig OfficePRO (commercial grade) brews about 10x the volume of a typical home brewer
water reservoir is removable for easy cleaning & filling
rear switch to either brew the water or empty the reservoir of water
durable, high-quality materials (for a long life!)
So I had to prove that the Keurig is so easy (and I use it so often) that my 3yo can make my coffee for me… he kept asking me what to do next because he was on camera, haha, but he knows exactly what to do! And I should note that he ALSO knows coffee is off-limits and is very hot… he never touches it. ((Sorry for the babbling noises of a one-year-old in the background, lol))
You can find your own Keurig OfficePRO (and other Keurig models) at Staples! Yea, they have more than just paper and staplers 😉 You can buy this for $129.99 and you can also find K-cups at Staples… the Donut Shop box that I received is $11.99. Find Staples on facebook and twitter!
THANK YOU, Staples, that was…
I received product to facilitate this review. All opinions and photos are my own!