I received the Burley MyKick push bike to facilitate this review. I was not compensated & all opinions are my own.
I just recently found out about this thing called a "balance bike" or a "push bike." Do you remember having to learn to ride a bike with training wheels? I do. I remember falling, too. It seems like a right of passage… your first bike has training wheels and someday you graduate to a real bike without them… after many trials and errors and scrapes and bruises.
The problem with training wheels is they don't make your child learn how to BALANCE. They give your kid this false sense of security so when they switch to a bike without training wheels, they have no idea how to handle it. They don't know how to lean when turning and end up falling… with training wheels, kids lean into turns with the bike… eek!
Introducing the MyKick push bike from Burley! Ryan LOVES it and shows off his "new bike" to everyone that comes over. He actually had a bike with training wheels and believe it or not, he's scared of it! The poor kid won't get on it (because he fell once). My little perfectionist loves this bike because he has total control… with a push bike like the MyKick, your child powers it with their feet on the ground.
MyKick push bike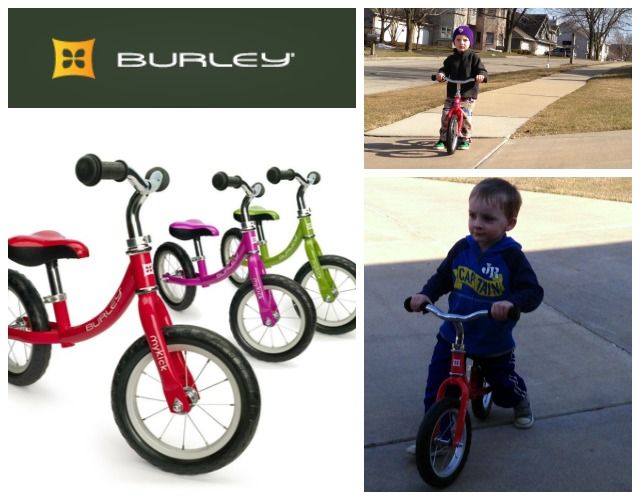 As your kid gets used to moving with their MyKick, they'll run with it and lift up their feet to coast… and that means they'll learn how to BALANCE! When it gets a little unsteady? The feet go down. I was worried Ryan wouldn't like it because he has been on a bike with pedals, but he pretty much didn't seem to notice this was missing them. Like I said, I think he likes the control he gets on this bike. It took him awhile to adjust to the style of a push bike… he kept standing and walking. I reminded him to sit on the seat and use his feet so he started out slowly. As he's getting more used to the feel of it, he's starting to go faster. So far, so good!
Much to MY delight, the MyKick came completely assembled in the box. Ryan, Mr. "I-want-everything-right-now," was pretty pleased with that, as well. We just had to adjust the seat to his height and straighten out the handlebars. Ryan is just over 3 years old (39 months) and the bike is perfect for him with plenty of room to grow. Burley suggests this for kids ages 3 and up (holds 50 lb max), but I bet a 2-year-old could have fun with this, too.
Sturdy steel construction–a very solid bike (but still a light 11.3 lb)

Comfortable seat that easily adjusts
Adjustable handlebars with rubber grips
Rubber, flat-free tires (12″) and quality spoked wheels
Comes in fire truck red, cotton candy pink, and summer green
I've read a lot about push bikes and have heard that after your kid gets used to riding on one like the MyKick, switching to a real bike with pedals is a piece of cake! Ryan certainly knows how to pedal on his trikes so here's to hoping Burley helps him get the balance part down.
To help your child learn to ride a bike, you can get the MyKick push bike from Burley for $129 or search for a local retailer. Make sure you find Burley on facebook and twitter!