We all know I'm a breastfeeding advocate and still nursing my 3yo and my 1yo. While my kids were exclusively breastfed until ~8 months old, they still had the occasional bottle. When Ryan was little, I taught part-time and I pumped while I was gone. In the 3 years I've had kids, I've taken a few trips (weekend getaways with the husband, conferences, etc.), I've pumped, and my kids had bottles. I love being able to try new nursing products that make life easier on a breastfeeding mom and share them with all of you… I was thrilled to receive the NEW Philips AVENT Comfort Breast Pump.
I've tried a few different pumps so I'm happy to share my favorite things about this one. There are multiple ways the Comfort Breast Pump has made my life easier! First – the comfort and ease of use. The angle and size of this breast flange just makes it easy to use… no need to lean forward to make sure your milk is going down into the bottle (you know what I'm talking about, right?!). That just makes an overall more comfortable experience… one less thing to think about… and when you're relaxed, your milk flows more easily. And check out the massage cushion – comfortable AND helps promote milk flow: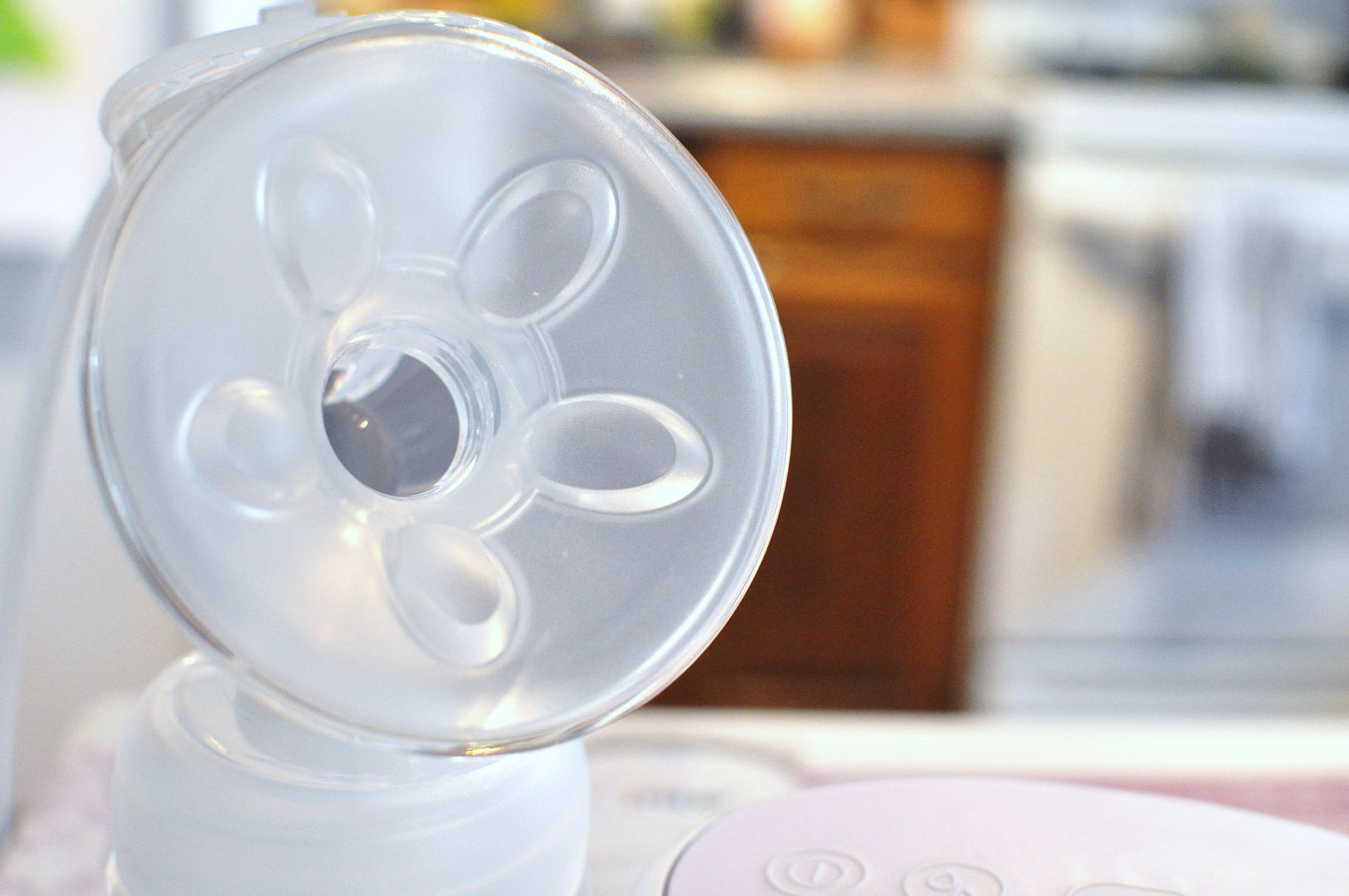 Second – the size and portability! I recently flew to the west coast, just for one night, and I had to lug a breast pump with me, of course. Luckily they count a pump as a medical device and don't count it toward your carry-on count, but it IS hard to have an extra (fairly heavy) bag to carry through the airport.
The Comfort Breast Pump? So much lighter and easier for me to transport. I'm taking a mini vacation with the husband in a couple of weeks for our 5-year anniversary and I'm thrilled to now have this breast pump to take with me. ((What am I going to do with myself when I can finally travel WITHOUT a pump?! I think I'll be lost! lol)). The tubing wraps around the base, this little baby will go right in my carry-on bag, and it can be used with batteries.
More details on this Philips AVENT Comfort Breast Pump:
gentle stimulation mode until your milk starts flowing
massage cushion for the flange with velvety texture
three pump settings to select your comfort level
compact and lightweight
easy cleaning (not a ton of separate pieces)
operates at the touch of a button (no dials and knobs–my 3yo helps me use it lol)
easy assembly – pieces visually match together and there just aren't a lot of pieces to mess with
I want to comment on the easy assembly and cleaning… I used to have a pump that I seriously had to pull out the directions every time I put it together and took it apart (sooo, for every cleaning). It was THAT complicated and had that many pieces. With the Comfort Breast Pump, you can pick up a piece and just see where it needs to go by its shape and purpose. It's fast and that makes me happy.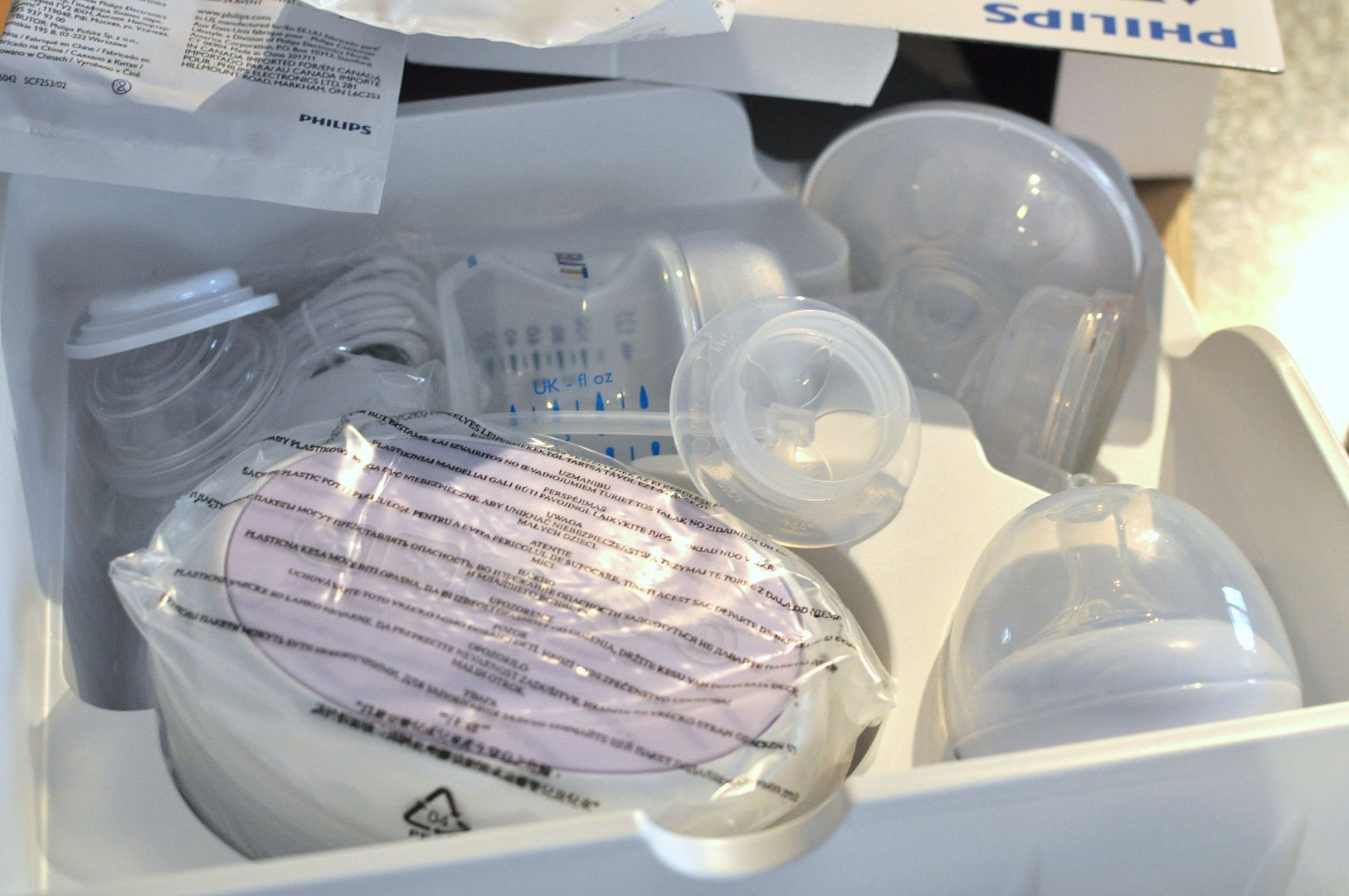 The Comfort Breast Pump by Philips AVENT is available from a number of retailers, like Amazon for $129.90. There is also a double electric version of the Comfort Breast Pump for $224.90. If you're trying to decide what you need, I'd say get a double if you need it at work to pump quickly. I often use a single pump on both sides and it's not that time consuming… especially with this one where you don't have to worry about leaning forward… you can sit comfortably and even work on something else while pumping.
The pump also comes with 2 day-time breast pads, 2 night-time breast pads, a sealing disc for milk storage, and a 4oz natural bottle with newborn nipple. This bottle helps to make the transition between breast and bottle smooth with a nipple that creates a more natural latch. No worries if you already have AVENT supplies–this pump is compatible with the classic bottles, too!
GIVEAWAY: one lucky reader will win a gift basket of goodies from Philips AVENT, including natural bottles, pacifiers, and other essentials for moms and newborns! Please use the form below to enter–good luck! 🙂