I love ThinkFun and their educational games for kids… we have a few of them. We recently received Hello Sunshine! and I'm happy to report that it's another favorite and we definitely recommend it!
It's for ages 18 months and up so I wondered how my 3-year-old son would like it. It's definitely educational and helps kids learn concepts like: next to, in, behind, on top, under, etc. My son knows the meaning of those words, but Hello Sunshine! is still educational for him because now he's matching the word to the written text.
I really like the cards in this game (18 double-sided cards) because they're accompanied by photos. Ryan is able to play this game with me because although he can't read yet, he knows exactly what action he's supposed to take by looking at the photo (and ideally he's seeing the text and learning that, as well).
Ryan gets SO excited when we play this game. It's like a mix between hide-and-seek and a treasure hunt. At first, I hid the Sun and then gave Ryan the card to go an find it. After he got used to the game and what the cards said, he wanted to do the hiding himself and watch me find the Sun. Ohhh, what a kick he gets out of watching mommy find the Sun that he hid somewhere in the house, haha.
He'll say, "Mom, it's behind a chair! Go find it!" and I'll start looking around the house… behind all the chairs… "No, mom, not THAT chair! It's behind a DIFFERENT chair! Maybe in that room over there!" Haha. And then he hops up and down and runs all through the house! I love that Hello Sunshine keeps him active and happy–and it's educational and fun!
"Look! The Sun is in my bed!"
There's even a handy little velcro pouch on the bottom of the Sun that holds the cards for easy storage. My son and my mom just went out for lunch together and Ryan insisted on taking "Mr. Sun" with him, haha. Thankfully, the Sun is machine washable!
Our daughter is 14 months old and pretty soon she's going to love getting in on the action! She just started walking so she needs to learn to keep up with her big brother 😉
You can buy Hello Sunshine! by ThinkFun on Amazon for $18.66. Makes a great game for your own child or a wonderful birthday gift!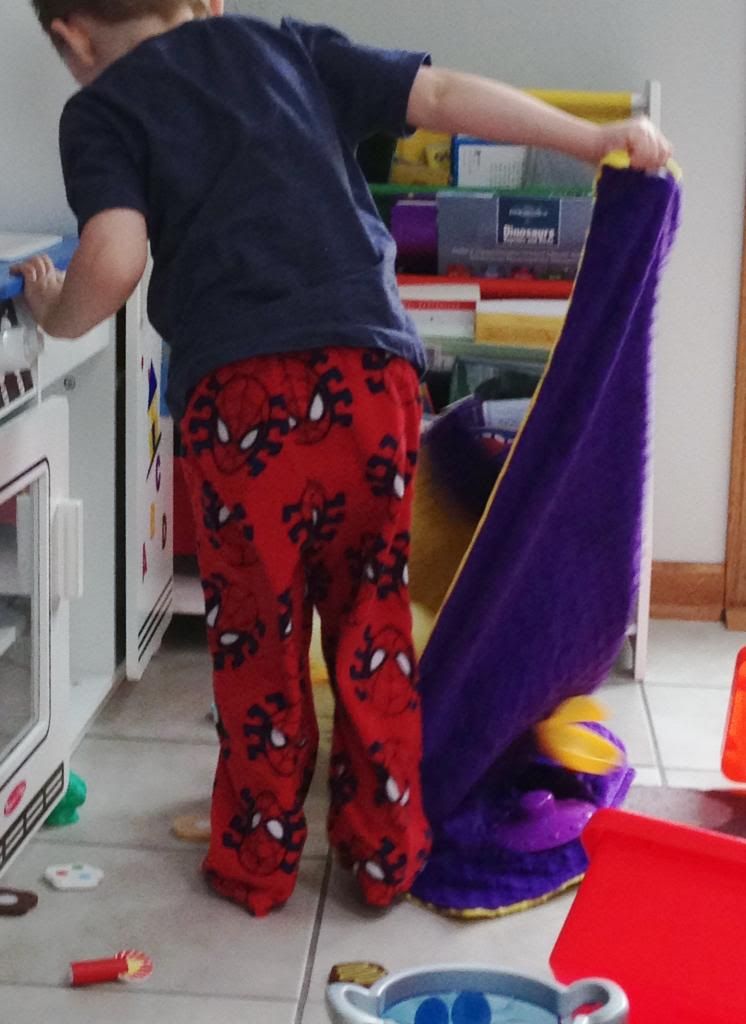 "I found it! Under this blanket!"
GIVEAWAY: one lucky reader is going to win their own Hello Sunshine! game from ThinkFun! Please use the form below to enter–good luck! 🙂 US ONLY.
~I received Hello Sunshine from ThinkFun to facilitate my review. All opinions are my own!