Ryan loves being outside and anything with wheels… his mower, wheelbarrow, ride-ons, and bikes. The kid just takes off! He learned how to pedal last summer and was a pro on his trike. This summer, he's working on a balance bike and loves his scooter. He has fallen off his bike once and wasn't hurt, but did get scared. I'm thankful we haven't had any bad spills yet, but I'm sure something is coming… knock on wood… it's a right of passage for a kid, right? I remember falling off my bike on the sidewalk and had to go to kindergarten with half of my face scraped up.
On my summer-must list was a kids helmet. I should have had one for him last summer, too, but had a hard time finding one I liked… that adjusted for a wide range of sizes and that was cute (without crazy patterns or cartoon animals).
Joovy has recently launched their Noodle kids helmet. It is perfect! We were sent one to try out for Ryan and I'm totally buying one for Rebecca.
I thinks sometimes it might be hard to get your young child to keep something on their head… Ryan went through a phase where he refused to wear a hat. I made sure I talked a lot about the kids helmet before it actually arrived. I told Ryan about how it would keep him safe and protect his head from owies if he were to fall or hit something. He really liked that idea! Then I took it a step further and found an episode of Curious George (Ryan's favorite!) where George is wearing a helmet… if George does it, you bet Ryan wants to do it. If I see Ryan get on a toy without his helmet, I say "Your noodle is showing!" and then he cracks up and covers his noodle… with his Noodle 😛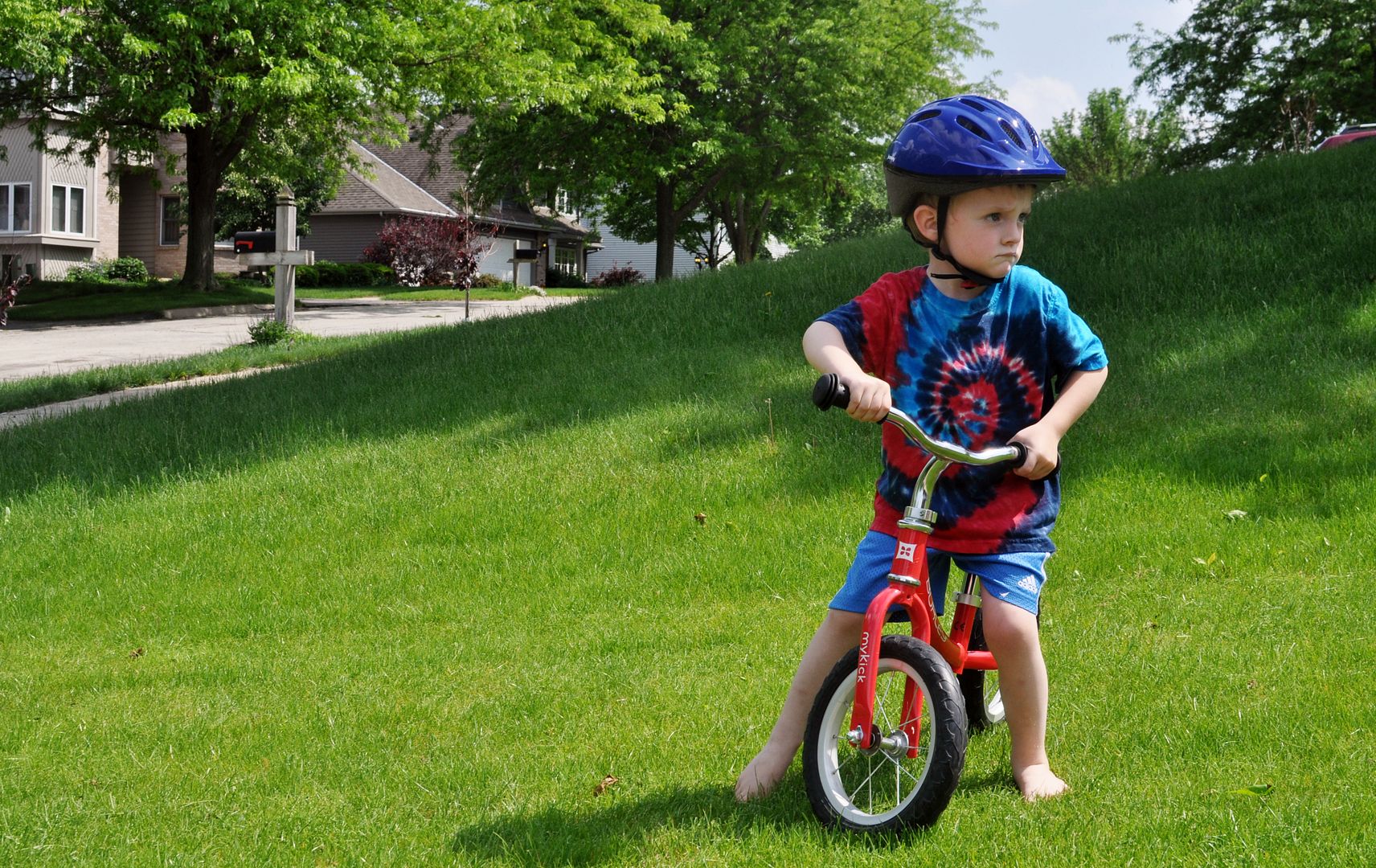 The Noodle is for ages 1 through 4 with head sizes between 18.5 – 20.5 inches. It fits my 15 month old and I've seen others even putting it on their 8 year old! It has an easy to turn dial on the back that adjusts the size and it stays put.
There are 14 air vents with bug mesh in the front vents (great idea!), an extended visor at the front of the helmet for maximum protection, nylon straps with a pinch guard chin strap, and it meets CPSC standards. I like that the padding inside the helmet is attached by velcro for easy removal and cleaning. The Noodle kids helmet comes in fun, bright colors–typical of all Joovy's awesome products–blueberry, red, greenie, pink, and black.
You can get your own Noodle for $29.99! Awesome deal because the helmet will last years. Make sure you find Joovy on facebook and twitter, too!