When you go out in the sun, do you wear sunscreen? Do you put sunscreen on your kids? I'm sure many of you do… because we know how important it is to protect our skin from the sun. But do you know the effects the sun can have on your EYES? I think we forget about protecting those, too! I know I wear my sunglasses frequently, but my kids? I'll admit they almost never do. I got a chance to work with The Vision Council and The Motherhood on a campaign to learn about harmful effects and UV safety facts.
My goal this summer is to get my kids used to wearing sunglasses. With a 3.5 year old and a 15 month old, it can be hard to get them to actually wear them and keep them on! But after speaking with The Vision Council and some other moms, I got some great tips and encouragement.
Keep their sunglasses. Hand them out when you go to the pool or to play outside. When the activity is over, take the sunglasses back. This makes them more special to kids and something they get to have rather than something they have to do.

Start early. If your kids start out wearing sunglasses outside, it will become the norm and they'll be used to having them on (like kids that need regular glasses).
Take them to the store. Let your kids be involved in selecting their sunglasses so they feel ownership.
Practice what you preach! Kids learn by example so make sure you and your other family members have their sunglasses on, too!
Explain. My curious toddler wants to know about everything. If I sit down with him and explain what the UV rays from the son can do and how sunglasses will help keep him safe, he's much more likely to listen and wear them than if I just TELL him to.
If all else fails? Find their favorite character wearing sunglasses. Curious George is fail-proof in our house, haha.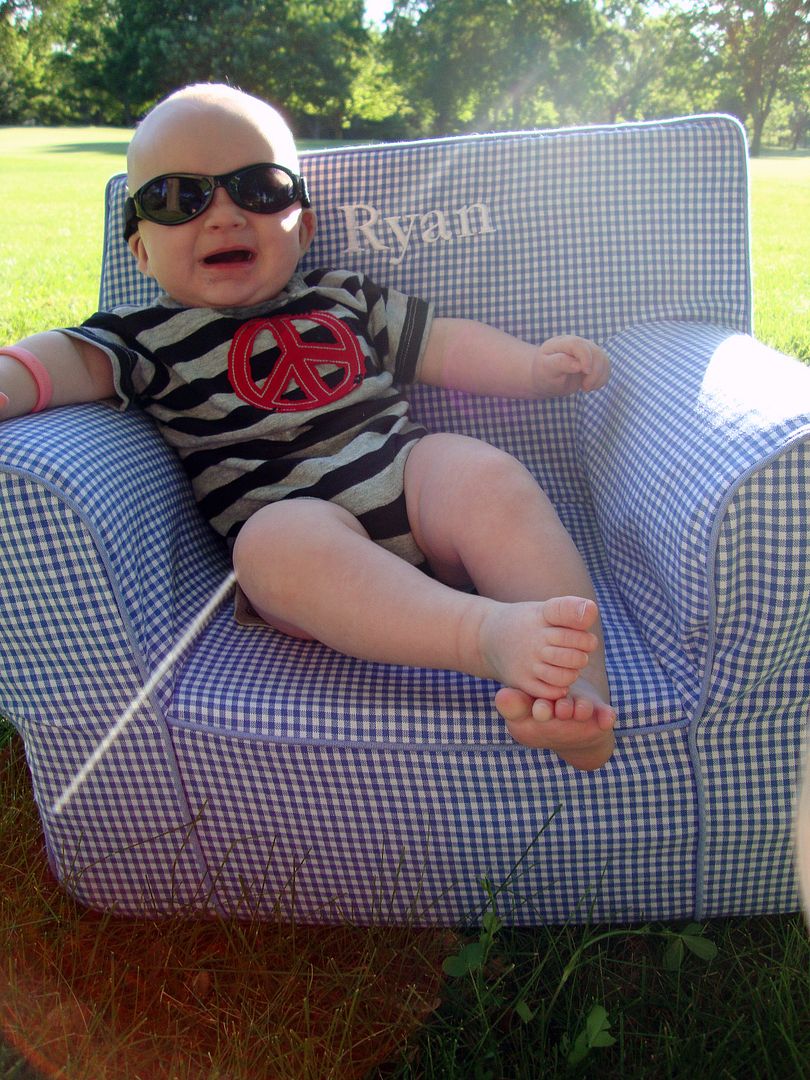 You can check out The Vision Council's 2013 UV Report for more details on the effects of UV rays, who's at risk at when, and what you can do about it. The infographic above is a nice summary.
Short-term effects: sunburn of the eye, irritation, redness, swelling, hyper sensitivity to light
Long-term effects: premature aging of the skin, wrinkles, sunspots, abnormal growth on the eye or eyelid, cataracts, macular degeneration, cancer of the eye, eyelid, and surrounding skin
Children are more at risk because their lenses are still immature. They also receive three times the annual sun exposure of an adult! Protect those eyes with sunglasses–make sure they say UV on the label to ensure they're receiving protection! Lighter colored eyes are also believed to be more at risk… and my babies both have blue eyes!
Interesting things I learned:
Not all sunglasses offer protection: check the label or take to a professional to test with a UV meter. Don't buy from auction sites or from street vendors, etc.
Darker lenses don't necessarily mean they offer more protection.
Brown, amber, and copper lenses work to reduce glare and improve contrast for activities like driving, golfing, water sports, and snow sports.
Grey tint distorts color the least and yellow and rose tinted lenses enhance definition.
You can buy goggles for swimming with UV protection.
Contacts are made with UV protection, but they only protect the center of the eye–the whites and eyelids are still exposed.
The husband and I just went on vacation to FL for our 5-year anniversary. He caught me splashing in the ocean 🙂 And hey! I have my sunglasses on! And you're not only at risk in the summertime, there are damaging UV rays from the sun year-round. More UV safety facts:
You can find more resources, activities, and UV safety facts from The Vision Council.
~I worked with The Motherhood and The Vision Council on this post. I was compensated for my time, but all opinions are my own!