Wow, you guys, the second annual Blogger Baby Shower was a blast! We seriously couldn't have asked for a better day. The weather was perfect, the company was amazing, we raised awareness for a wonderful, life-saving cause, and we met some really great people! Oh, there was food, too. And prizes. 😉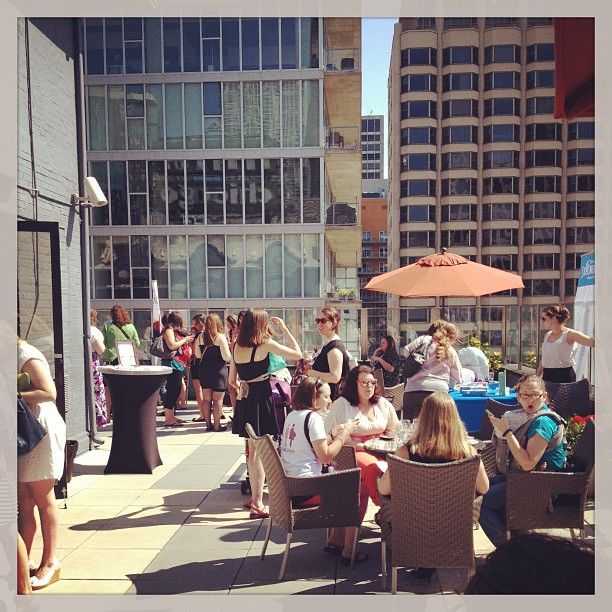 photo from Baby Loving Mama
As you know, we teamed up with the Save Babies Through Screening Foundation this year to help raise awareness for life-saving screenings done on newborns, what to expect and what to ask for as a new parent, and the importance of timeliness. At our Baby Shower, we had a pulse ox to demonstrate how easy and non-invasive it is and we had flyers of information and reps on hand. If you'd like to get involved with Save Babies, let us know!!!
For two hours we had 50 top mom and baby bloggers on a gorgeous rooftop terrace overlooking Michigan Avenue and downtown Chicago. There were mini deep dish pizzas, veggies, bruschetta, and plenty of desserts! Some brand reps came out to join the party and network with our bloggers. There was a table full of awesome door prizes and everyone went home with a huge gift bag filled with goodies and coupons and information. I CAN'T WAIT FOR NEXT YEAR!
The Baby Ladies (Kristine, Christa, & Emily) with Molly from Dr. Brown's
Contours was there to show off their incredible new 4-in-1 stroller, the Bliss. It can be used with an infant car seat adapter (included), as a pram, carry-cot, or a typical seat (that faces in or out). This stroller just has SO MANY little details that a mom would notice… those little things you don't realize you need and would appreciate in a stroller until you've gone without. So get it the first time around!
Dr. Brown's was there to talk with our bloggers about all their fun products–breast pumps, teethers, pacifiers, bottles, and more. The teethers, by the way, are absolutely adorable! They also filled gift bags with their new wipes (teeth and gums, pacifier, face, etc). We had our nursing corner filled with Gia breastfeeding pillows from Dr. Brown's and a bunch of lucky ladies (and babies!) got to take those home.
Infant Lane had products on display. They offer items for birth up to age 6 in 100% merino wool from New Zealand! We have their pajamas for both kids and they're my favorite! Super soft and comfy and they're a wicking material that helps regulate body temp. At the Baby Shower we showed their pajamas, hats, swaddle blanket, and sleep sacks.
Leading Lady provided breastfeeding handbooks and fit guides for their nursing bras and tanks. Every mama also got a nursing bra and nursing pads! We all know I love my Leading Lady (I'm actually wearing one of their tanks right now) and it's not just because their apparel is comfortable and cute…. their customer service is also incredible and they truly support breastfeeding mamas. Their website has a lot of great resources!
Bundoo is an online community for parents that recently launched! Join the conversation at their website (free in beta mode right now!) and get access to tons of valuable information. You can even ask their experts (pediatricians & child development specialists) your own questions. They were at the Baby Shower to chat with our bloggers, too!
mamatea had product on display–amazing teas for bloggers to check out. Her loose leaf teas are caffeine free and all-natural/organic. They have teas for every stage of trying to conceive through nursing, filled with beneficial ingredients and also delicious!
Joovy is another brand the Dickey house loves… it's all over here 😉 It was all over the Baby Shower, too! We displayed their MoonRoom, Tricycoo, Bicyoo, Noodle, Nook, and Boobs. Whooo! We also got to give away each one of those as a door prize!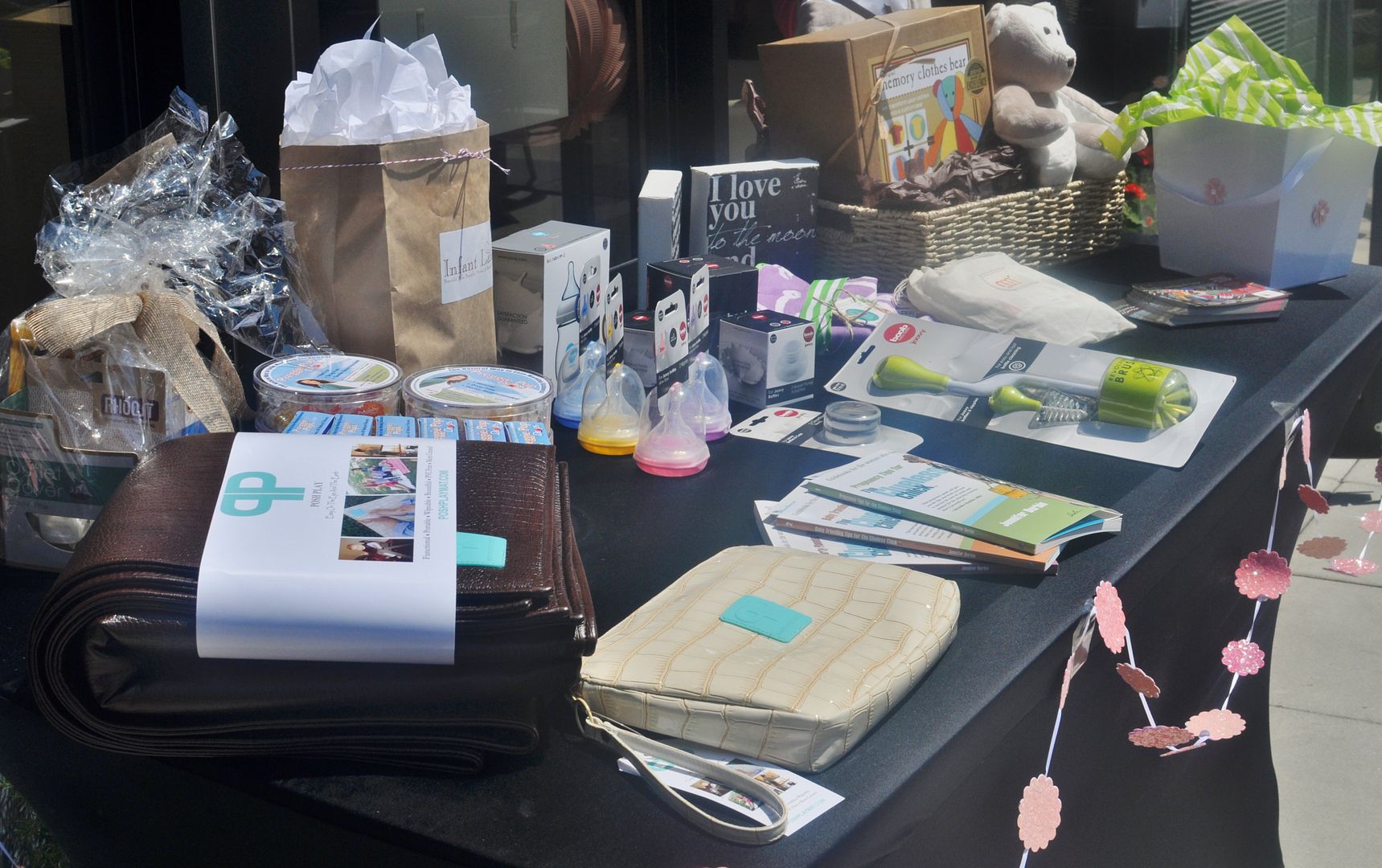 We had many more wonderful partners for the Baby Shower, many included door prizes for our bloggers (almost everyone walked away with something!) and all included items for the gift bags: Rhoost, The Patchwork Bear, Posh Play Mat, Earth Mama Angel Baby, Preggie Pops, Wipebox, The Clueless Chick, Ubbi World, Mixed Bag Designs, NurturMe, and Tiny Love.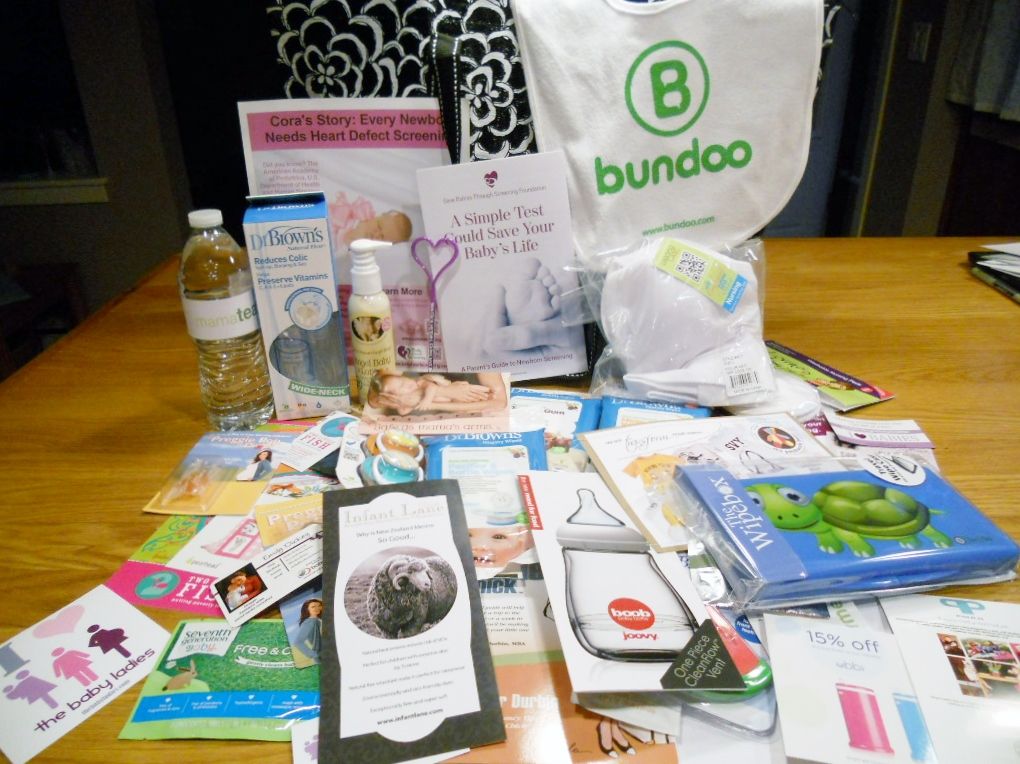 Okay, enough with the talking! Just check out the slideshow of photos 🙂 This includes our set-up and beautiful location, partners, and of course the party itself! Enjoy and thank you to everyone involved!
Save Babies Blogger Baby Shower 2013
CHEERS to my other Baby Ladies, Christa from Little BGCG and Kristine from Cora's Story. Ready for next year? 😉 And a special thanks to the lovely ladies that helped us set up: Becca from Mama B, Allie Ferriera, and Mary from Cherry Blossom Love. It is very much appreciated and meant more than you know!