Rebecca is now well into her phase of being obsessed with books. She can say the word, will take out every single book we own from the bookcase, excitedly pick one and run over to sit in your lap so you can read together. And yes, I do mean YOUR lap–she will take a seat with anyone that comes over if it means she gets to read with you! She especially loves animals and will squeal when she sees them and try to pet them or pick them up, haha. We were recently sent Matthew Van Fleet's newest book to review–he's one of our favorites and makes the best board books for kids!
This new book, called Munch, is wonderful, just like Van Fleet's other board books. This one, as you can tell by the name, talks all about animal mouths… what they look like and what they do, like MUNCH!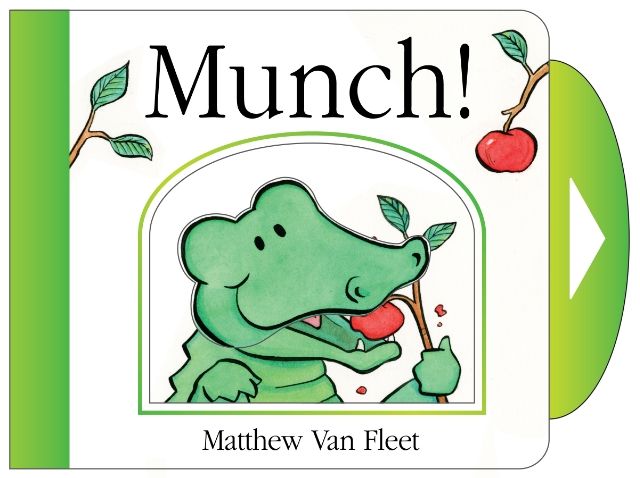 I love it because of the board book style–it's sturdy and doesn't have pages that Rebecca can tear out (or try to eat). There's also fun textures for the little ones to investigate, like the fuzzy bear mouth and bumpy toad mouth. Rebecca loves feeling every one and will rub her cheek against the soft ones 🙂
Munch also has four pull tabs that make different mouths move and come to life. In the photo below Rebecca is pulling the tab to make the alligator go, "munch, munch, munch!" Rebecca cracks up every time. And I like them because the tabs are LARGE and easy for little ones to move back and forth. Do be careful with the moving parts though–they are not board book material and can be ripped out!
The recommended ages are 2-6 and that's definitely true for Ryan (he's 3.5 and loves the Matthew Van Fleet board books, too)… but Rebecca is 18 months and they're perfect for her, too! She loves to move the tabs and feel the textures. She might not quite sit still long enough yet to read the story, but she likes to point at all the animals and listen to me repeat their names and the sounds they make… she's definitely learning!
If you aren't familiar with Matthew Van Fleet, he has an entire series of the best board books! They all have fun stuff like this one–things to touch, press, pull, lift, and even sniff as kids explore colors, shapes, numbers, letters, opposites, and more. He has New York Times #1 best sellers and has sold over 3 million copies his books… I'm sure you've seen them before!
Munch was released at the end of August so you can get your copy now! It's on Amazon for $8.99 and you can see more of his books on Amazon here.
Check out Matthew Van Fleet and his inspiration as he talks about and shows his CAT and DOG books:
GIVEAWAY: one lucky reader is going to win a SET of Matthew Van Fleet's best board books! You will win all books pictured below: MUNCH!, SNIFF!, LICK! MOO, CAT and ALPHABET. Please use the form below to enter–good luck! 🙂
the best board books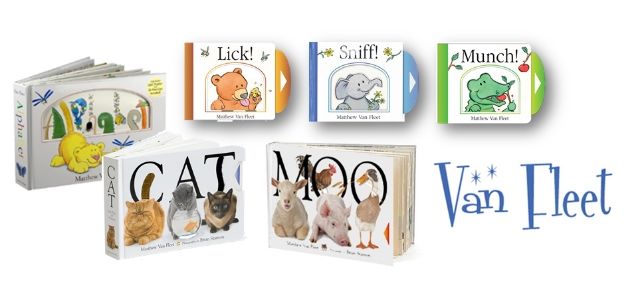 ~I was sent the same set of books to facilitate this review. All opinions are my own!