Brought to you by BMO Harris Bank N.A. Member FDIC. All opinions are 100% mine.
When my husband and I became pregnant with our first, Ryan, finances are one of the first thigns we talked about–even before my first visit to the doctor. I was just out of grad school and my husband was about to graduate. We definitely needed to make sure we had things in order before having our sweet baby boy!
Do you know how much you are likely to spend on a new baby in the first year?! Including the medical and healthcare expenses, diapers, clothes, and supplies… it adds up! BMO Harris Bank knows how big life events, like having a baby, can affect your finances and require some changes. They're having a 5-week sweepstakes with a new theme each week that lets you learn some tips to help you along your life journey!
This is week 1 and the theme is, of course, having a new baby! My favorite life change so far 😉 Coming up we'll get to learn about starting a new job, buying a house, preparing for college, and managing finances—so keep an eye out for my weekly posts about each theme and how to enter for a chance to WIN!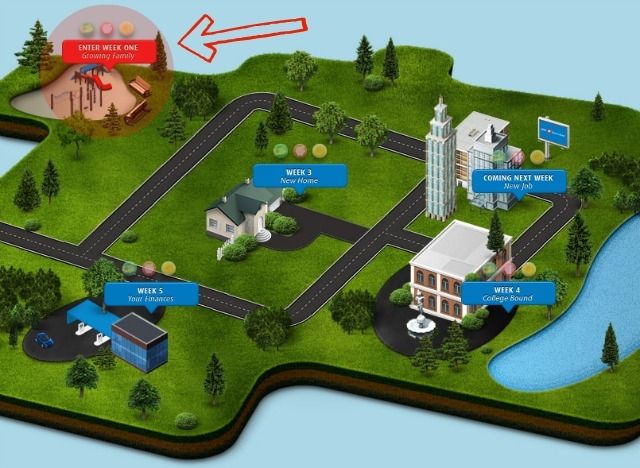 It's super easy to play! Just head over to BMO Harris Bank on Facebook to "like" their page and click the tab for the BMO Harris Bank Scavenger Hunt Sweepstakes (or use this direct link). There's an image of a cute little town and each week you'll explore different parts of it. In Week 1, we start at the playground!
Click through the red markers on the playground to read different tips for preparing for a new baby, watch a fun little video, and answer some questions to test your knowledge. It took me only a couple of minutes! As you explore, you earn tokens and once you have all 3 you can enter the Sweepstakes by filling out a short form!
Easy, right?! And you get a chance to win between $500 and $2,000 over the course of these 5 weeks! This first week has a $500 prize and runs from 12pm CT 2/17/14 through 2/24/14 (11:59:59am CT). Winner will be drawn on 2/27/14 so you don't have to wait long!
When we prepared for our new baby, we made sure we had a savings account and set up automatic deposits into it so it wasn't something we had to actively do (goodness knows you're busy enough with a newborn!).
How did you help to prepare for a new baby? What tips do you have for saving money on new baby costs?
Brought to you by BMO Harris Bank N.A. Member FDIC. All opinions are 100% mine.