This post brought to you by BMO Harris Bank N.A. Member FDIC. All opinions are 100% mine.
So now that you're all prepared to purchase your new home, start a new job, and have a baby, let's talk about getting those babies off to college! Time flies and it's never too early to start saving. Both of our kids (ages 4 and 2) have savings that we don't add much to yet, but monetary gifts at holidays and birthdays defnitely go in there.
In week 4 of the BMO Harris Bank Scavenger Hunt Sweepstakes we'll get all kinds of tips for preparing for college. Maybe YOU are the one getting ready to go or maybe you're planning for your kids. Head over to enter the sweepstakes and click on the college to get started.
Do you know how much a 4-year college will cost by the time your kids are in school? (YIKES). How much should you save each year to get ready? How will you track spending and checking account balances while kids are away at college? Did you know the average student graduates with around $26,000 in debt? Add on the interest rate and years of payments… and do you know how much that REALLY is? (Again, YIKES).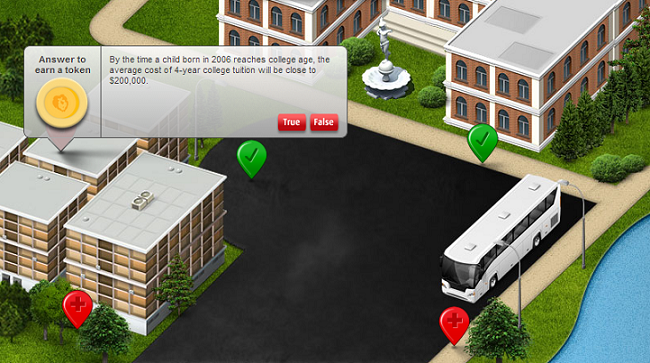 I watch the video that's part of this week and have conflicting feelings… I remember so well that moment of being dropped off at college–in a different state–away from home (for good) for the first time. It was exciting and nervewracking. It was an adventure! But then I think about when that moment comes for my kids and I have to drop THEM off! I'm already going to cry ;( Haha.
Head over to BMO on Facebook and enter for your chance to win! This week you have the chance to win $500! Great to put toward savings for those college days 🙂 Learn some great tips along the way, too. Week 4 ends on 3/17/14 (11:59:59 am CT) and the drawing for a winner is on 3/20/14! Good luck!