Ohhhh, winter, how I despise you. I hate the cold and all the snow, the lack of sunshine, and being stuck inside. I have two toddlers and if I don't keep them busy, we all lose our sanity 😉 Some days are already getting a bit chilly this fall and in preparation for the even colder days to come, I came up with a list of indoor fun for kids!
1. Pick a theme! You can make a whole day (or afternoon) of fun If your kid is into pirates, go on a treasure hunt, make a pirate hat, and "walk the plank." If they're into dinosaurs, dig for dino eggs, make a dinosaur mask, and role play the Jurassic.
2. Build a fort. We move couches and use all the blankets and sheets we can! Everyone loves a fort–you know you do! 😉 Stock it with snacks and books, crayons, and their favorite dolls. It will keep the kids busy!
3. Make snack time fun. My kids love to help me in the kitchen so when we're in need of some fun, I try to make kid-friendly things they can help with. The most fun? Our Lalaloopsy baking oven.
The Lalaloopsy baking oven comes with mixes for strawberry cake and sugar cookies with icing (you can also buy more mixes). SO ADORABLE. My 4-year-old son was ecstatic the first time he saw it and SO proud of his baking. It's definitely some special mommy-son time for us.
4. Tea Party / Picnic. Take snack time and those treats you made together (into the fort!) for an indoor picnic! Use the teapot and teacups for a little tea party. Add in your special guests—the kids' favorite stuffed animals or Lalaloopsy Girls!
5. Arts and Crafts. You can't go wrong with a little creativity… just like baking, it keeps the hands busy. From something as simple as a coloring book to something like building a birdhouse. We make Halloween t-shirts every fall and decorations to put around the house. I like to have a bin full of art supplies, let the kids pick out a few things to work with, and then see what they create. Maybe work on a stage set for…
6. A Play! Put on a show! Act out your favorite story (the three little pigs, little red riding hood, etc), sing songs into a "microphone," or put on a magic show. Pick your favorite Lalaloopsy set for some imaginative play.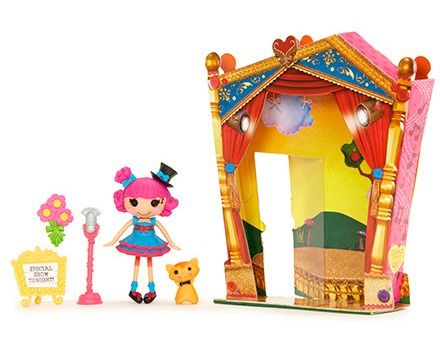 What are your favorite things to do for some indoor fun with the kids?
Check out the NEW line of Lalaloopsy Girls and fun adding them to your picnics, forts, role playing, and baking fun! Want special access to the fun world of Lalaloopsy?! Of course you do! Share your love for these magical dolls and join me in the Lalaloopsy Insiders social community! #TeamLalaloopsy!
#spon: I'm required to disclose a relationship between my blog and MGAE. This could include MGAE providing me w/ content, product, access or other forms of payment.